April 1, 2021
7 minutes reading time
TikTok has its origins in China: the video portal came into being after a merger between the popular lip sync app musical.ly and its counterpart Douyin. With rapidly growing user numbers worldwide, the video network is becoming a hot candidate for advertising marketing for companies.
The TikTok video platform, which bears a certain resemblance to Snapchat and Instagram, is focused on creating funny, self-made videos with a length of up to 60 seconds. Users can add background music to their own videos with one click, as well as use numerous filters and special functions (such as the duet and response functions) that are not available on other social networks. This opens up a wide range of opportunities for creative content actions.
TIKTOK – THE 7TH LARGEST SOCIAL MEDIA PLATFORM
In January 2021, TikTok takes the 7th place among the largest social networks and messengers (ranked according to the number of users) with around 800 million active users per month. While TikTok is still clearly lagging behind the user numbers of Facebook (2.7 billion active users) and Instagram (1 billion users), the growth of the Chinese app is proceeding at a rapid pace: TikTok's user numbers have skyrocketed since the app's release in 2018. TikTok ranks consistently among the top 3 most downloaded apps in the world. Of its approximately 800 million active users, about 500 million are from China. There are about 100 million monthly active users in Europe, 10 million of them from Germany alone.
TIKTOK – THE HYPE OF THE GEN Z
If you look at TikTok's user demographic, it comes as no surprise that the focus here is on Generation Z. That is due to the fact that more than 69% of users are in the age range of 16 to 29-year-olds. Only 15% of its users are over 35 years of age. In addition, users are more likely to be female (60%).
German users launch the app an average of 8 times a day and use it for about 50 minutes, which is more compared to major social networks such as Instagram and Facebook. In comparison, the average active time on Instagram is only 32 minutes for the age group of the under-25-year-olds.

In addition to the long session, the activity of the users is also very high:

Overall, posts achieve higher organic reach than e. g. on Instagram and Facebook, where ads are considered almost a standard for reach generation.
TIKTOK MARKETING – THAT'S WHAT COMPANIES NEED TO KNOW
If you want to attract a very young target group to your own brand at an early stage and promote a strong brand building, you should consider including TikTok into your social media strategy. Companies can optionally set up a business account, the so-called Pro Account. This provides them with access to relevant account statistics such as reach, interactions, demographic composition and development of followers.
Devising a concept and defining your own goals for TikTok are important prerequisites for being successful on the platform in the long term. Combining authentic and innovative content with the own brand message is the high art of brands. After all, the TikTok community decides what matters to them on the app: Don't make Ads. Make TikToks.
It is important that the videos are not only short but immediately convey the message to the point and have an extremely high entertainment value. In addition, they should be 100% in line with the look & feel of the TikTok content and recorded in portrait format.
The following options are available for your organization to create content and promotional campaigns:
Posting your own (organic) content: TikTok is focused on the fun factor. The short videos are creative, funny and often very high quality. Brands should understand the TikTok community and look at successful cases from other companies to get a sense of the kind of content that's successful on the platform. It should be noted that the content is very different from other social media platforms.
Duets/React Features: Duets are popular on TikTok. The feature allows a creator to create a duet with a video from another creator. The two videos are then combined in one frame (one on the left and one on the right). This offers many possibilities for content creation, but also for advertising measures such as challenges.
Challenges: By launching their own challenges and calling on users to create appropriate content, companies can achieve a wide reach. It is possible to play these challenges in a paid collaboration with TikTok, which can increase the reach and commitment once again.
Brand Takeovers: This is another paid way to use TikTok as an advertising space. When the app is opened, users receive a selection of still images, promotional videos, or promotional GIFs in full-screen mode. The sponsored content can be linked to the brand's landing page or a sponsored TikTok Challenge. The format is ideal for achieving high attention and maximum reach. A Brand Takeover can be taken by one brand per day for only one category.
Branded Effects/Lenses: In addition, you can create your own brand lenses, which is similar to the Snapchat and Instagram AR filters. These are available for a certain period of time and will be displayed in the most important places during this period. Ranging from creative face filters to animated objects, brands can incorporate their products and present them interactively with a selection of effects. Because the effect is integrated into the video, so the ads do not appear in the feed. Moreover, so-called triggers also elicit interaction. Branded effects/lenses are some sort of user-generated content and should therefore send a message that encourages audiences to interact and produce creative brand experiences.
In-Feed Native Video: These 5 to 15 second long, screen-filling (9:16 format) video ads are displayed in the "For You" user area. Marketers can choose between three models: CPC (Cost per Click), CPM (Cost per Impression), and CPV (Cost per View). The different CTA buttons allow users to be redirected to a landing page, hashtag challenge, or download page.
TopView: The video-based advertising format is similar to the Brand Takeover format, with the particular difference that not only still images or GIFs can be shown here, but also up to 60 seconds long videos. The advertising is displayed unmistakably when users launch the app and it includes images, sounds, and texts. This attracts their full attention. This format is suitable for brands that want to appeal to a wide audience, thus triggering many video views and a high level of commitment.
Collaborations with Influencers: Influencers on TikTok also have a huge reach and an enormous impact on setting trends. As part of the paid Customer Influencer Package, the app brings companies together with suitable influencers. You can find the right TikTok influencers via our monitoring and analysis tool NewsRadar: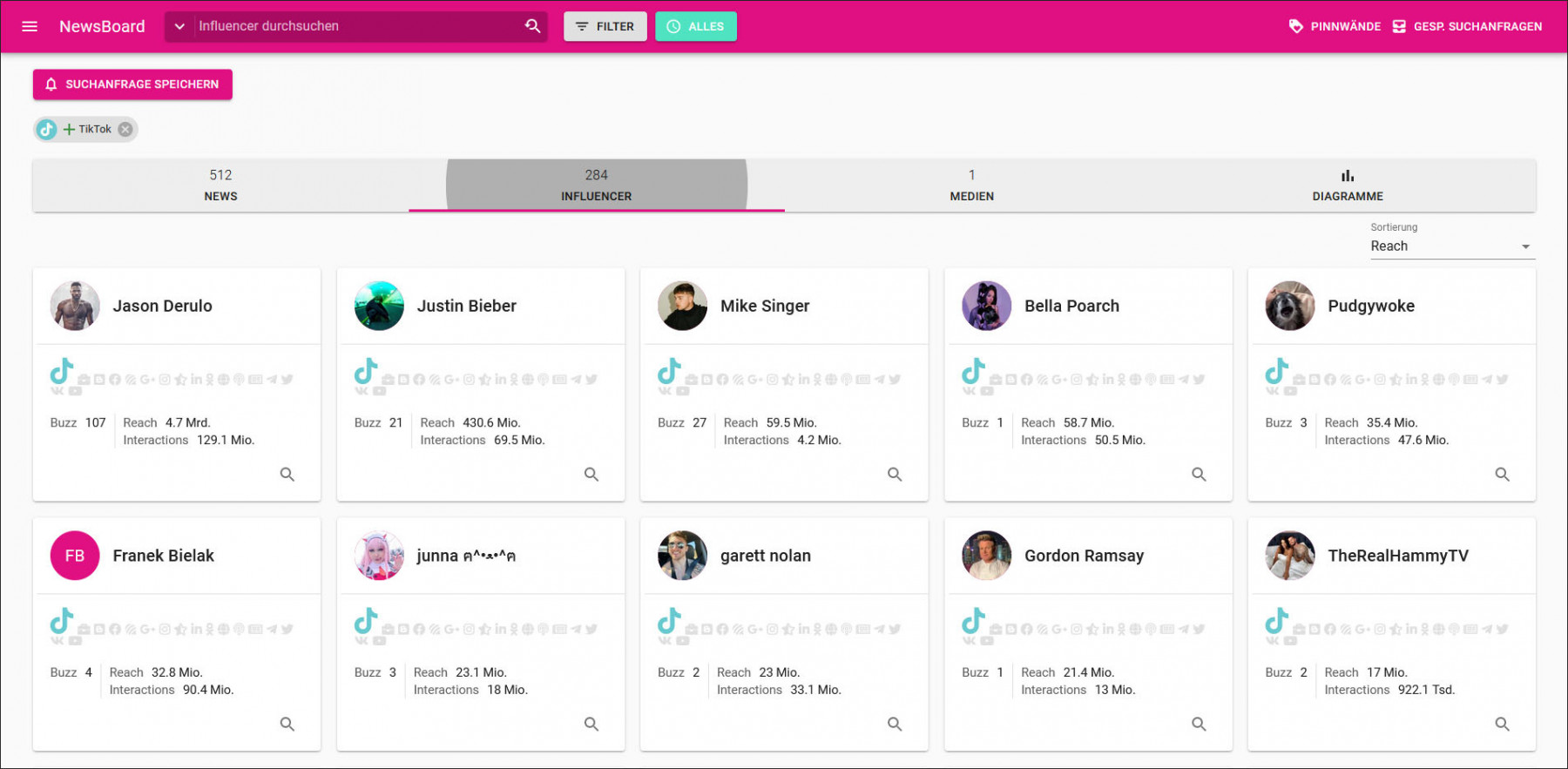 Shopping: According to the Financial Times, TikTok will soon offer marketing tools similar to those of Instagram. Accordingly, high-reach TikTok influencers will be able to share links to products and automatically receive a commission on purchases. Supposedly, companies will also be able to present their products in catalogs.
Q&A Feature: Q&A is a new feature that provides a great opportunity for businesses and influencers to get to know their community better and possibly deliver even more appropriate content. For the time being, however, the Q&A function is still undergoing a limited testing phase.
Conclusion: Companies can benefit from the diverse content and advertising opportunities on TikTok. Unlike Facebook, YouTube and others, you can quickly build up a considerable reach on the social media app. B2C companies in particular, which want to attract a young target group to their brand at an early stage and want to retain them as future customers, are well-advised to include TikTok in their social media strategy. In the B2B sector, however, it still seems somewhat unclear whether the platform is actually worth it. Here, TikTok could be more interesting in the area of employer branding and recruitment measures than for mere advertising. That's because the app has plenty of young users who will sooner or later look for an attractive employer.

The biggest challenge for brands is to align content and desired messages to the requirements of the platform. Particularly in companies, trends need to be creatively tailored to their own brand. Classic marketing content is rather unsuitable for organic posts.
---
Profound TikTok monitoring can enable you to find the right trends and insights, thus measuring the impact of your social media content. Gain deep insights into your brand, audience, influencers, and competitors. Read more