May 15, 2018
8 minutes reading time
Today, Influencer Marketing, in connection with Content Marketing, is considered the most promising concept when it comes to influencing the buying decision of the customer on their Customer Journey. It takes time and effort, but Influencer Marketing is worth it if you want to promote your business, reach valuable customers and build the trust in your brand.

Why? 68 per cent of German online users have become aware of a product thanks to Social Media. Over a third of Social Media users have already bought a product advertised by an influencer. This is the result of a study conducted by the Bundesverband Digitale Wirtschaft and Influry.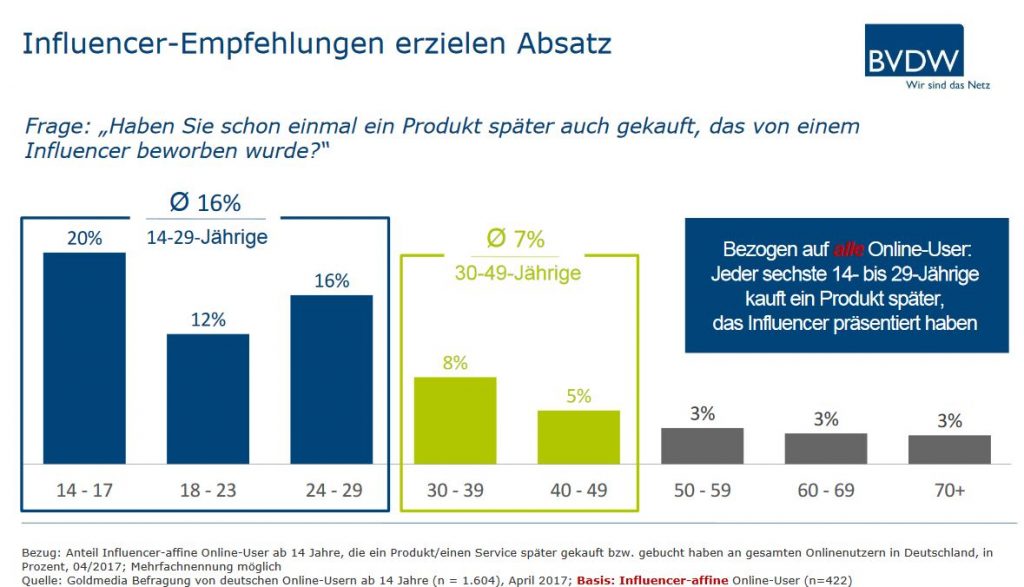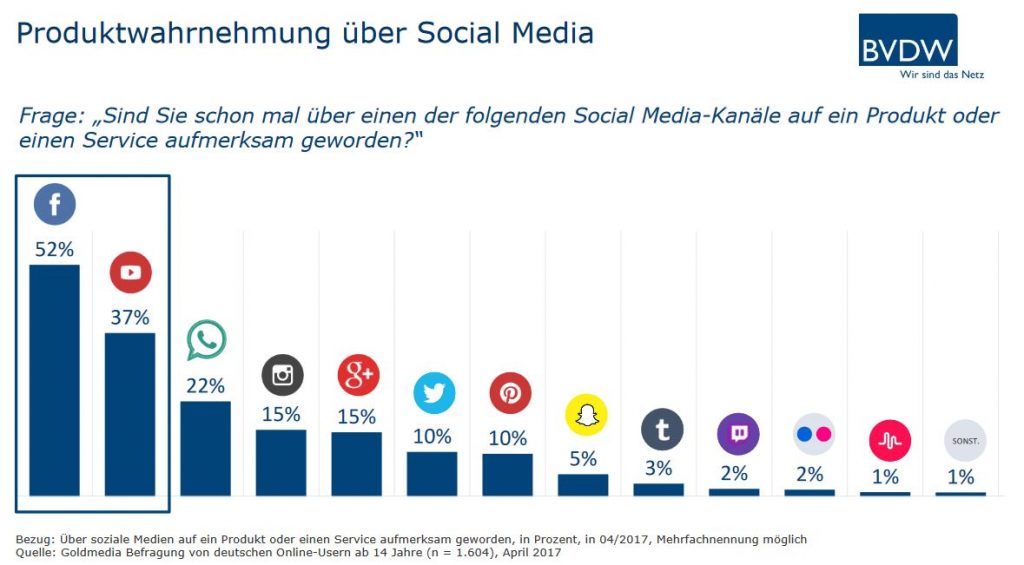 According to the study, Facebook and YouTube are the most important Social Media channels. 52 per cent of German online users on Facebook and 37 per cent on YouTube have become aware of a product thanks to an influencer. WhatsApp and Instagram follow with 22 per cent and 15 per cent respectively.
Influencer Marketing is exceptionally effective in the B2C framework, however, it can also be successfully applied in B2B marketing. Here is why: B2B buying decisions are highly affected by the risk awareness of the buyer. In order to minimise the risk, these decision makers pay even closer attention to recommendations from others and the general reputation of the seller in the corresponding market.
The following tips will help you with the development and implementation of your B2B Influencer Marketing campaign:
Define the goals of your Influencer campaign
The secret ingredient of a successful influencer campaign: the brand and the influencer need to match! It is important to define the goals of the campaign first in order to find the right influencer for your brand – the goals will point you in the right direction in your search for an influencer.
Ask yourself the following questions:
What is the purpose of the potential cooperation?
What are your expectations from the influencer and what is the time frame?
What is the goal of the campaign: would you like to raise awareness of a product or improve the reputation of a brand?
How will you measure the return on investment from your influencer campaign?
Find more tips about goal setting in influencer marketing in this blog post.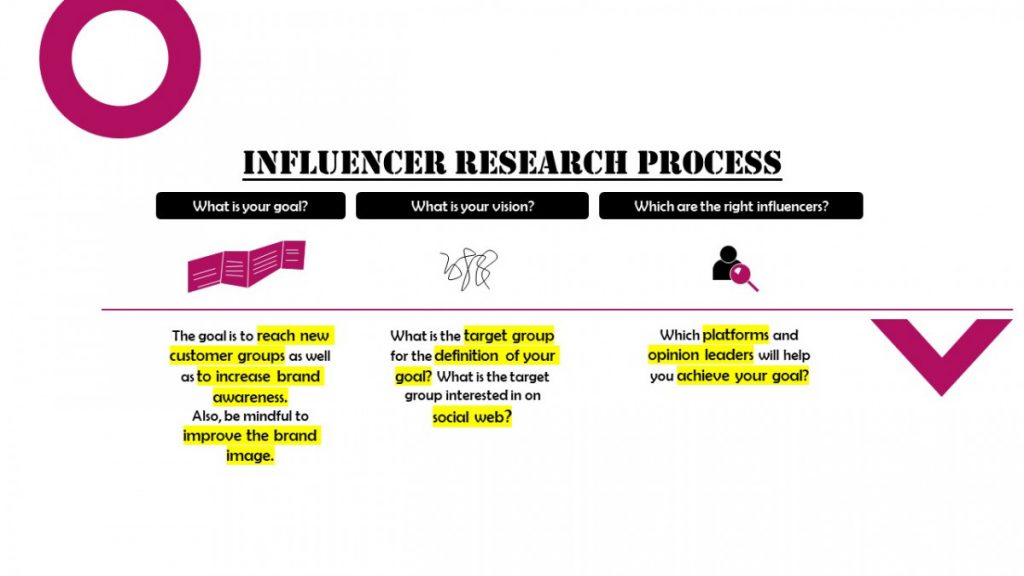 After you have compiled an overview of your goals and your approach to incorporating an influencer you have accomplished the first important milestone in your search for an influencer.
Pinpoint relevant B2B influencers who match your company and your brand
You need to know who is active in your industry and field of interest before you can start a dialogue with an influencer: who communicates what over which channels? And how big is the achieved effect? Important influencers for a B2B company are independent, trustworthy experts who are also perceived as such within the industry. They can be represented as thought leaders, industry analysts, conference speakers, authors of relevant publications or Social Media disseminators. Your own employees or CEOs, partners and customers would also be a great representation for your brand and would do well as influencers because they already know and appreciate your product. You can encourage your employees through so-called Job Ambassador programmes to give you their perspective on your company and product as well as to promote the content. This strategy can potentially increase the reach of your company manifold as employees and partners often have extended networks of potential customers or prospective employees. Such a programme is more manageable than a cooperation with influencers and it can also reinforce the feeling of community among your own people.
Case in point: online-retailer OTTO started a Job Ambassador programme late last year. Some 100 employees were trained as Instagram and Facebook influencers to promote their company on Social Media.
Make use of key figures and qualitative criteria when choosing your influencer
Considering qualitative and quantitative selection criteria, e.g. interaction rate, relevance score, impact and credibility, is crucial when choosing a B2B influencer.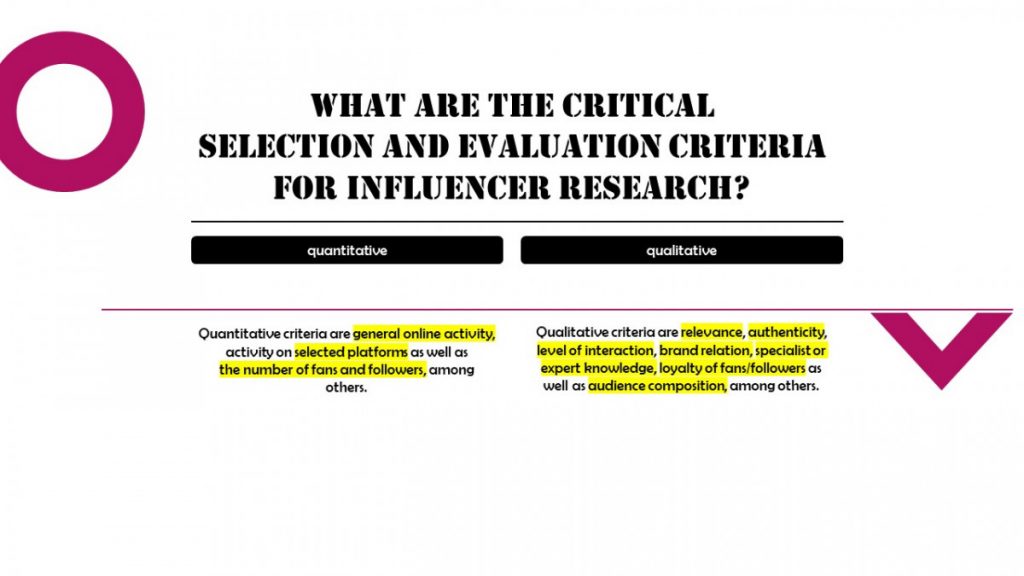 Contrary to B2C, the enormous reach of the influencer should not be your primary concern. What you are looking for is the quality, loyalty and relevance of the target audience as well as a high level of credibility of the influencer.
Some questions to ask yourself:
What are influencer's topics? Do they match your product, business and brand philosophy? – Consider the quality and compatibility of the content with your company and services.)
How big is the spread of influencer's topics? – The more specific the topics, the better their understanding of your industry, the more profound the specialist knowledge, the more trustworthy the communication with the target group.
Is the influencer perceived as convincing?
Does the influencer exercise his or her influence regularly? Is there an exchange of opinions? Are there discussions that shed light on the deeper context or is it just about link sharing? – Real influencers don't just share links, they actively contribute to shaping opinion.
What is the industry reach of the influencer?
Is the influencer currently tied to a third party? What companies does the influencer already endorse?
How and in which tone does the influencer promote the content?
Win over an influencer for a cooperation with your company
A good long-term cooperation with an influencer is the foundation of a successful Influencer Marketing campaign: it should be established and fostered before the actual campaign. Before you make the first contact, firstly, you should focus on the communication and the work of the influencer and, secondly, find out their personal interests and incentives. Demonstrate your interest in the opinion leader: share and comment on the relevant posts of the influencer and join the same business networks. Most influencers enter a cooperation based on personal interest in a product, service or brand. Their incentive for such a cooperation is, first an foremost, an exchange of knowledge.
The majority of influencers expect to be supplied with exclusive, high quality information from your company which they then can use to fulfil their own goals or to incorporate into their own content.
You will need perseverance and tact when contacting your potential Influencer Marketing partner. Here is a couple of tips:
Convey the impression that the good reputation of the influencer is valuable to you: they know what they are worth.
Offer exclusive content and information which could be interesting and bring additional value to the target audience of the influencer. Provide test objects and exclusive access: influencers are always willing to expand their sphere of influence.
Demonstrate that you value their expertise by asking for their opinion.
Too many limitations and guidelines are more of a hindrance to the influencer and make them seem unnatural and less genuine. Do not put limiting demands on the future content, give the influencer the room to freely express their views. In many cases guidelines and rules are a deterrent as influencers are not looking to be bought out.
Do not lobby the influencer with false promises.
Do not pressure: let the influencer decide when to write about your product or brand. It is especially relevant in the beginning of the relationship as the influencer might back out due to shortage of time.
Build up trust through personal communication: in the B2B Influencer Marketing context industry related meet-ups, fairs and conferences are all great opportunities to do this.
The influencer will benefit from and appreciate your help in raising their profile by giving recommendations and emphasising their expertise.
Create transparency and respect legal framework
Similar to businesses, many influencers are not absolutely sure about the requirements for labelling their content as advertising. However, since the Rossman case it is clear that companies and influencers need to be transparent in their cooperation. This means that advertising content on Social Media, be it video, text or simple links, must be clearly and unambiguously marked as such, e.g. with a label 'Advertising' or 'sponsored'. Opinion leaders need to make sure that the advertising label is also clearly visible on smartphones and tablets. If the influencer gets paid for a presentation of a product or a company, or if they get something in return, e.g. a test product, they must label this content as advertising. Should they ignore these legal guidelines they are running the risk of receiving a warning. Moreover, the lack of an appropriate advertising label may damage their credibility and harm the company that paid for the content.
Evaluate the Influencer campaign and measure the success
A comprehensive analysis of your influencer campaign is a prerequisite for gauging the success of your cooperation. Businesses should use the results of the analysis to their advantage and learn from possible mistakes as well as see them as a tool for future cooperations. You can find more information and tips in our blog post 'How to measure ROI of your Influencer Marketing'.
Conclusion
Companies with a tighter budget can also benefit from B2B Influencer Marketing with the right choice of an influencer and a targeted campaign. Working closely with the influencer is very important if you want to ensure a successful campaign. This is the only way to create high quality content for your target group which can also be marketed by the influencer successfully. You would also need to nurture and strengthen such cooperation with in-house marketing. B2B Influencer Marketing offers enormous potential when companies are candidly looking for a long-term, mutually beneficial relationship with an influencer.