NewsRoom –
Reorganizing communication
We bundle and visualize all important data for your corporate communication in one portal. Use our NewsRoom to get a faster and more accurate overview of all relevant information and to communicate faster and more efficiently.
Digital communication management
– with tailor-made Corporate Newsroom solutions.
In the course of digital transformation, more and more communication departments are discovering the newsroom as a contemporary organizational form. The structure and process organization modelled on large media houses helps to work cross-media and to think in terms of topics instead of channels, thus becoming more efficient and transparent. The speed with which content can be captured, coordinated, processed and distributed is crucial.

Always informed, everywhere
Have our virtual portal always at hand. Our NewsRoom can be easily transferred to all end devices: desktops, screens and mobile devices. Our video wall visualises all relevant data for each of your employees - regardless of whether they are in the office, on the plane or at home. This makes your communication work even more agile.
All data - reorganized - on one platform
Keep an eye on all the important data streams you need for your corporate communication at all times. Our NewsRoom bundles and visualises cross-media media monitoring, media resonance, owned and earned media as well as your analysis data.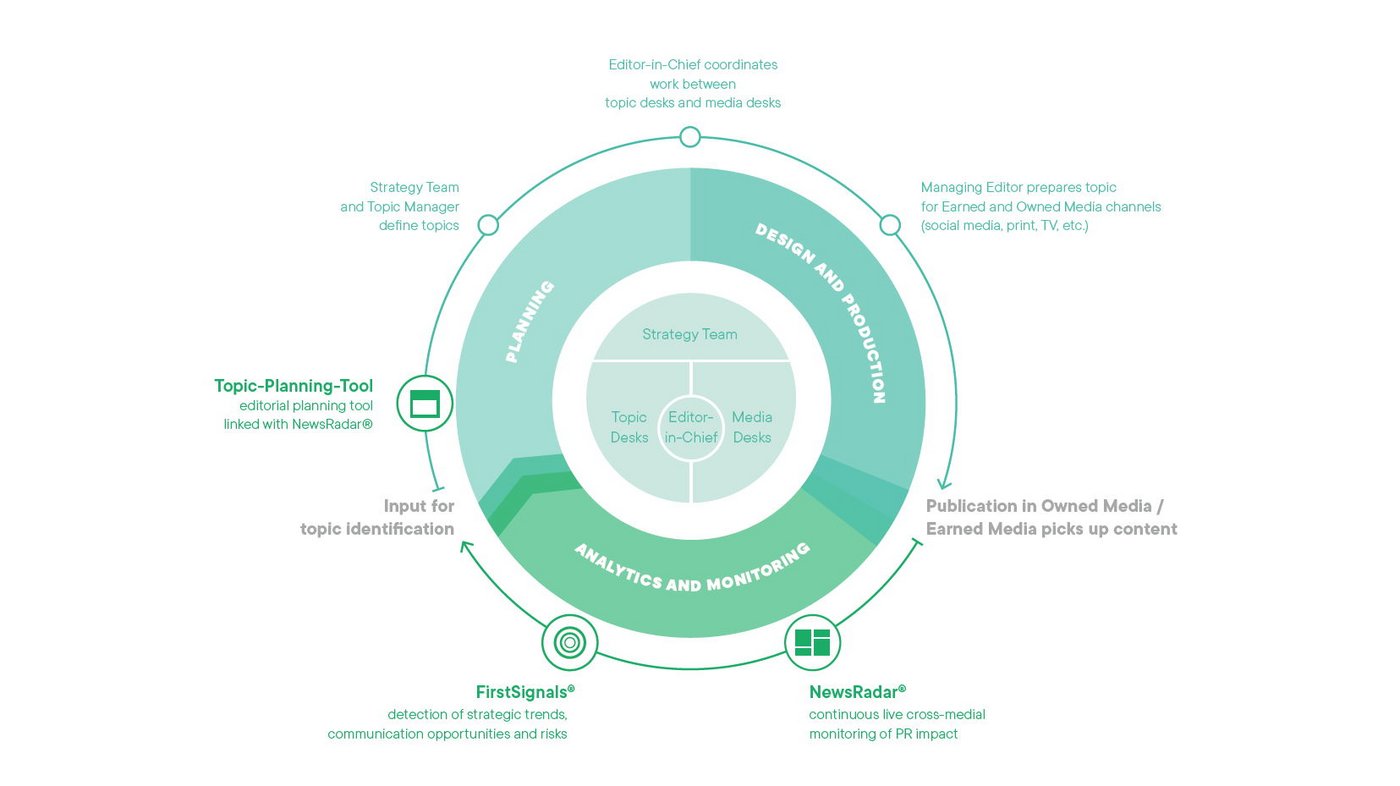 Individual visualizations & design
Decide for yourself which information is displayed and how. Whether marketing managers, channel managers or campaign managers - the needs of communication and PR professionals are as diverse as the roles in a company. We adapt the visualization (e.g. dashboards or homepage) and design of the NewsRoom to your wishes so that everyone can quickly and easily access the information they need.
Precisely fitting data
Get all the information you need right now. We also integrate external content such as planning and publishing tools, statistics from your intranet, Google Analytics or other relevant data into your NewsRoom. More flexibility, more efficient workflows, intuitive data management - we will work with you to develop a tailor-made solution for your needs.