Newsroom—
Reorganizing Communication
ADVANTAGES OF OUR NEWSROOM SOLUTIONS
YOUR NEWSROOM
Collect and visualize all important data for your corporate communication in a single portal. Take advantage of our newsroom solutions to get a more accurate overview of all relevant information even quicker, and make your communication faster and more effective.
Digital communication management…
…with tailor-made solutions for your Corporate Newsroom
The media landscape is more dynamic, more tangled and more complex than ever. There is a large number of channels and target groups with various demands for topic and content. Content spreads so fast that a real-time response is often warranted.
In response to the digital transformation more and more companies are discovering the Corporate Newsroom as an ideal form of organization. Structural and procedural organization based on the model of big media companies helps to do cross-media work and put the spotlight on the actual topics. Some of the pros of the Corporate Newsroom are short communication channels, an efficient and flexible working environment, a better overview and more transparency, targeted topic setting and a greater ability to act and react—all this allows for a faster collection, coordination, processing and distribution of content.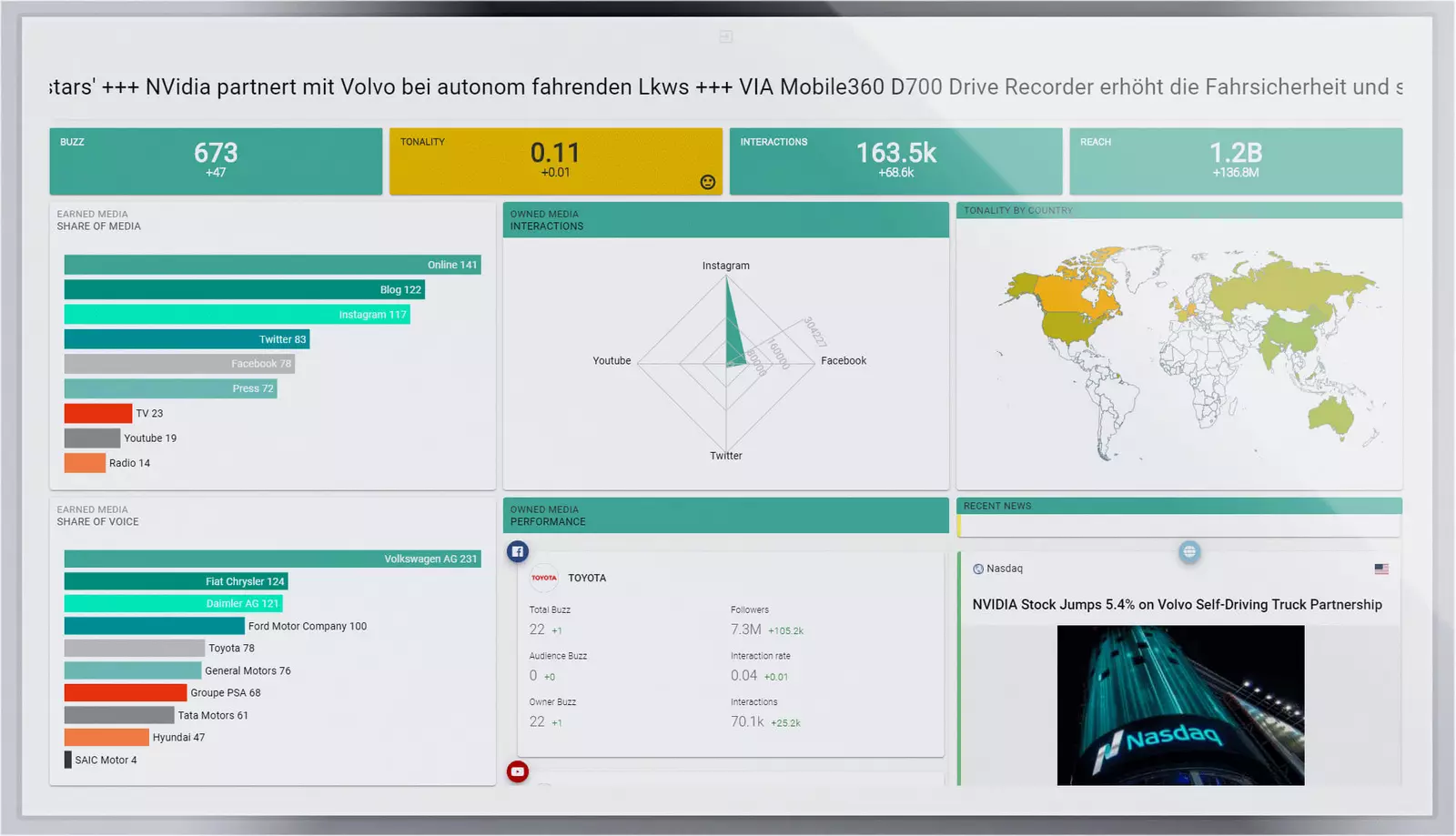 Here is how you can implement our newsroom solutions
STAY UP-TO-DATE ANY TIME, ANY PLACE
We accompany you throughout the entire cross-media work-flow, starting with detection of topics and trends, through editorial planning, and ending with monitoring and analysis. Now you can identify strategically important topics and relevant trends at an early stage, and launch your communication on the right channels in the most suitable form and at the right time. The subsequent evaluation will reveal to you the result of your communication work in the media. And this is how you effectively measure your success.
ALL DATA – REORGANIZED – ON A SINGLE PLATFORM
You choose the data framework for your newsroom, determine which information you need exactly, and we support you in all crucial points: the integration of FirstSignals® makes nuanced and effective content planning possible and helps you take the leading role in the public debate through an early and advantageous positioning on future trends. An integration of editorial topic planning tool will assist your strategy team and topic managers in preparation of channel-specific content. The NewsRadar® provides a clear overview of all the important data streams across all media channels and in real time. You will see how your topics develop in Owned and Earned Media and get access to important KPIs for your strategy via up-to-date analysis reports.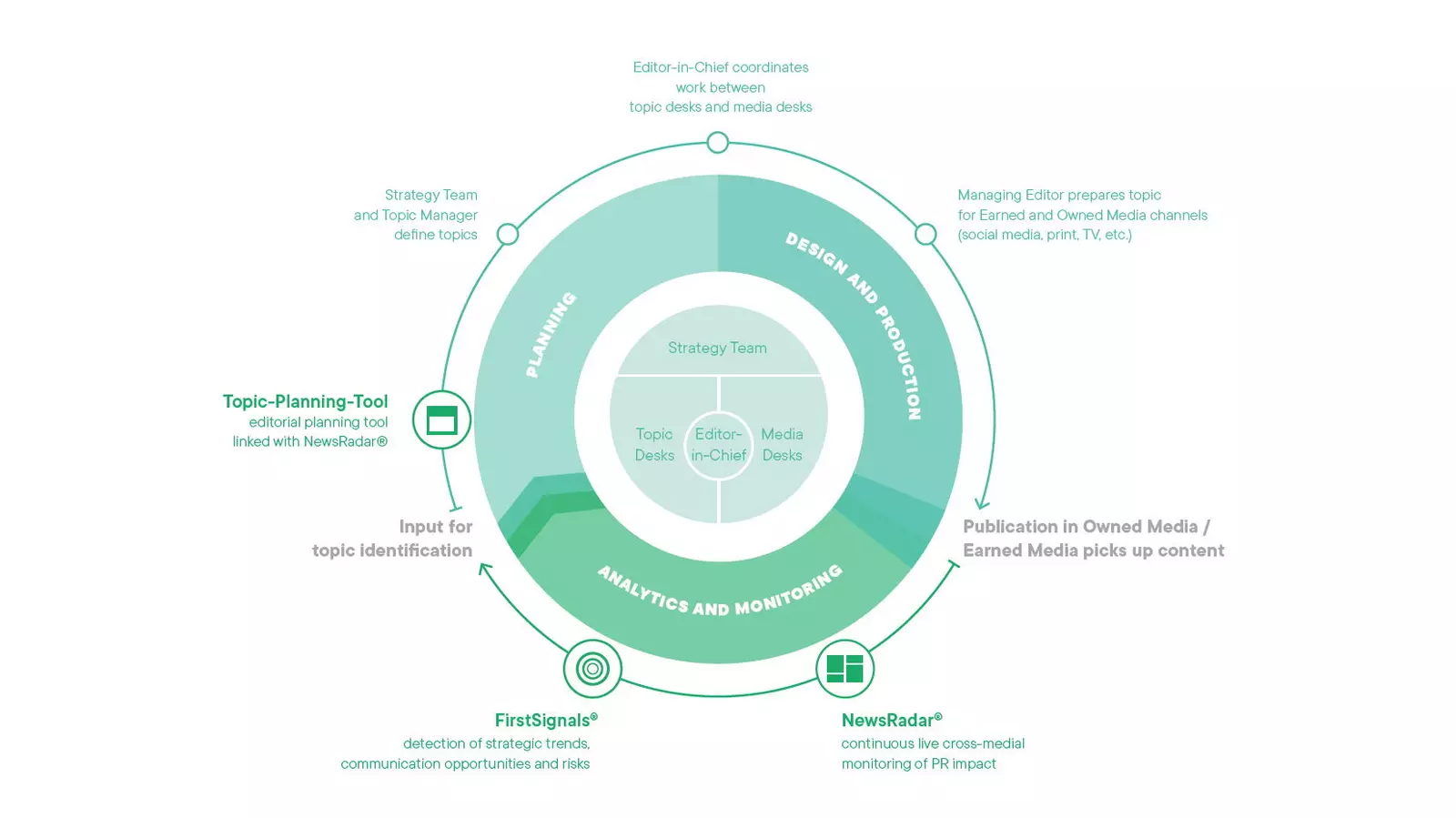 ACCURATE DATA PREPARATION
Get all the information that you need, including external sources such as planning and publishing tools, statistics from your intranet, Google Analytics or other relevant data and integrate it into your dashboard. More flexibility, efficient work-flows, intuitive data management—we will find a perfect solution for you.
Always have your virtual portal close at hand. Our newsroom applications are compatible with any screen size—big displays, desktop monitors and all mobile devices. All relevant data available to all your employees no matter where they are—standing right next to you in front of a video wall, sitting at their desk or on the move.
CUSTOM VISUALIZATIONS & DESIGN
You decide how you want to visualize your data: strategy team, managing editors, topic and channel managers—our customized solutions will match all the various roles in the Corporate Newsroom. You can always customize the visualization and the design of your NewsRadar® dashboard and get the required information even faster.
You want to build a newsroom…
…and need help with design, planning and structuring?
We are happy to assist you in building your newsroom and finding the right strategy to implement your ideas. We will support you in laying the groundwork and accompany you throughout the development process of your newsroom concept—from practical implementation all the way to the professional news and data management.
In order to find the best way to realize your Corporate Newsroom concept, we will join forces with our partner from the K12 Agency for Communication Innovation. The agency provides expert knowledge about digital transformation in corporate communication and the implementation of new organizational forms.
Any questions? Any interest? Or maybe both? Wonderful!
We are looking forward to hearing from you —via email, phone or the form below