Identify Topics and Influencers
with the NewsBoard
WHAT YOU GET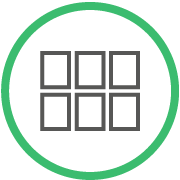 Stay in control, spot the opinion leaders
The NewsBoard displays all current articles about your specific topics. In just a few clicks you will be able to identify influencers and media sources, or access important KPIs and integrate the new insights into your daily PR work. A conventional media review, an influencer research or a crisis monitoring—the NewsBoard will help you stay in control.
Simple filing system
Our simple and easy to use folder system will help you navigate the news landscape. Additionally, you can create pinboards (e.g. based on topic) and pin relevant articles automatically or manually.
Autonomous media review dispatch
Generate and send your media reviews. Various options, e.g. folders and filters, allow you to create your own media review from selected articles and send it to your mailing list directly from the NewsBoard.
Personalized Dashboard
Customize the Dashboard to fit your needs. Numerous adjustable filters will get you to your crucial data faster.
ONE CLICK SOLUTION FOR MEDIA MONITORING