NewsRadar® records
and links all relevant
data in one tool
All cross-media data and insights at one click 
NewsRadar® bundles all relevant data for your communication controlling in one tool. With just a few clicks you can compile and analyse the cross-channel results from Earned and Owned Media with important key figures such as reach, interactions, sentiment and hashtags.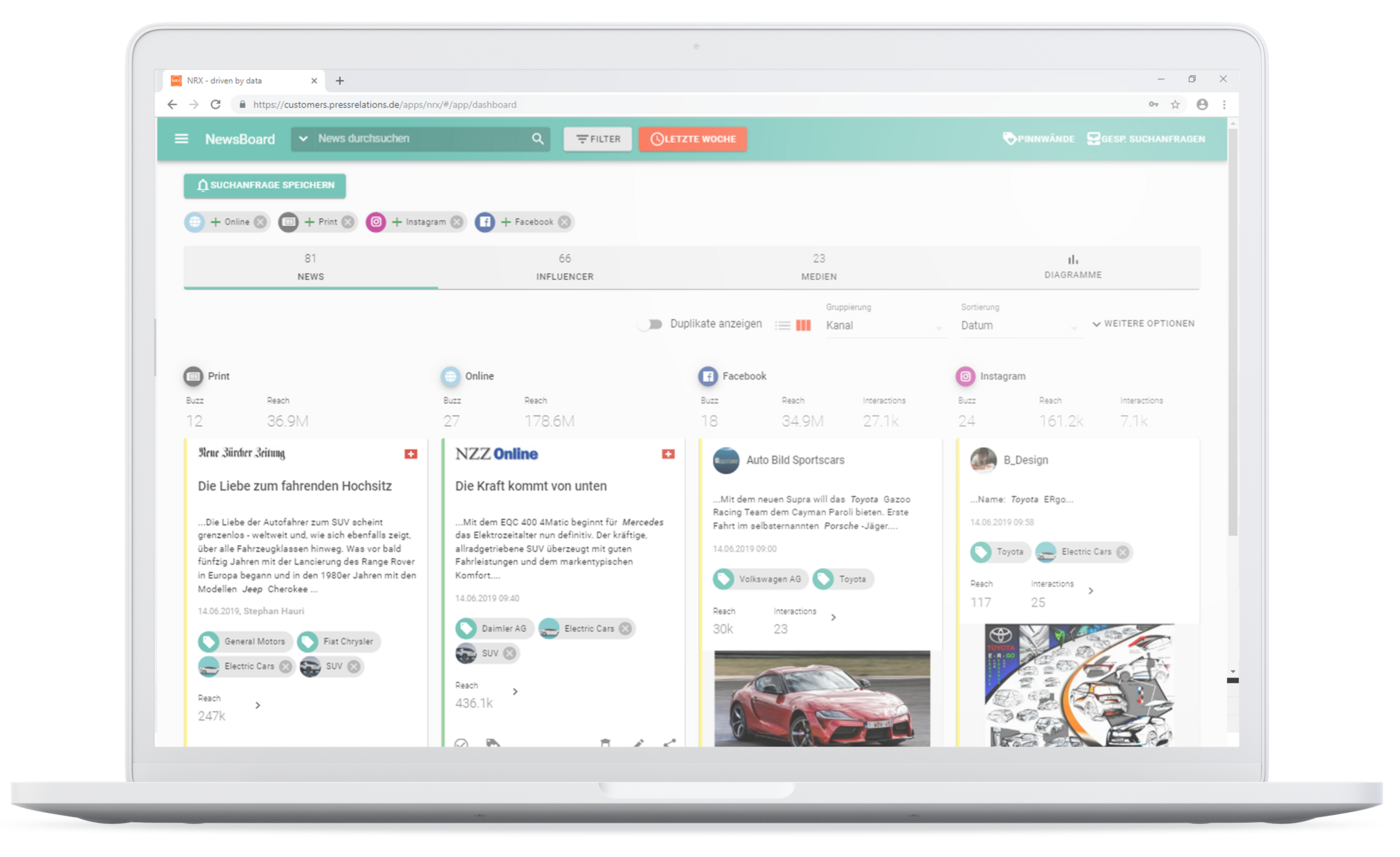 Features in NewsRadar®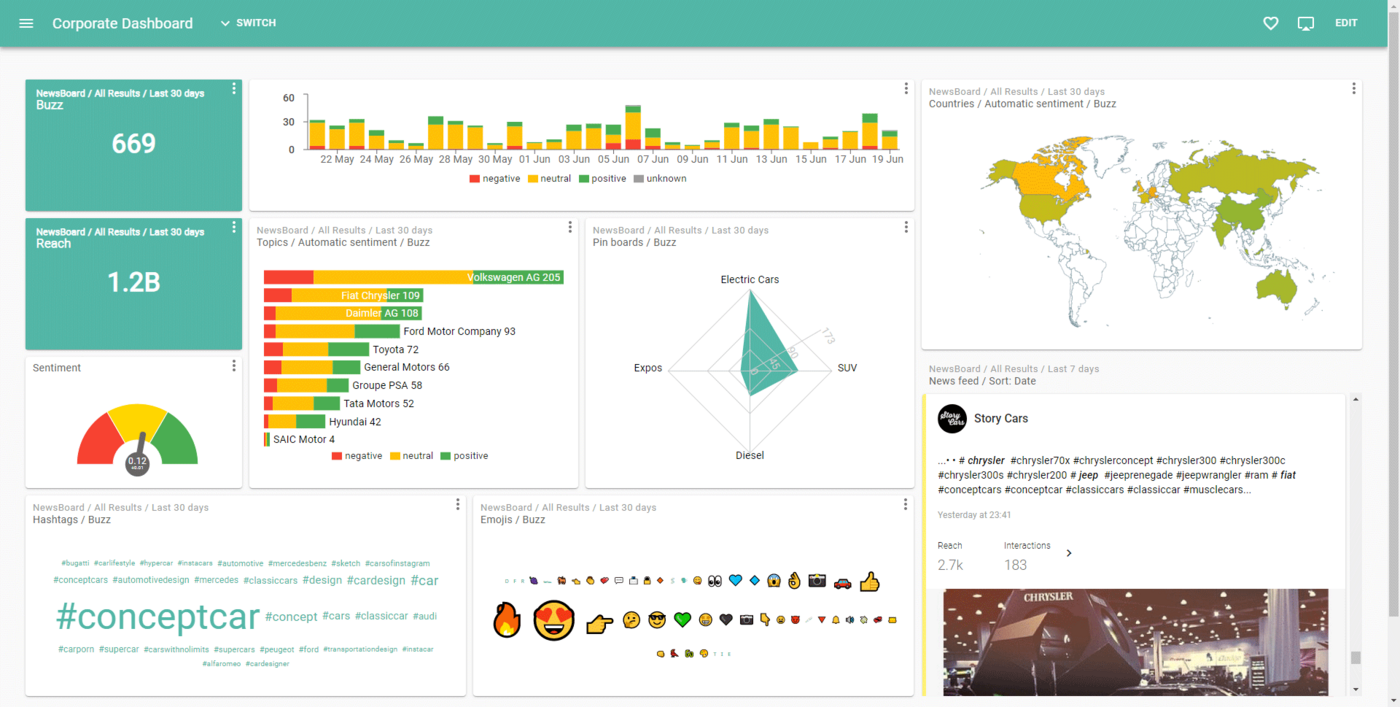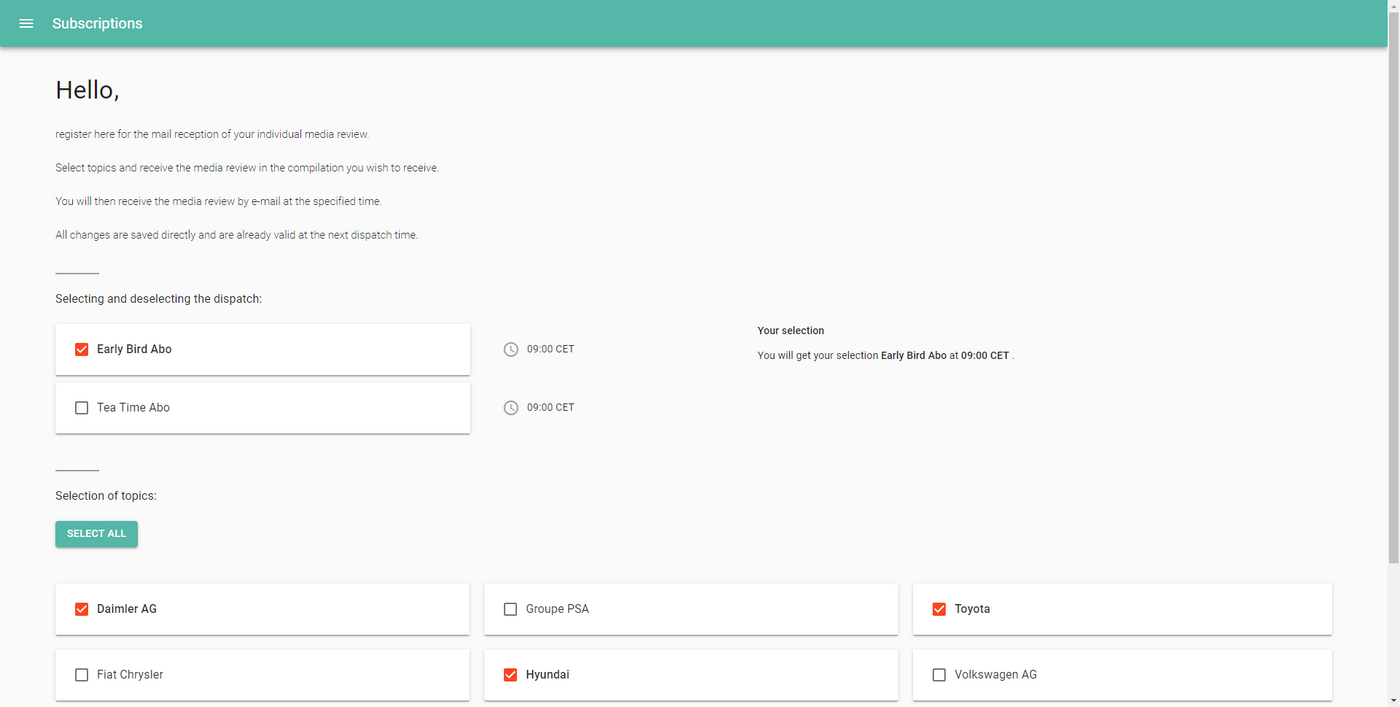 Benefit from the numerous customization options of the
NewsRadar® dashboards and the intuitive usability of our analysis portal. Use the numerous filter and search functions and access press reviews, media data and analysis filters quickly and easily. Monitor and analyze your data independently and export it for reporting with a single click.
With our subscriptions, every employee can now create their own individual media review. So everyone gets exactly the information they need for their daily work. Select relevant topics on the basis of the company media review and receive your individual media review conveniently by e-mail. In addition, you can subscribe to daily top news so that you don't miss anything that is important for your company.
Features and functions
Stay up-to-date on your topics and search terms. In the SearchPool you can set up suitable alerts for any search query and define yourself when and how often you want to be notified: at a fixed time as soon as the news arrives or only in the case of increased article volume, in the news ticker or as crisis alerting.
Organize relevant contributions individually and as needed in folders. The corresponding articles can be automatically or manually sorted into finboards created by you.
Use individual search queries to browse our online media database and research relevant topics for your own business or to monitor your competitors. If required, you can save your search queries and call them up again at any time.
Use the displayed data for your daily communication work by sharing it, exporting it and processing it in your reports. With just a few clicks, you can send the graphics, data or key figures of your choice by e-mail, export them as Excel or PNG files or present them directly in the tool.
Access our extensive media set of currently around 45,000 German-language and international online media from more than 150 countries, which is continuously adapted and expanded as required. Thanks to our worldwide partner network, you also have access to national and international print media, radio and television contributions as well as social media channels.
Keep an eye on all channels - in just one monitoring and analysis portal: Monitor your brand, your products, stakeholders, influencers and topics across channels, online and offline, in Owned and Earned Media.
NewsRadar® proposal
Use the entire power of data for your communication work: All relevant information and all channels at a glance, simple and independent research, analysis and presentation of the data - convince yourself of the advantages of our cross-media monitoring and analysis portal. We will be happy to advise you so that you can find the right solution for your needs.
Any questions? Or are you interested? Or both? Wonderful!
Then we look forward to hearing from you – by e-mail, telephone or via our form.