Identify Key Influencers
Our Influencer Scoreboard will help you to fine-tune your influencer marketing strategy. In order to initiate and maintain a dialog with an influencer, you first need to know is actively discussing your topic of interest and how they are positioned on the social web.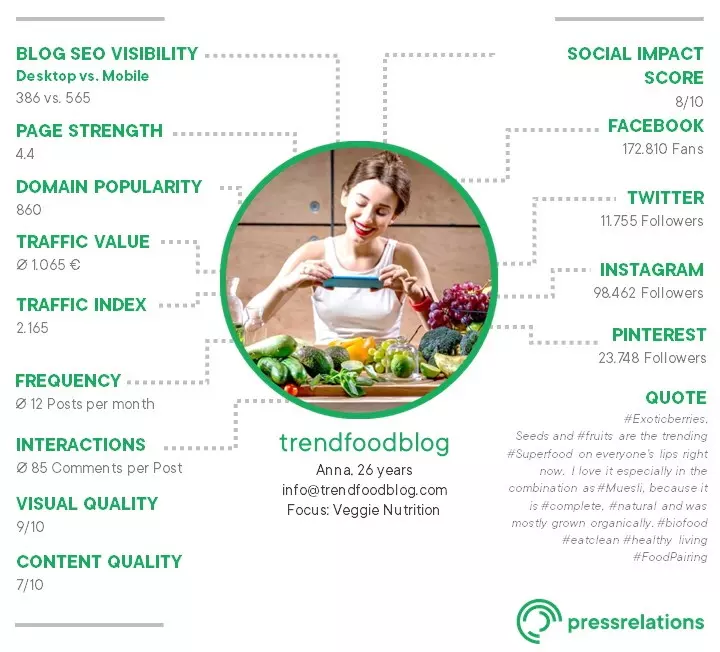 We spot the opinion leaders on the social web who are relevant to your campaign, and visualize the key quantitative and qualitative figures in a compact overview. Additionally, we evaluate the quality of the content and the USP of any given blog or channel.
On top of that, the Social Impact Score, developed by pressrelations, provides you with a cross-channel comparison and helps with the prioritization of influencers. With the focus of your strategic campaign and your special requirements in mind, we design a custom scorecard for you and provide you with insights to be used as a compass in your influencer marketing activities.
Influencer Scorecards Contain the Following Key Figures:
Reach
Traffic value
SEO Visibility (Desktop vs. Mobile)
Link and domain popularity
Page strength
Posting frequency
Interactions
Visual quality and quality of content
Social Impact Score
Interested? Get in touch!
We are looking forward to hearing from you —via email, phone or the form below