Find Successful
Social Media Content
WHAT YOU GET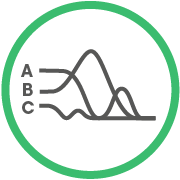 RIGHT MODULE FOR DIRECT COMPARISON
Determine the impact of your social media content marketing quickly and easily with ProfileMonitoring. Gain meaningful insights in your target group and the public perception of your brand and your products.
Extensive social media analysis
Manage all your Owned Media channels on a single platform and analyze with just a few clicks how well your content is doing on Facebook, Twitter, Instagram and YouTube. Get all the key figures of your company profile.
Better understanding of your target group
Look beyond your social media data and really understand the opinions, interests and preferences of your target group. Respond to crises and trends immediately with our real-time monitoring. Detect successful content and turn your insights into an effective content strategy.
Comprehensive competition analysis
Follow the trends and developments of your industry. Compare your performance and social media content strategy with those of your competition, learn from their biggest successes and failures.
Simple social media reporting
Track and document our progress with our ProfileMonitoring. Customize the Dashboard to fit your needs and export it as a social media report.
Interested? Get in touch!
We are looking forward to hearing from you —via email, phone or the form below