Identify
successful social media content
At a glance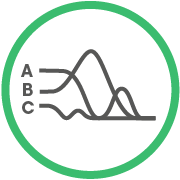 The right module for direct comparison
Use ProfileMonitoring to quickly and easily measure the impact of your social media content marketing and gain meaningful insights into your brand, your products and your target group.
Extensive social media analyses
Bundle your owned media channels on one platform and evaluate the success of your content on Facebook, Twitter, Instagram and YouTube with just a few clicks. Gain insight into all important key figures of your owned channels.
Better understanding of your target group
Look behind the metrics of your social media channels and understand the opinions, interests and preferences of your target audience. Respond quickly to crises and trends with real-time monitoring. Identify successful content and transform your insights into an effective content strategy.
Comprehensive competitive analysis
Follow the trends and developments in your industry. Compare your performance and social media content strategy with that of your competitors and learn from their biggest successes and failures.
Simple Social Media Reporting
Track and document your progress with the NewsRadar® Social Media Monitoring Tool. Customize the Profile Monitoring Dashboard to your individual needs and export for your social media reports.