November 20, 2020
4 minutes reading time
The turbulent 2020 is coming to an end. The lockdown, social restrictions, and the associated accelerated digitization had an impact not only on our everyday lives, but also on social media. This makes it all the more important to be prepared for what 2021 will bring to social media. In addition to the coronavirus pandemic, these 4 trends could dominate social media marketing next year.
TREND #1: FIGHT AGAINST FAKE NEWS: SOCIAL MEDIA PLATFORMS MUST BECOME MORE TRANSPARENT AND RELIABLE
Hate speech, conspiracy theories, and fake news on the social web have increased dramatically since the corona crisis. Facebook, Twitter, and the rest have therefore been obliged by government authorities to take new measures in the fight against fake news and to label misleading content and disinformation more clearly on their platforms. WhatsApp has restricted the forwarding of messages, Facebook and Twitter now display a general warning when external fact-checkers reveal a message to be fake. In addition, our Fake News Monitoring can help you assess how trustworthy an online media source is. To this end, trained journalists check the outlets for credibility and transparency and evaluate them according to a point system, the NewsGuard Score.
According to the federal cybersecurity authority, automated detection of social bots is also a promising way to protect against false information. This is because they are responsible for the mass distribution of targeted fake news campaigns. The social media platforms seem to have learned that a transparent and responsible handling of information is important for social media users. In the future, companies should also establish themselves even more strongly as authentic, transparent, and responsible brands and ensure that their content is carefully selected and distributed on the Social Web.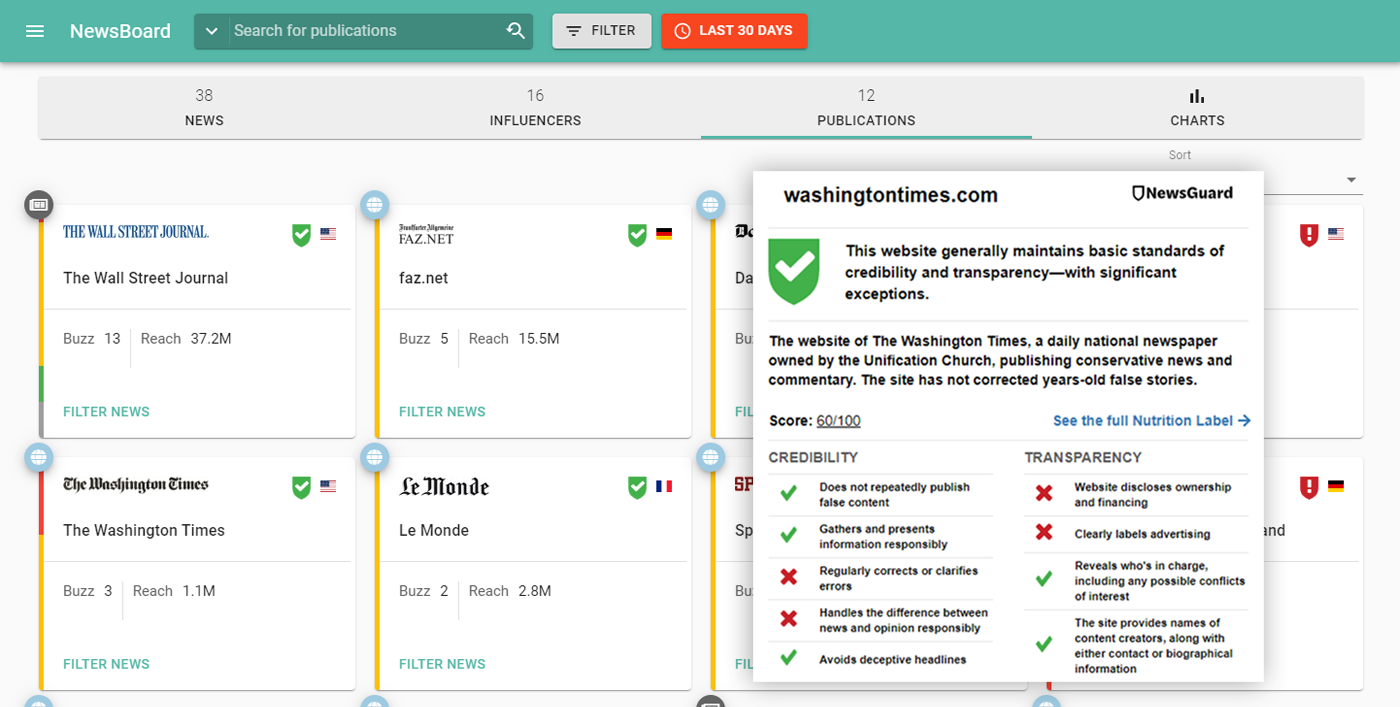 TREND #2: STORIES REVOLUTIONIZE B2B SOCIAL MEDIA NETWORKS
A few weeks ago, the B2B platform LinkedIn launched the new story function for German users and added vertical videos. This opens up new opportunities for business networking.
The Story format, originally established on Snapchat, allows you to create short videos with a maximum length of 20 seconds. These are five seconds longer than Instagram Stories. As with the Story feature on Snapchat and Instagram, different stickers and tagging other profiles are also part of LinkedIn Stories. Stories can also be published in the name of the company via LinkedIn company pages. Currently, there are no ads for the new feature on LinkedIn, but it is only a matter of time before this changes. The story format will certainly find its place on XING soon.
TREND #3: CONVERSATIONAL MARKETING FOR MORE EFFICIENT CUSTOMER RETENTION
Personal messages as well as direct and open communication are becoming more and more important in social media marketing. Conversational marketing makes companies more approachable for their target group and enables them to establish a relationship with their customers faster – no matter what time of day it is. Chatboxes, chatbots, messenger services, and communication via the company's own social media profiles are the most common ways of this digital conversation.
When it comes to conversational marketing, it is important to consider the following:
Establish processes that define how to identify appropriate topics for chatbots and messenger services and determine meaningful performance metrics.
Align chat topics with the content and purpose of your website and social media channels.
Enhance user experience for your target group by personalizing the digital chat conversations as much as possible, continuously testing chatbots and adapting them to user needs.
TREND #4: NEW, PROMISING E-COMMERCE FUNCTIONS ON SOCIAL MEDIA AS COMPETITION TO PURE ONLINE STORES
New features are designed to make the shopping experience on social media channels even more inspiring and help brands generate more sales. For example, Pinterest introduced new shopping options during the pandemic. WhatsApp is also the first social messenger to offer a new shopping button directly in the chat. And Facebook's new store feature, which was also rolled out during the coronavirus crisis, is considered a promising initiative to integrate professional e-commerce into the social media platforms Facebook and Instagram. In the future, customers will be able to access complete stores from Facebook ads and purchase their products.
In the USA, these shopping functions are already being successfully tested and used on social media channels. At Pinterest, US shoppers have shopping baskets up to 40 percent larger than other customers of the same online store. Pinterest currently has three features available for the German market:
Automatic Bidding for Shopping: Here, advertisers can dynamically adjust the bidding of an ad group to get the maximum number of results.
New Conversion Analysis: New updates allow merchants to track the path to a purchase decision and compare multiple attribution views to demonstrate success.
Real-time catalog uploads: This new feature allows retailers to upload catalogs and activate shopping ads faster with the ability to include video in collections and merge catalogs and collections.
In the USA, Pinterest is also testing the shop window profile and a trial version of improved product tags. This gives brands an even greater chance of being discovered by potential customers. It is only a matter of time before these features are rolled out for the German-speaking market. Modern mobile shopping – the more precisely tailored display of ads throughout the entire social media network and a personalized compilation of the product feed for the customer in the store area – is thus becoming a serious competitor for pure online stores such as Amazon.
Conclusion: The coronavirus crisis is a powerful accelerator for online shopping on the social web. The crisis has also shown how important direct, transparent, and authentic corporate communications have become successful in social media marketing. Even in 2021, companies should focus more than ever on the needs of their target group in order to build successful customer loyalty.