March 24, 2020
4 minutes reading time
The novel coronavirus has expanded from a spatially limited epidemic to a pandemic and is now having a massive impact on our everyday life. Many governments around the world are now forced to take extreme measures, but the economic consequences are already devastating. Due to the restrictions in public life, it is already foreseeable that many companies will come out of this low point as losers. Nevertheless, some sectors are profiting from the crisis.
For many companies, the effects of the pandemic vary from working under difficult conditions to facing existential fears. But this is by no means true for all of them: economic developments in the media sector are particularly striking. Breaking news on the coronavirus is currently in great demand, and online news portals are working to provide the population with new information on the current situation every hour, if not every minute. The already existing trend of preferring information online could therefore soon get even more intense due to the crisis, leading to a decline in demand for print media.
ONLINE REPORTING IS BOOMING
People's increased need for information is leading to records in media use: well-known online news providers such as Spiegel, Focus, Welt & Co. often record user numbers of up to 6.88 million (Focus Online), which is more than twice as high as before the crisis; for some, the increase is even almost 150%. With 8.33 million users Bild.de is currently the German leader. One reason for the high demand in online reporting is the high topicality of the information provided there, for example by news tickers or live blogs. News is also easily accessible via mobile devices and can be called up at any time. On websites such as worldometers.info, the worldwide spread of Covid-19 can be followed in almost real time, while new articles are published continuously on other sites – on every conceivable topic related to the coronavirus. Many people are demanding tangible answers to the question of how work and everyday life can be organized in this exceptional situation and what measures the government intends to take to deal with the crisis.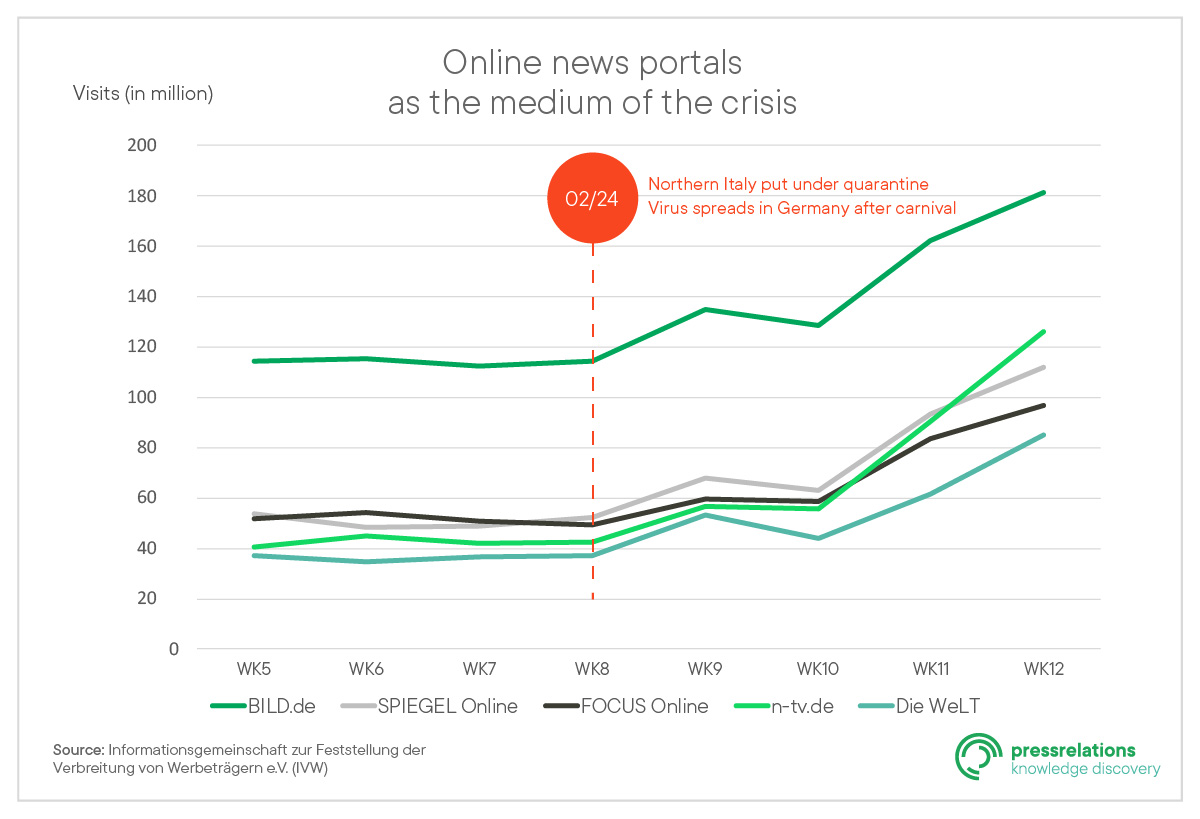 Since the situation can always change due to unforeseeable developments, highly up-to-date information is essential for the crisis management of affected companies. Online providers can react to this very quickly thanks to continuous updates. However, critical voices are demanding that many providers suspend their paywalls for the duration of the COVID-19 crisis. The reason – the coronavirus is not a special interest topic and relevant information must be made available to the general public free of charge, in line with the journalistic information mission. This applies above all to crucial information, but not to topics that go beyond the basic service. Even if many essential articles are located behind paywalls, important information can also be accessed elsewhere. However, media professionals need to be asked whether it is morally justifiable in times of crisis to make money off coronavirus reporting. Companies from other industries are very accommodating to their customers here – Deutsche Telekom, for example, is giving away data volumes, e-learning providers are making their services available to schoolchildren free of charge and fitness companies are launching free online courses for people to do at home. The solidarity is palpable, also on a corporate level.
TV AND YOUTUBE ALSO SHOW GROWTH
In addition to the strong boom in online reporting, considerable growth can also be seen in the TV sector, with some stations even achieving annual records in recent days. On YouTube, Corona documentaries are shooting up like mushrooms as well and are being clicked on diligently. NDR has started a podcast series on its YouTube channel together with the virologist and "chief clarifier" Christian Drosten – new videos receive now over half a million clicks within a day. Video production is booming, as is online reporting, and on almost all channels you can find coronavirus news in a continuous loop. The virus pushes other topics into the background: economy, finance, culture, etc. – there is currently hardly any contribution without a coronavirus reference. Online, TV and video will probably emerge from the crisis as winners. Nevertheless, some providers have to expect heavy losses: – live football tickers and weather portals, for example, are being used less and less.
THE CORONAVIRUS AND PRINT MEDIA
At the moment, print media can hardly keep up with the increasing speed of reporting and the need for quick solutions. As the situation in times of crisis can change almost by the minute, the Internet is the preferred medium here. News can be written and distributed with just a few clicks. Printed information, on the other hand, is only up to date on a maximum daily basis – a clear disadvantage compared to online offerings.
Even before Corona, the trend towards increasing use of online media was evident, as young readers, in particular, prefer to access information quickly and free of charge online rather than buying print products. This trend could now be intensified by the crisis, as people are increasingly staying at home and gaining quick access to information via their mobile devices or TV programs. Should Corona cases occur in the company, there could also be a shortage of print production or distribution. However, the state of North Rhine-Westphalia has now added journalists to the list of systemically important professions. As a result, they have a fundamental right to childcare, as they are essential for informing and educating the population.
The current development could further fuel the decline in circulation, probably at a faster rate than before the Corona pandemic. How are print providers dealing with this? Stern, for example, is now publishing its weekly edition earlier and is also merging with the titles Capital and Geo produced together with Gruner + Jahr, to form a special coronavirus edition. Other providers also rely on articles that are not necessarily highly topical but offer added value – for example, background research, interviews with experts, reports, etc. It is yet to be seen, however, whether these offers will be able to prevail over the highly topical online reporting.
ONLINE – THE MEDIUM OF THE CRISIS
The current Corona crisis shows how the fast transfer of information is shaping our lives in the digital age. The tendency towards increased use of online media, which has been observed for some years now, could now become permanently stronger. The Internet is the medium of the crisis and could continue to replace print products in the future.