May 20, 2020
9 minutes reading time
In Russia, 70 million people use social media channels and spend about 2.5 hours a day in online communities and networks. This makes the Russians one of the most active and committed social media users in the world. They invest significantly more time than the Germans – a total of 67 minutes, no less. Anyone pursuing a global marketing strategy should take a closer look at the growing Russian social media market. In our blog, we present the most important platforms and highlight their marketing potential.
VKontakte, Odnoklassniki, Habr and Telegram are considered the "Russian" social media channels. They play an important role for media monitoring in the post-Soviet region as well as in other parts of the world. Together they reach 550 million users per month, especially in countries where, for example, Instagram, Facebook, and Twitter are not very widespread or even censored. Anyone active in the post-Soviet market should use their potential. Although their functionality and structure are similar to the networks known here, they differ significantly.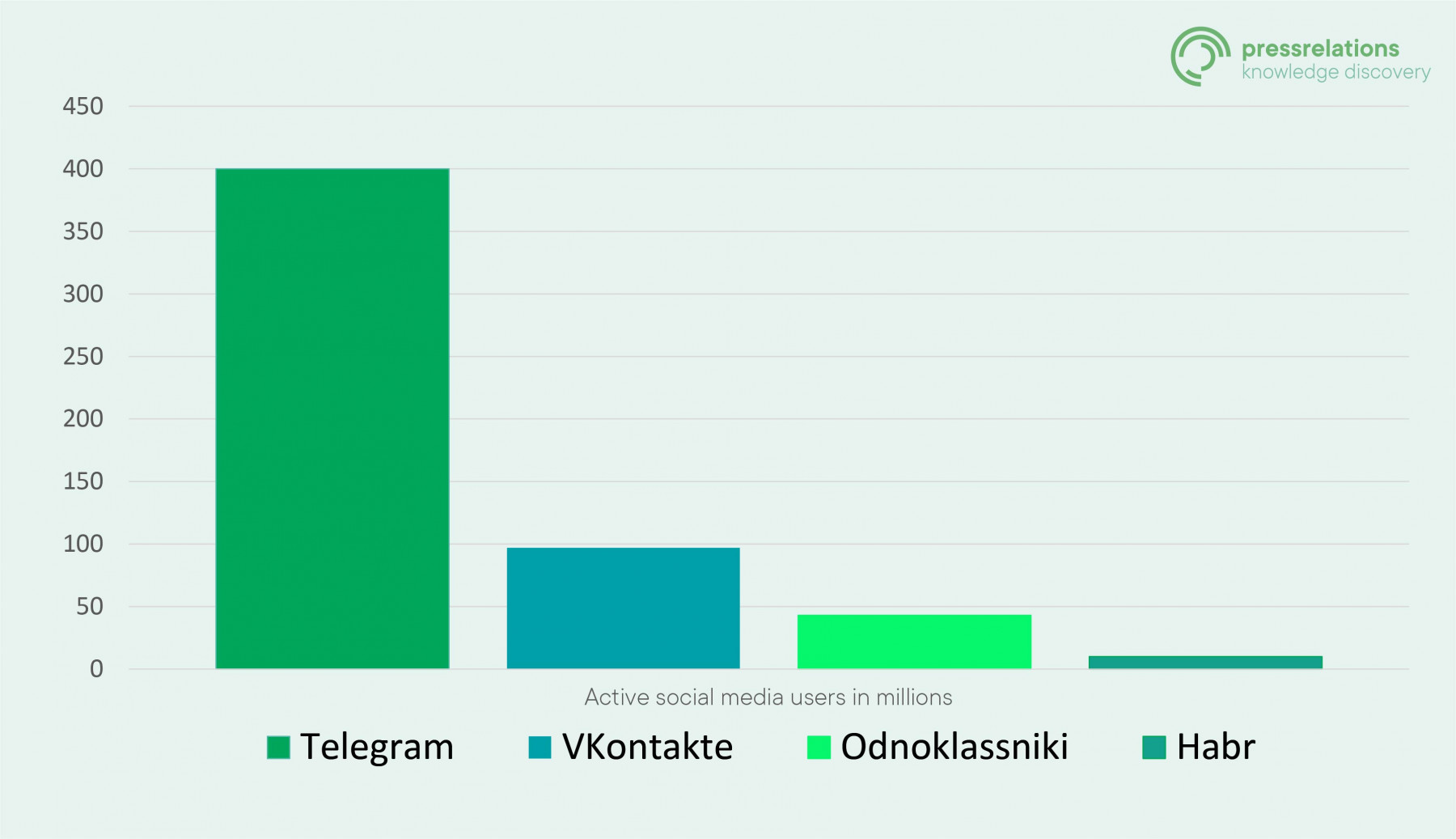 I. VKONTAKTE – THE LARGEST SOCIAL MEDIA CHANNEL IN RUSSIA
VKontakte (VK) is the largest Russian social network and is considered by experts to be the most important social media channel in the country. Every month, more than 30.7 million people post publicly here. Visually, and in terms of handling, VK is very similar to Facebook: music, pictures, videos and other files can be shared and published directly. In terms of video content, the network competes with YouTube, which ranks first in popularity. However, VK follows closely as the second most popular social network and the most visited website after Google.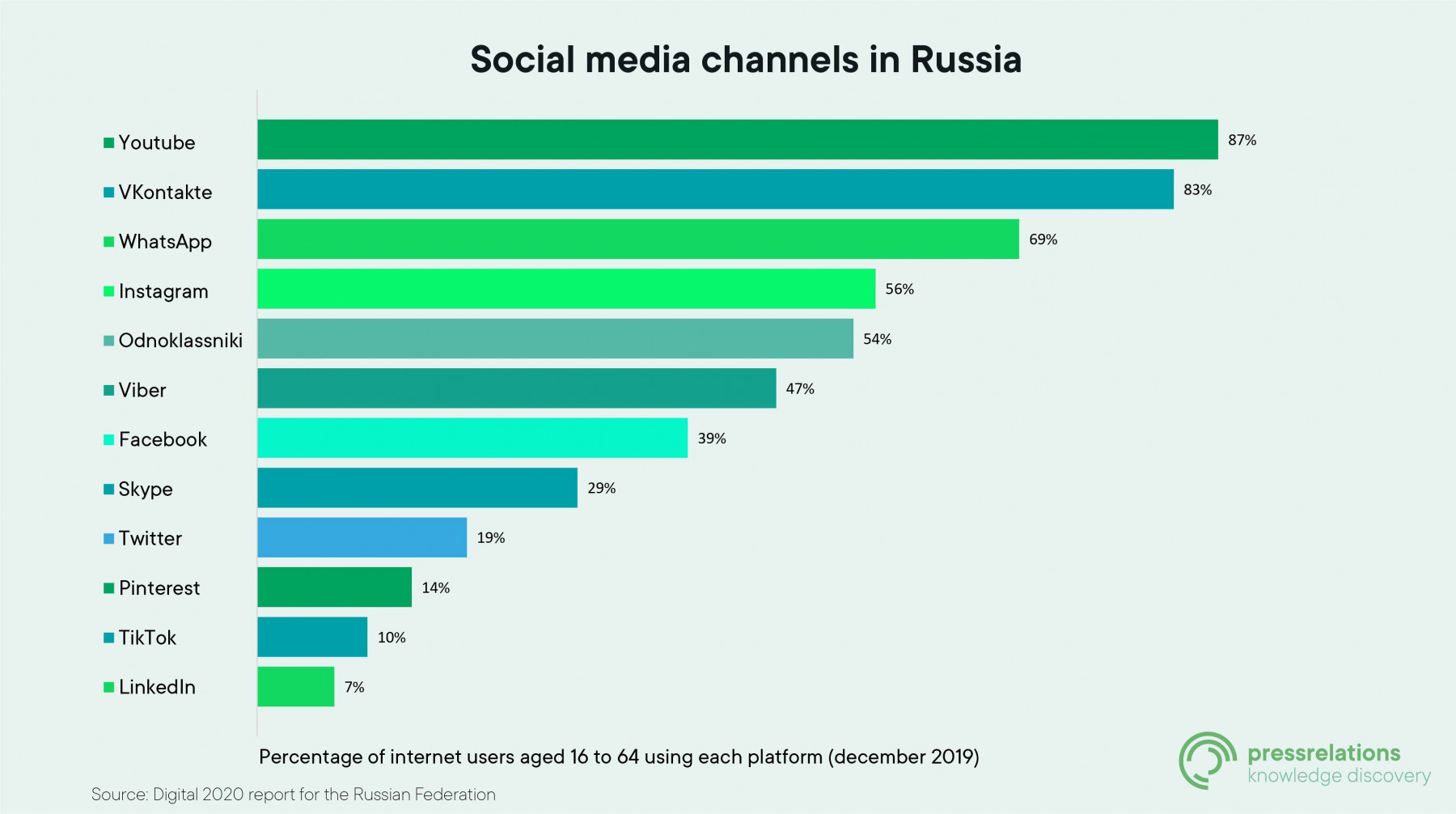 Just like other social networks, VKontakte allows users to exchange messages and form groups. Users publish and share music and videos, make purchases, send money, and play. VK also has 13,000 active mini apps available in the official VKontakte app. This allows users to order food or even a taxi, for example, without leaving VK. Since January 2018, it has been possible to publish blog posts on VK that can also be accessed externally.
TARGET GROUP FOR VKONTAKTE – YOUNG PEOPLE UNDER 35
On VKontakte, companies can reach primarily young audiences under 35 years of age, and around 17% of active users are under 18 years of age. The interests you can target are multifaceted and range from entertainment to self-realization, motivation, design, culture, and much more. In addition to targeted advertising, it is possible to advertise with different types of content – for example, stories, surveys or quiz games have great potential.
The most popular public campany profiles are Coca-Cola with 4.2 million and Durex, Sberbank and AliExpress with around three million followers each. They are followed by fast food chains such as Burger King and KFC (around two million) and mobile phone providers.
VKontakte is not only strongly represented in large cities, but also regionally: For example, there are many active users in St. Petersburg and Moscow, but also in the Murmansk region or in the Russian Republic of Karelia.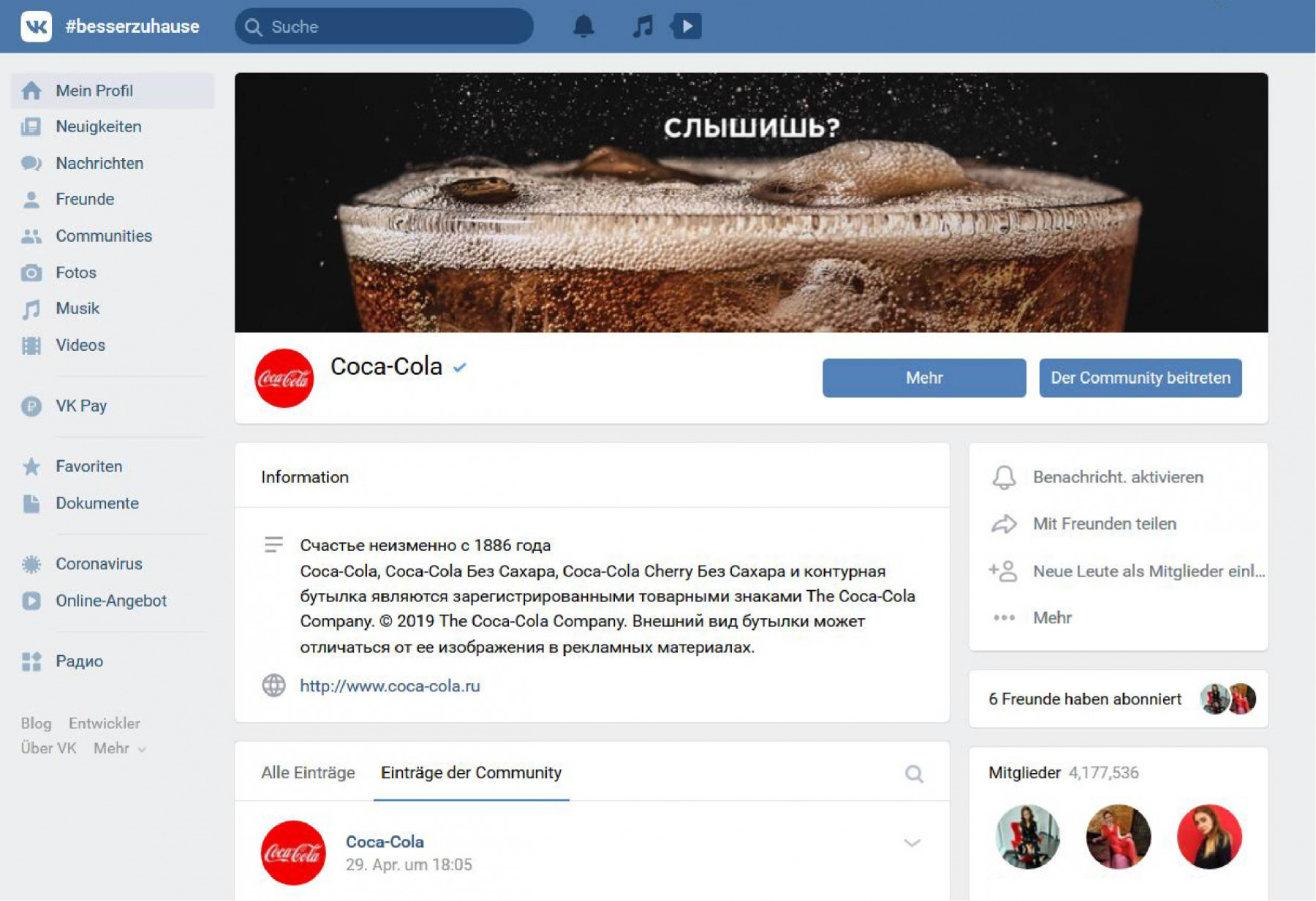 II. ODNOKLASSNIKI – A NETWORK FOR FORMER CLASSMATES
Odnoklassniki (OK.ru) means translated "classmates". Founded in 2006 as a network for former school friends, OK has since developed into a major social media platform. Nowadays, brands, celebrities, artists and bloggers also use the network to share their content. Videos are especially popular – the number of hits exceeds 870 million per day. On the other hand, few photos are published – only 10 million per day. OK offers the possibility to set up and subscribe to video channels. The additional app "OK Live" is used to stream videos live.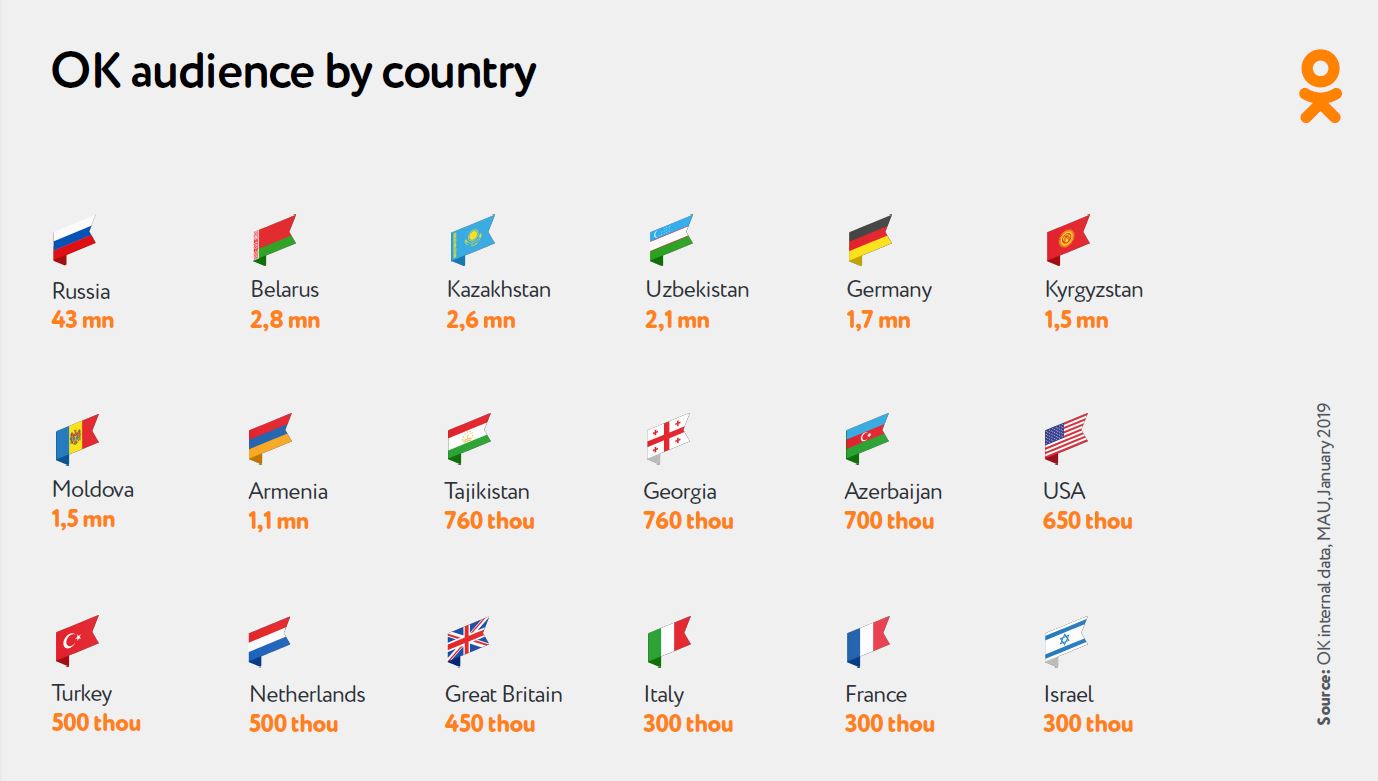 OK is the fifth largest social media platform in Russia behind YouTube, VKontakte, WhatsApp and Instagram. With 54% of Russian social media users, almost as many users are active there as on Instagram. According to its own data, OK is visited by 43 million users every month.
The largest public groups on OK belong to banks (e.g. Sberbank), online shops (especially clothing & jewellery), F&B manufacturers (e.g. Jakobs Monarch or Kinder) and mobile phone providers (e.g. Megafon) with between one and 1.5 million followers. Companies can launch their own apps within the network, which facilitate interaction with users. For example, bookings or the sale of goods or tickets are made possible. Another function allows you to create surveys and obtain feedback. OK also offers different advertising formats, depending on the type of content.
When advertising on OK, topics related to family, friendship, sincerity and traditional values play a major role. Users connected on OK are usually people who know each other personally. A lot of emphasis is placed on authentic content, in order to gain the trust of the audience.
TARGET GROUP OK.RU – RUSSIAN SPEAKING AND OVER 35 YEARS OLD
At OK, users aged 35 and over are particularly active. Here, family and friendship are in the foreground. Content posted by private users receives the most reactions. Companies try to advertise with content that is as authentic as possible, which in the best case is produced by users themselves.
More than half of the OK audience are women. The average age is between 26 and 45 years, but users over 45 are also present here with around 20%. The proportion of young people is no more than 7%. OK is currently available in 13 languages. Targeting tools at OK offer the possibility to place group-specific ads.
III. HABR – THE IT UNIVERSE
Habr was founded in 2006 as a blog platform and IT community for professionals. It has around one million registered users. Every month, the Habr website is visited by over 10 million people. Discussions on national and international trends and projects take place via the network, as well as exchanges on current IT, Internet and business topics. Habr consists of four areas: Habr Blog, Habr Q&A, Habr Career and Habr Freelance. Habr Q&A allows users to ask questions which are then answered by the user community. Habr Freelance offers a remote worker exchange for IT professionals.
HABR BLOG – THE EXPERT COMMUNITY
On Habr Blog experts from different fields can share their experiences. Contributions cover topics such as programming, information security or website development; but also design, science, education, games, career and health. Topic categories are Development, PopScience, Administration, Design, Management and Marketing. In 2019 a total of 23,315 texts were published by Habr. In spring 2019 Habr launched an English version of the blog, which is visited by 400,000 users per month.
In addition to private users, IT entrepreneurs also publish articles at Habr. Examples are Mail.ru Group, Microsoft, and Yandex. They share news and knowledge on their blogs and can be contacted directly by other Habr users through comments and private messages. Habr has an active, self-regulating community that decides how worthy of reading the respective content is. Interesting contributions receive upward votes and many comments. Less good content is usually voted down, which means that it goes unnoticed.
HABR CAREER – JOB SEARCH IN THE IT-AREA
Habr Career is a career development service. Here employers can find professionals and applicants who work in different areas of the IT industry, e.g. programming, layout, design, management, web analytics, marketing. Employers publish job offers on the platform and can be contacted by interested parties. The principle is similar to LinkedIn, which is commonly used in the USA.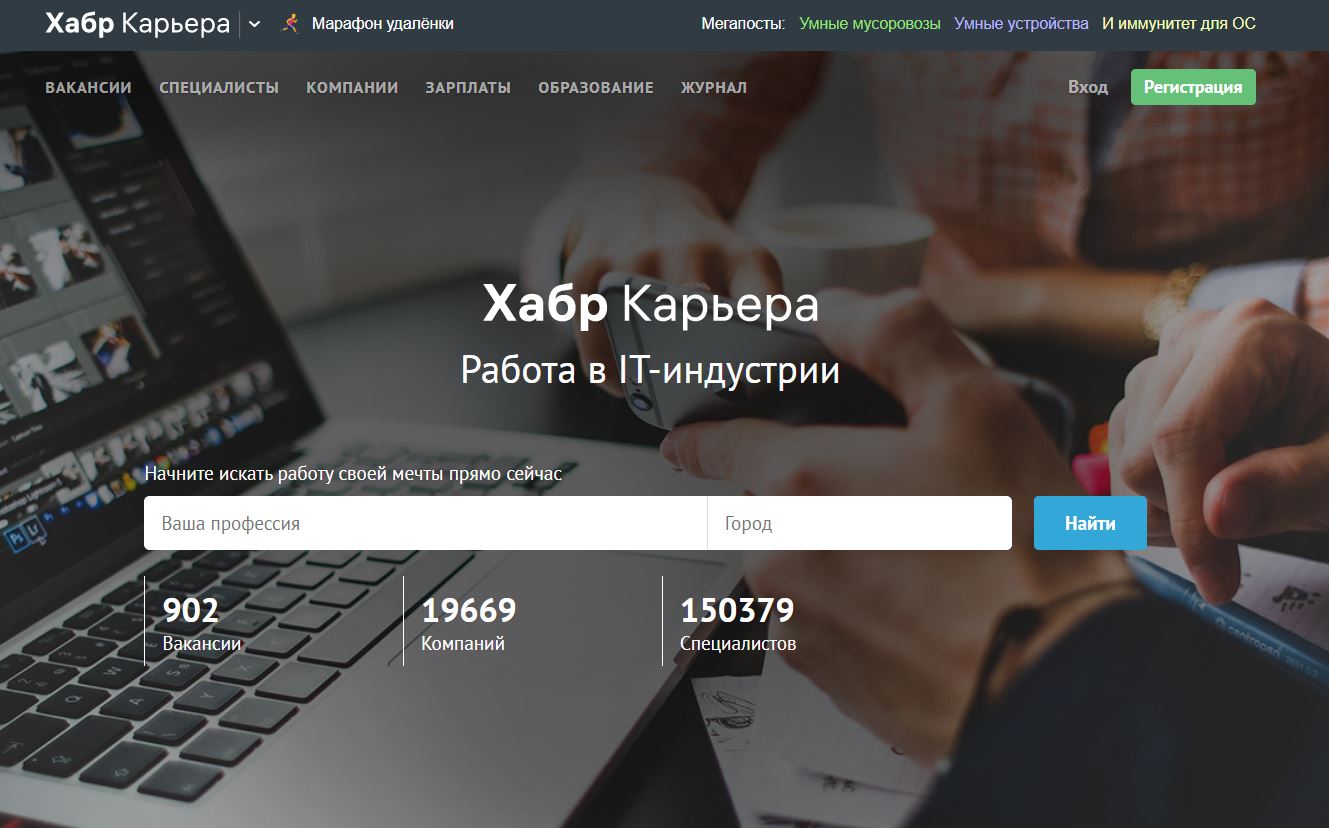 HABR – MARKETERS SHOULD USE IT
Habr is mainly used by people from the IT sector. Users usually talk about programming and information security, but also about design, career development and health. At Habr, it makes sense to score points as a company with expert knowledge and to establish direct contact with potential customers or employees.
IV. TELEGRAM – MESSENGER AND SOCIAL NETWORK
Telegram is a cloud-based instant messaging service comparable to WhatsApp. It was developed in 2013 by Nikolai and Pavel Durov, who also developed the social media platform VKontakte. According to its own data, Telegram is the most downloaded social media app in 20 countries.
THE USERS – PREDOMINANTLY MALE AND EDUCATED
Telegram's system includes millions of public group chats that reach up to 30,000 members. Telegram channels make it possible to create a kind of blog or a newsletter, which can be private or public. The public channels generate over 30 billion hits every month by 80 million users.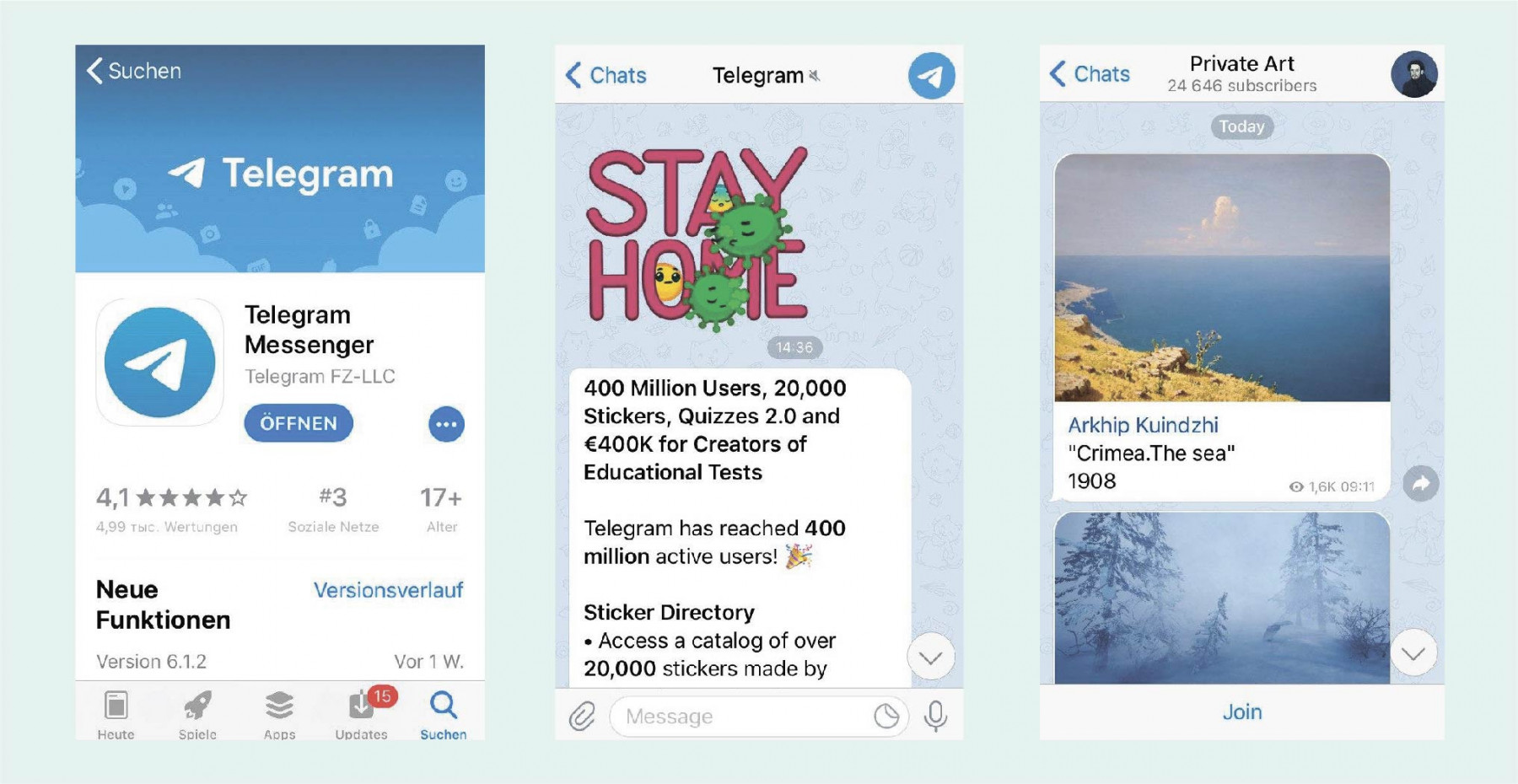 According to the results of TGStat, which mainly analysed Russian (73%) and Ukrainian (16%) audiences, Telegram has twice as many male users as female ones. Almost half of the users surveyed live in Moscow and Saint Petersburg, and are between 18 and 34 years old. About a quarter of those surveyed work in the IT sector, about 10% in production and almost as many in marketing and PR. The users are predominantly educated – 60% have a university degree and 14% are students.
As far as the thematic spectrum is concerned, over 80% of those surveyed read channels that offer news about current events. More than half of the users subscribe to entertainment (64%) and educational channels (58%), one in two receives news from their industry via Telegram. Over 45% of respondents subscribe to political channels. Every third person reads the so-called blog channels, for example by the Russian designer and entrepreneur Artemy Lebedev, who has over 250,000 followers on Telegram. Worldwide news, movies, and music channels are the most popular.
OFFICIALLY BANNED – PRACTICALLY STILL USED
For two years the Russian authorities have been trying to paralyze Telegram. The app has refused to provide the secret service FSB with codes for decrypting private chats. Although Telegram is officially banned in Russia, almost three-quarters of respondents continue to use the app without any problems, and some use proxy and VPN connections from time to time.
TELEGRAM IS IMPORTANT FOR MARKETING
Most Russian telegram users are between 23 and 35 years old. As people in Russia earn their bachelor's degree at the age of 22, these figures stand for a financially strong audience. The users are mainly employed in IT, marketing, and PR. The numerous public chats on Telegram offer a wide range of topics from film, music, and art, to popular scientific content or political news and commentary. The messenger functionality is well-suited to reach a niche audience.
V. CONCLUSION: DEFINE WHAT MOVES YOUR TARGET GROUP
VKontakte, Odnoklassniki, Habr and Telegram have a strong presence in Russia, but also in other CIS countries. The Russian social media market offers many opportunities for global brands and companies that want to reach target groups in the post-Soviet region. It is a dynamic market that is growing and includes a committed social media audience. Which network is best suited for your company and your goals depends primarily on your marketing strategy. Once you have defined goals and target groups, it is worthwhile to consistently monitor the networks – this way you can identify the topics that move your target group and react accordingly.
Would you like to monitor and evaluate Russian social media channels? Then you are welcome to contact info@pressrelations.com.