July 1, 2020
9 minutes reading time
Online shopping, booking a doctor's appointment online, and free WLAN surfing while riding the metro has long been a reality in Russia. The mobile Internet there is fast and inexpensive and more than three-quarters of the population are regularly online. Social media networks, in particular, are more in demand than ever in the coronavirus crisis — platforms such as VKontakte, Odnoklassniki, Telegram and Habr have responded to this and expanded their services. How has the virus changed the Russian channels? And how do they deal with fake news, for example?
SOCIAL MEDIA NETWORKS UNDER PRESSURE
The coronavirus crisis has brought many new users to Russian social media networks. For example, the number of messages sent through VKontakte (VK) rose by 20 percent and daily calls to mini-apps increased by 260 percent. With Odnoklassniki (OK) the situation is quite similar. Users spent more time on the network, more content was consumed and the number of news items viewed in the news feed increased by 14 percent.
Competition among Russian channels is fierce. They are fighting for the favor of those who are looking for up-to-date news and entertainment during the crisis or who want to market their products with targeted advertising. The four most important Russian networks VKontakte (VK), Odnoklassniki (OK), Telegram and Habr have adapted their offers for private users and business customers to this situation. We will show you where the trend is going and give you some examples.
1. NEWS OFFERS INCREASE
Since the beginning of the pandemic, VKontakte has been offering its users information about the coronavirus crisis via a mini-app and its news feed. Users can also subscribe for alerts from the official Russian branch of the WHO. At Odnoklassniki, users can follow news on COVID-19 from 150 federal and regional media outlets through a special feed.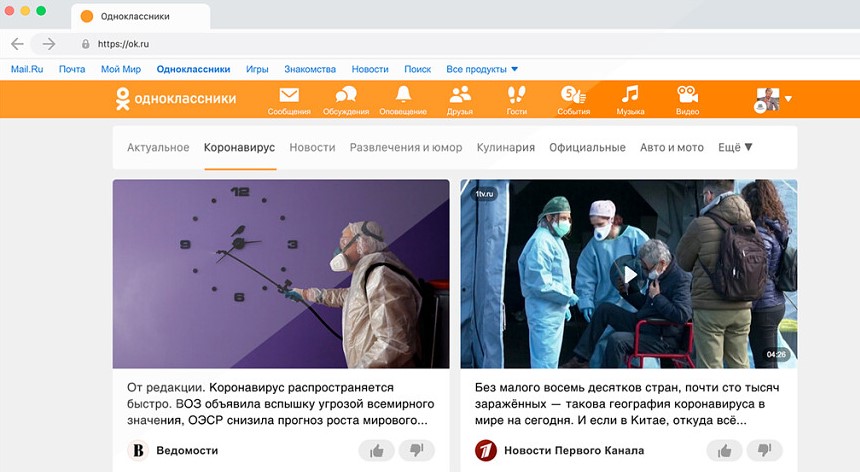 Although Telegram does not usually work with government agencies – in Russia the Messenger was banned until a few weeks ago – it now distributes 17 channels from health ministries to assist governments with COVID-19 intelligence. According to Polina Zhigareva, head of Ipsos social media research in Russia, Telegram has established itself as an information platform. For example, there are public groups dedicated solely to the coronavirus. However, Zhigareva emphasizes the fact that many fake messages are also spread there.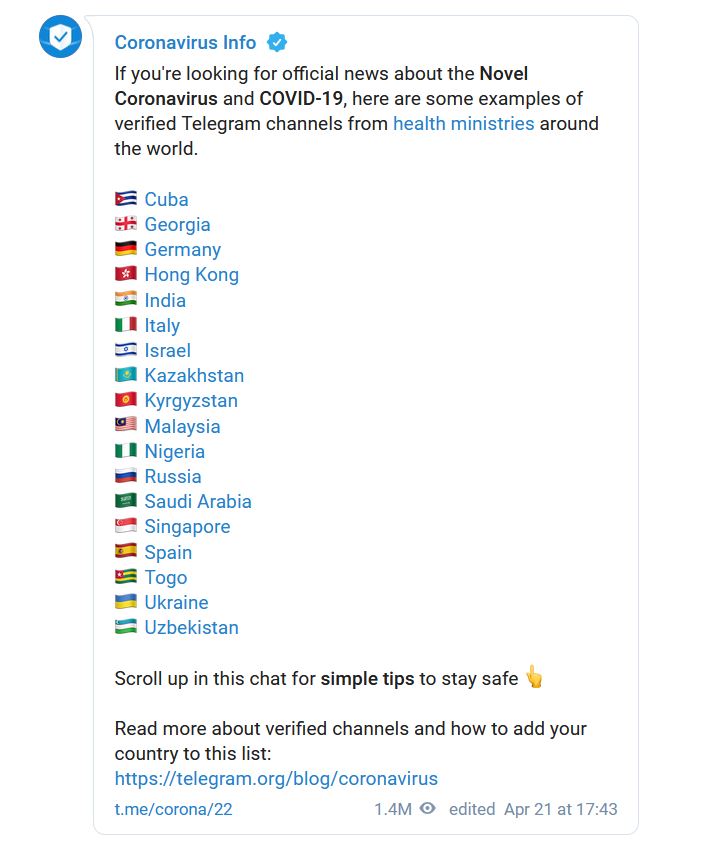 2. MORE CONTENT ON EDUCATION AND ENTERTAINMENT
Russian social media channels have also responded to the growing demand for educational and entertainment content. VKontakte has, for example, developed the mini-app "Watch at Home" for this purpose. There you can find references to online events as well as the news feed #betterathome for those who are looking for distractions from the coronavirus crisis. Here you can find online broadcasts of concerts and other cultural events, leisure ideas for home and online competitions.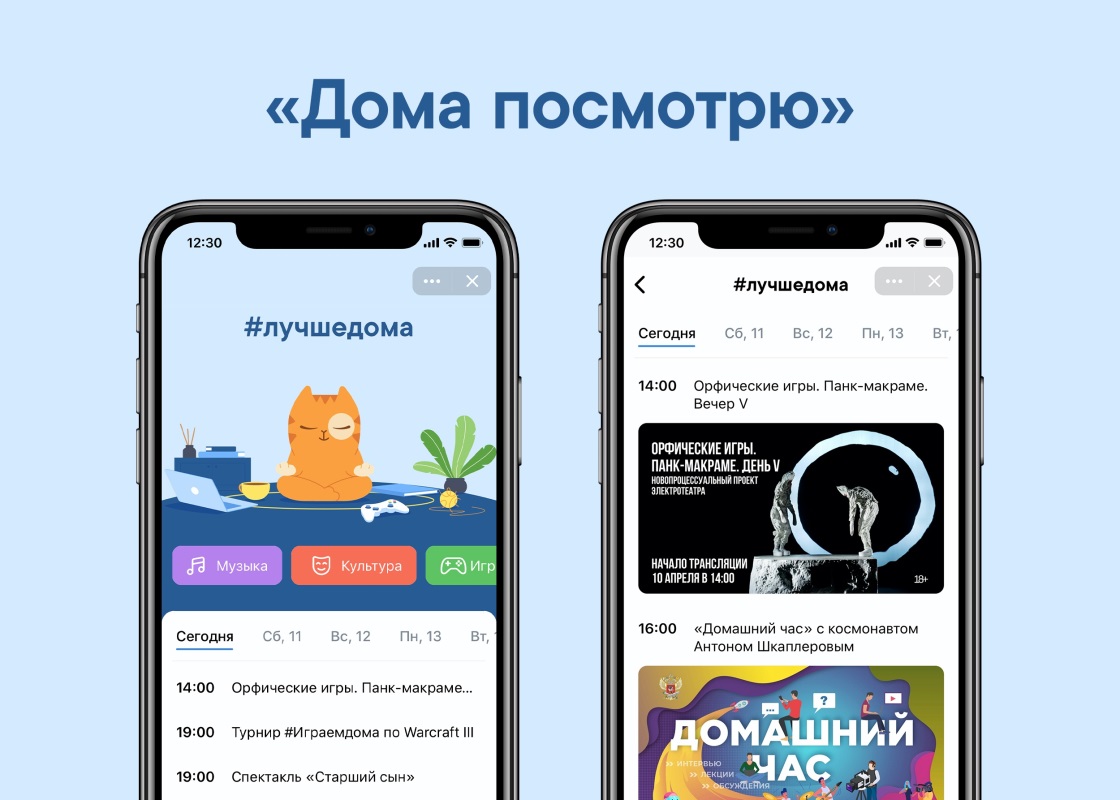 Odnoklassniki has also set up a news feed with online events for its users – "At home is OK!" The art portal "We in the Museum" also offers the possibility to watch video tours of exhibitions and temporary exhibitions of the largest Russian museums. The spectrum ranges from paintings to the conquest of space. In other projects, celebrities read fairy tales for children or offer online fitness courses.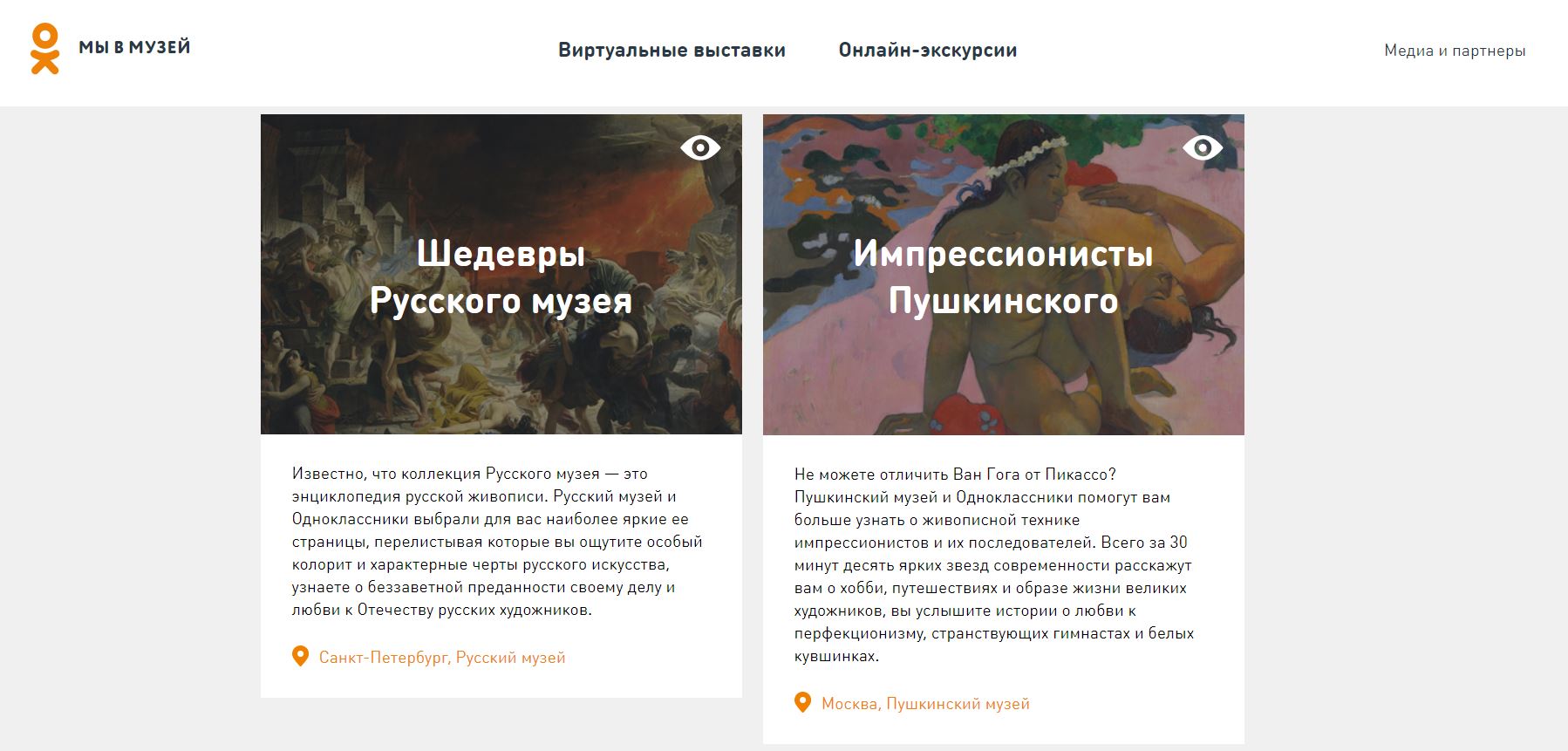 3. CAMPAIGNS FOR BUSINESSES
To help small and medium-sized enterprises – that is the aim of campaigns launched by Odnoklassniki and VKontakte. Among other things, the budget that companies invest in advertising on the platforms has doubled. There are also pages with special offers, training materials and other information that can be useful for companies in the coronavirus crisis.
As an IT platform, Habr Career, for example, offers a free series of webinars, a so-called "home office marathon", which deals with a new topic every week. To keep the IT community together, topics such as networking for IT professionals, setting up the workplace and balancing work and home duties were also discussed.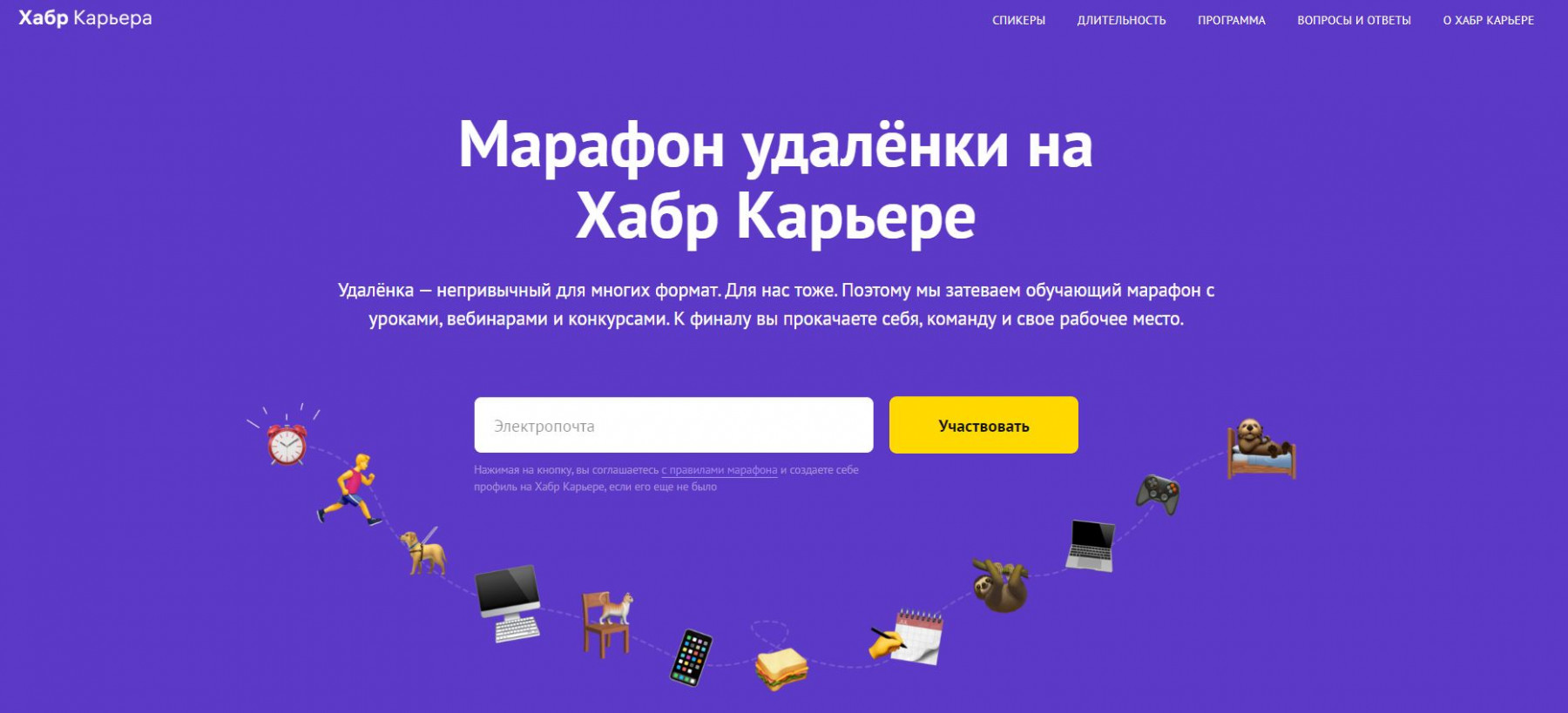 4. TRENDING: VIDEO CALLS & VIDEO SERVICES
In recent months, VKontakte and Odnoklassniki have developed voice and video calls that are suitable for private purposes as well as for work or online learning. Telegram also announced secure video calls through the platform are set for this year. Compared to the first quarter of last year, VKontakte recorded 24 percent more calls, and the total monthly number of voice and video calls rose to 64 million. At OK, calls increased by 39 percent.
VIDEO SERVICES ARE BOOMING
Video services, in particular, are gaining popularity in Russian social media channels during the coronavirus crisis. The video service of Odnoklassniki even set a new record with one billion views per day. The network improved the algorithms of personal recommendations, increased the diversity of video collections and extended the range of recommended content in the news feed and in the section with similar videos.
According to VKontakte, the popularity of live broadcasts increased by 48 percent. Since the coronavirus crisis started, users here share information about their everyday lives. In live streams, people can see music performances, sports, handicrafts, and tips for healthy eating.
In order to appeal to its younger audience, VK launched "Clips" at the beginning of June – short videos that work similarly to TikTok and range in theme from entertainment to education. Algorithms that evaluate user data are used to suggest even more targeted video recommendations. Clips had 110 million views on the first day alone.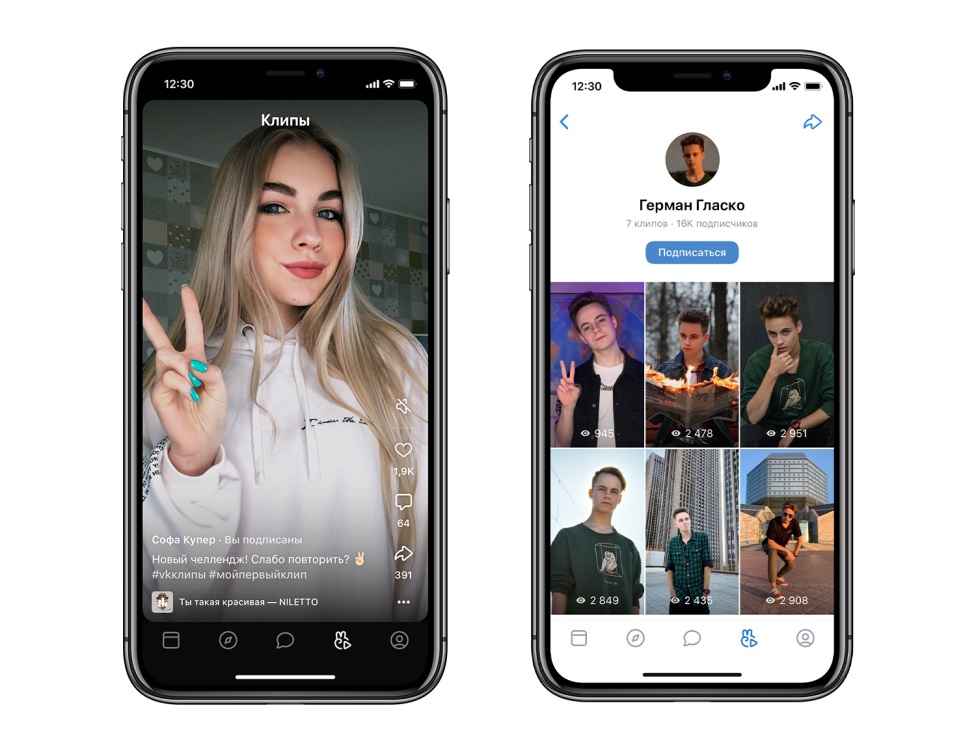 5. FAKE NEWS: HOW THE RUSSIAN PLATFORMS REACT
Fake news have been circulating on Russian social media platforms since the beginning of the pandemic. For example, the coronavirus would allegedly be spread via 5G networks or that garlic and hot water could protect against the virus.
In April, the VKontakte team deleted more than 800,000 contributions in groups and spam mails about the coronavirus. "We are doing everything possible to protect people from needless panic over fake messages, while at the same time creating space for discussion and the expression of personal views," commented the network. "We constantly monitor dangerous content and block users and networks of bots that organize mass mailings. We restrict access to material that is misleading, and we also respond promptly to signals from users and regulatory bodies".
"Together, we regularly monitor the popular publications and check them for credibility," reads an Odnoklassniki press release. "If an obviously false report spreads – for example, that pepper in soup protects against the coronavirus – we restrict users' access to such material. In the case of unconfirmed but not disproved information, the information remains on the social network".
NEW LAW: JOURNALISM COMES UNDER PRESSURE
The dissemination of fake news is prohibited by law in Russia. While fines were imposed before the pandemic, the situation has changed since the beginning of April 2020. Now, a person is threatened with three to five years in prison, for example, if they spread fake news that lead to death or other serious consequences.
However, the new law can also be used to intimidate and pressure journalists who are critical of the Russian government's response to the COVID-19 pandemic. Bloggers who make fun of conspiracy theories about the coronavirus in videos can also be prosecuted unless their posts are explicitly marked as satire.
According to experts, there are no clear criteria for determining whether the information is false or dangerous. Nevertheless, 300 alleged cases for fake news have already been identified and dozens of legal proceedings have been initiated.
DON'T MISS THE CHANCE
The coronavirus crisis has changed Russian social media channels dramatically. As offline contacts have decreased due to the lockdown, the number of active users on all platforms is increasing. Due to the high level of competition, social media channels are under pressure and continue to expand their services in order to score more and more points with users. News on COVID-19, more content on education and entertainment, video calls and video services illustrate this development. The platforms are also active in the fight against fake news and are adapting to the new legal regulations. As a company, you should not miss the chance to benefit from special offers, training materials and information that can help you reach your target groups even better.