April 15, 2020
4 minutes reading time
The coronavirus pandemic has led to many people staring at empty supermarket shelves. The fear of not being able to shop as usual because of the crisis is a reason for many to start hoarding. How has consumer behavior changed in recent weeks?
HOARDING IN GERMANY
In March, the social networks were flooded with pictures about hoarding while grocery shopping. Noodles, toilet paper and disinfectants were almost completely sold out. False reports that large supermarket chains would severely restrict their opening hours caused additional uncertainty.
About one in three Germans had stocked up on more food in the 12th calendar week (16-22 March) than usual, reports the IFH Cologne in its "Coronavirus Consumer Check". In the process, 17% of questioned people stated that they had stocked up on hygiene products, such as toilet paper.
A special evaluation by the Federal Statistical Office shows how sales figures for soap, toilet paper, flour, disinfectants and beer changed in the period between the end of February and 22 March 2020.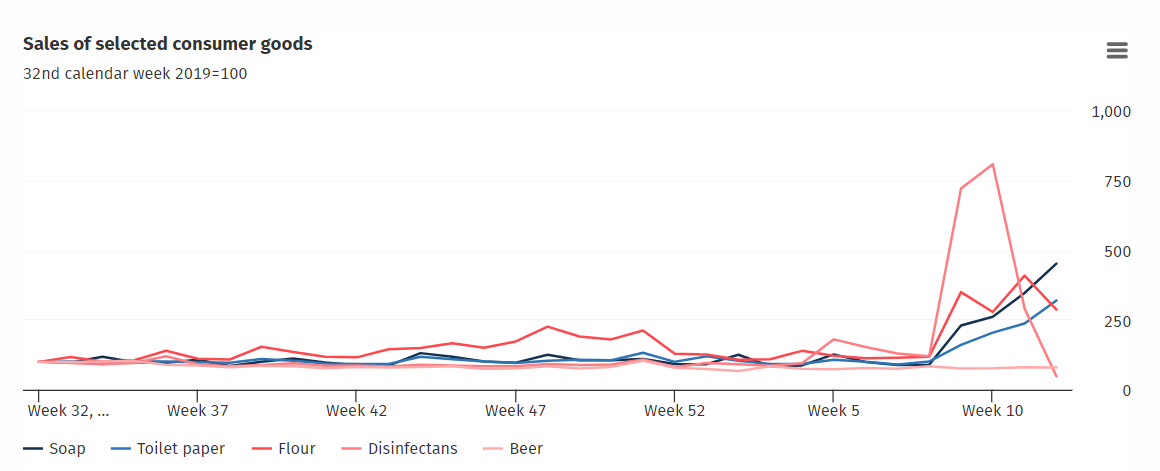 By the end of February, sales had already doubled. The figures for flour (+150%), soap (+122%) and pasta (+109%) were more than twice as high in the 9th calendar week as the average for the six months before. Sales of disinfectants (+751%) were more than eight times higher in the first week of March (week 10). Since there was a temporary shortage, disinfectant sales dropped down to -49% in the two weeks that followed.
In the Nielsen analysis, a similar trend can be observed in comparison with the data from the previous year. Disinfectants (+466.8 %) sales increased by more than five times, while flour (+148.8 %) and pasta (+108.4 %) sales increased more than twice as much in the 9th calendar week. In contrast, demand for beer and cigarettes fell by approximately 10%. According to Nielsen, "both brands and private labels have benefited from this demand".
THE 6 PHASES OF CONSUMER BEHAVIOR DURING THE CORONAVIRUS CRISIS
According to the international Nielsen study, purchase behavior is influenced by media reports about COVID-19 and the measures taken to contain the pandemic. The key events are reflected in the following six phases of consumer behavior. These patterns can serve as indicators for manufacturers and retailers and can help companies adapt their supply chain to the shifting buying habits.
1. PROACTIVE PURCHASING
In the first phase, few local cases of COVID-19 were detected, which led to consumers shopping proactively and purchasing health-related products. In particular, sales of disinfectants increased almost five times in Germany by the end of February.
2. REACTIVE SHOPPING
With the increase of local cases unrelated to another country and the first documented deaths caused by COVID-19 in Germany, sales of respiratory masks and disinfectants had increased as well.
3. REPLENISHING THE SUPPLIES
As more and more people become infected in the third phase, more and more long-lasting food is bought in bulk. For example, following the reports of further cases of coronavirus in North Rhine-Westphalia at the end of February, sales figures for canned food, flour, salty and sweet snacks have risen.
4. PREPARATIONS FOR QUARANTINE
The first sporadic coronavirus restrictions led to consumers shopping more and more online. Nevertheless, the importance of stationary trade remains at a high level.
5. RESTRICTED LIFE
With the introduction of the curfew, the importance of online shopping is decreasing again. Concerns about the supply of goods increase.
6. RETURN TO A NEW NORMAL
In the sixth and final phase, quarantines are lifted, life begins to go back to normal, and e-commerce and hygiene remain important.
HOW DO OTHER COUNTRIES HOARD?
Because of the spread of COVID-19, consumer behavior also changed rapidly in Italy, France, New Zealand, Great Britain and the USA, according to the market research company IRI. In most countries, consumers bought more vitamins, dietary supplements, probiotics and other immune-boosting products in the early stages of the pandemic. In mid-March, their sales figures rose from around 60% to almost 100% in the mentioned countries. Preventive health products, such as vitamin C, were in greater demand than symptomatic products.
Sales volumes of paper products, household cleaning products, food and beverages also increased. Sales of toilet paper doubled in France and New Zealand and tripled in the USA. During the early stages of the COVID-19 crisis in the USA, much higher volumes of frozen food and dairy products were sold. According to IRI, e-commerce development in Italy and France shows a significant increase in online shopping, especially in the Click & Collect area.
RESTRICTIONS ON PURCHASES AS LOSS OF FREEDOM
In April, market researchers in Germany observe an increasing routine of consumers in their purchases. The peak phase of the hoarding is over, but a new panic cannot be ruled out.
WHAT DOES HOARDING SAY ABOUT US?
People still prefer in-store shopping to online shopping. According to the IFH Cologne, only 13% of respondents have switched to online purchases. At the same time, the coronavirus pandemic has triggered a wave of online purchases in China and Australia, emphasizes Nielsen. This suggests that even German consumers may become more open to online orders for everyday goods during the crisis.
According to IFH Cologne, almost a third of those surveyed feel a loss of freedom if they can no longer buy what they want. The younger group of consumers (up to 49 years old) admitted to feeling restricted as a result.