March 30, 2022
4 minutes reading time
CEOs active on social media don't have to go as far as Elon Musk and acquire a 9% stake in Twitter. But, there certainly is a huge and mostly untapped potential for CEOs to turn themselves into what's called "Social CEOs".
According to a report by Brunswick Group, 60% of employees joining an organization will research the CEO's social media accounts. In addition, financial readers trust an executive who is active on social media 90% more than they would a CEO who is not.
The concept of the Social CEO is embedded in digital media and its relevance to corporate reputation. Essentially, a social CEO is one that leverages social media in employee engagement and communications directed at the public, potential investors, and other stakeholder groups.
Benefits of an Active Social Media Presence for CEOs
Skillful utilization of social media results in numerous advantages for the CEO, the company, and the workforce:
Fostering employee engagement – The social CEO can use social media to inspire employees, recognize their contributions, and promote a healthy working environment. In turn, this will boost employees' loyalty.
Mastering voice ownership – Social media is the best starting point for a CEO to build voice ownership in the media. It only takes a few minutes to tweet opinions on ESG topics, share company policies, inform about new products or services, and more – such communication can help gain media coverage and visibility.
Attracting investors – A CEO's media reputation drives company marketability and commercial performance and strategic positioning of the CEO as active on ESG topics and a thought leader can even attract investors.
Promoting swift PR – A leader who swiftly addresses organizational crises regardless of scale is typically seen as credible, sensible, and empathetic to the plight of employees and stakeholders. This can be useful in building the executive's media profile and positively influence the public perception of the company.
Media Presence of CEOs on Social Media Channels
The pressrelations 2022 CEO Barometer analyzed CEOs of Dow Jones companies to assess their level of interaction with different social media platforms.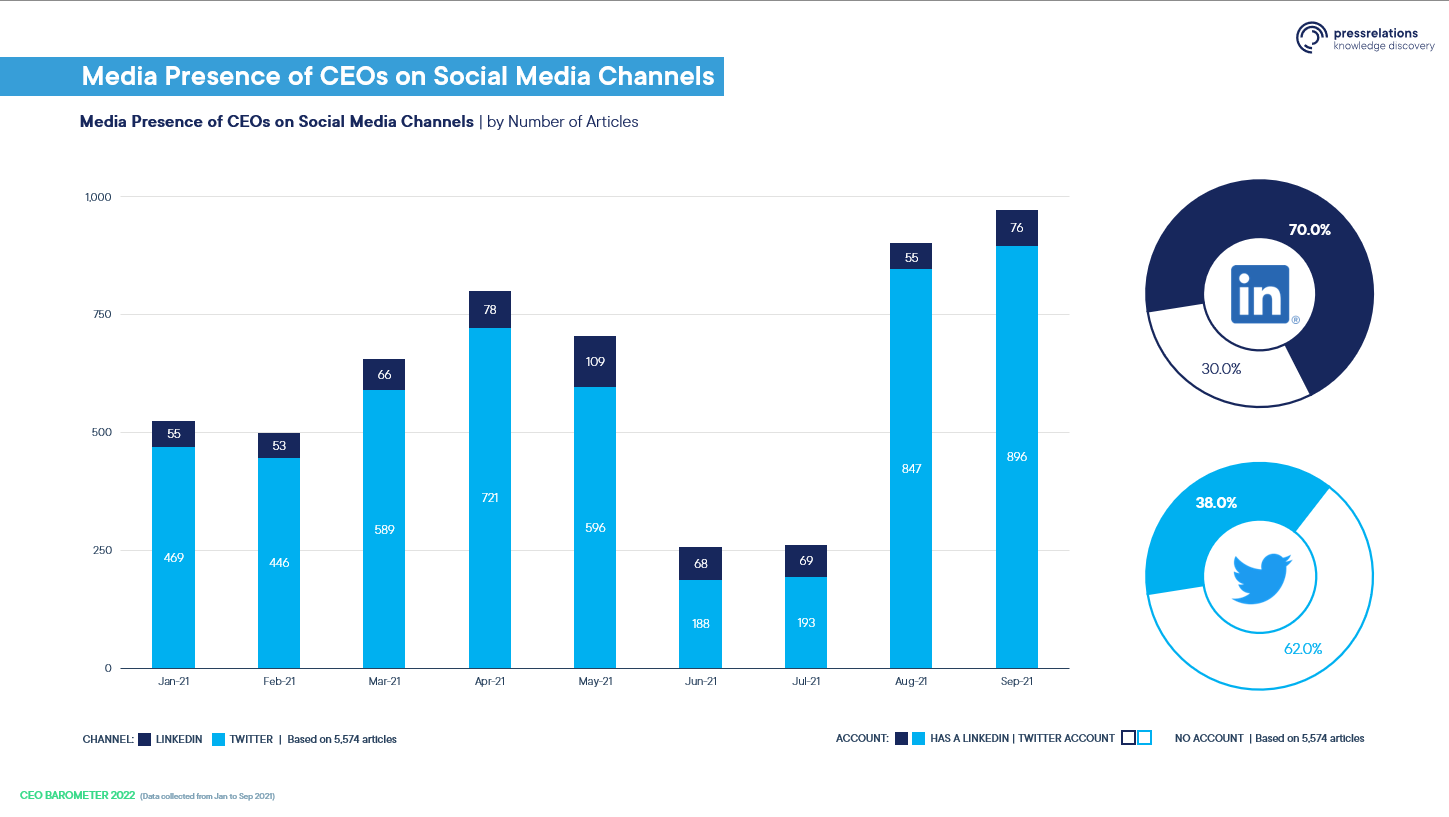 Although most CEOs prefer LinkedIn, there's a disparity between the engagement rates between LinkedIn posts and tweets. Tweets are often concise and ideal for reaching large audiences and provoking media discourse. LinkedIn, on the other hand, attracts more in-depth comments based on the post content and context, which is why this platform is ideal for small-scale yet insightful communication with employees, investors, and the public.

Other social media channels, such as Facebook and Instagram, are irrelevant for most CEO-driven communications.
LinkedIn vs. Twitter: Analysis of the Top 10 Dow Jones CEOs
The pressrelations study determined the level of engagement the top 10 Dow Jones CEOs generated on LinkedIn compared to the CEOs who prefer Twitter.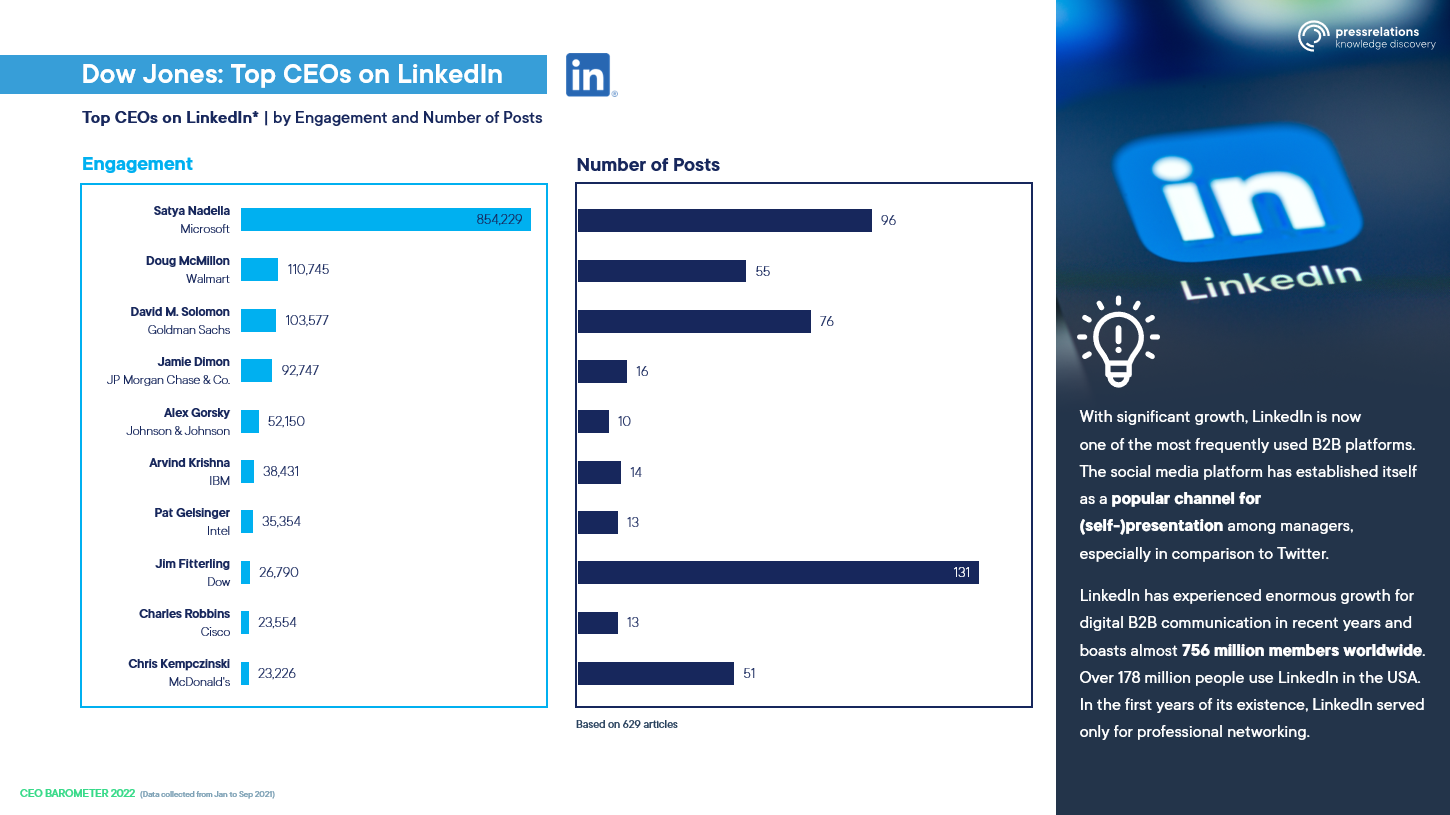 Despite the commendable social media presence of the CEOs in our study, Tesla CEO, Elon Musk had more social media engagement than all top 10 Dow Jones CEOs combined. Despite tweeting only a few times in a month, Elon generated 2,218 articles and hit an all-time high of 123.9 million engagements in 2021.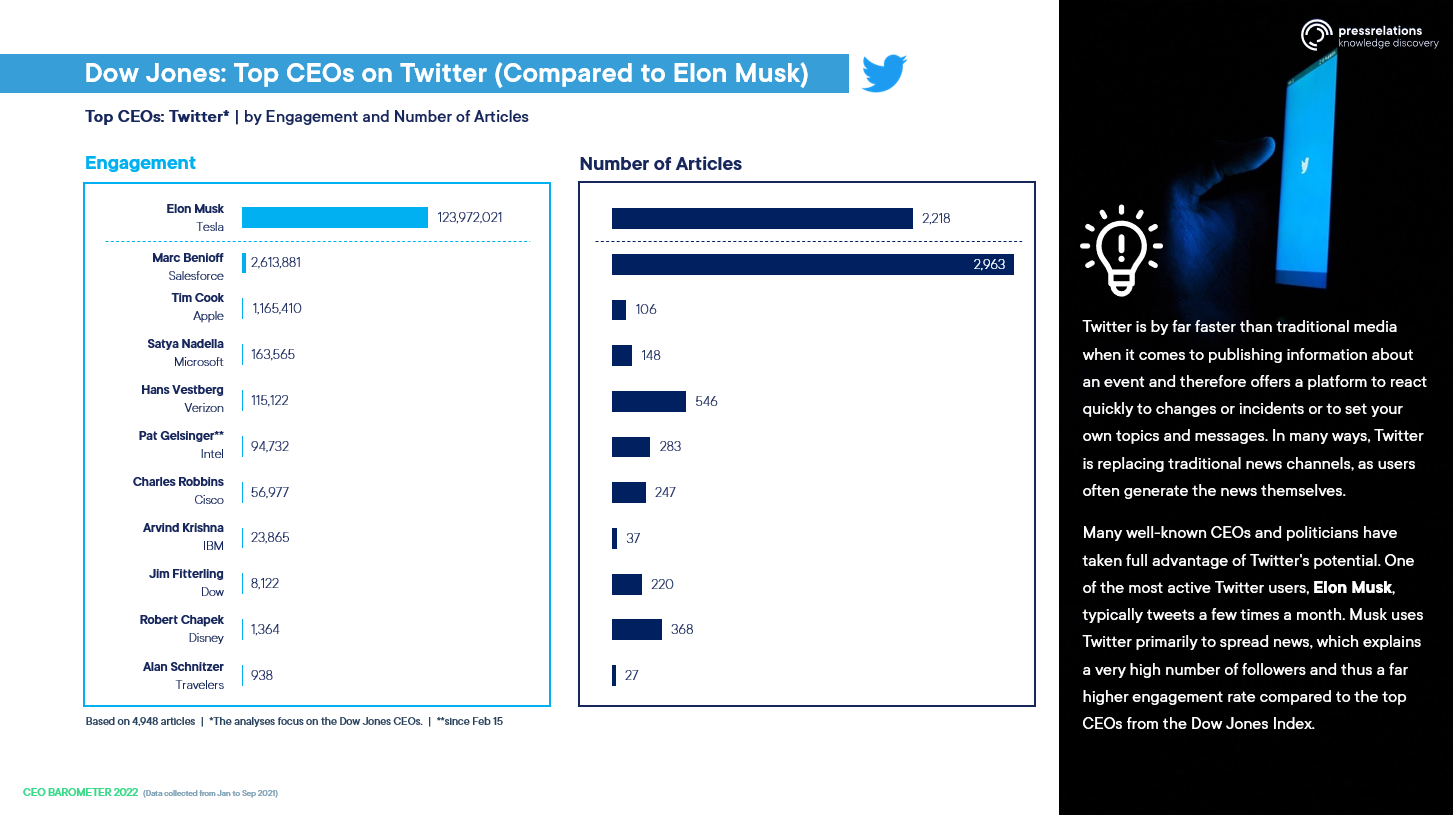 The key takeaway from our study is that although most CEOs favor LinkedIn, Twitter is the fastest disseminator of information, and generates more influence in terms of media coverage.
Earned vs. Owned Media
Owned media is the content that a CEO creates and controls. Earned media is content created about the executive, based on journalistic evaluations or public perception. For 2021, our social media analysis of the top Dow Jones CEOs showed that topically, earned media is often centered on finance, technology, machine learning & robotics, and cryptocurrencies. Owned media communications, on the other hand, focus on societal issues such as sustainability, gender equality, climate change, and diversity.
However, owned media doesn't permit in-depth contributions to ESG topics, especially due to the character limitations on Twitter. CEOs who want to contribute to the ESG discourse will have to also become active on LinkedIn.
Top Hashtags on LinkedIn and Twitter
On Twitter, LinkedIn, and indeed any other social media platform, the best way to gain visibility is through a combination of hashtags and relevant content. CEOs often use hashtags related to their respective companies, and the subject of discussion (in order to categorize the content).
Our study contains an analysis of the most common hashtags used by the Top Dow Jones CEOs.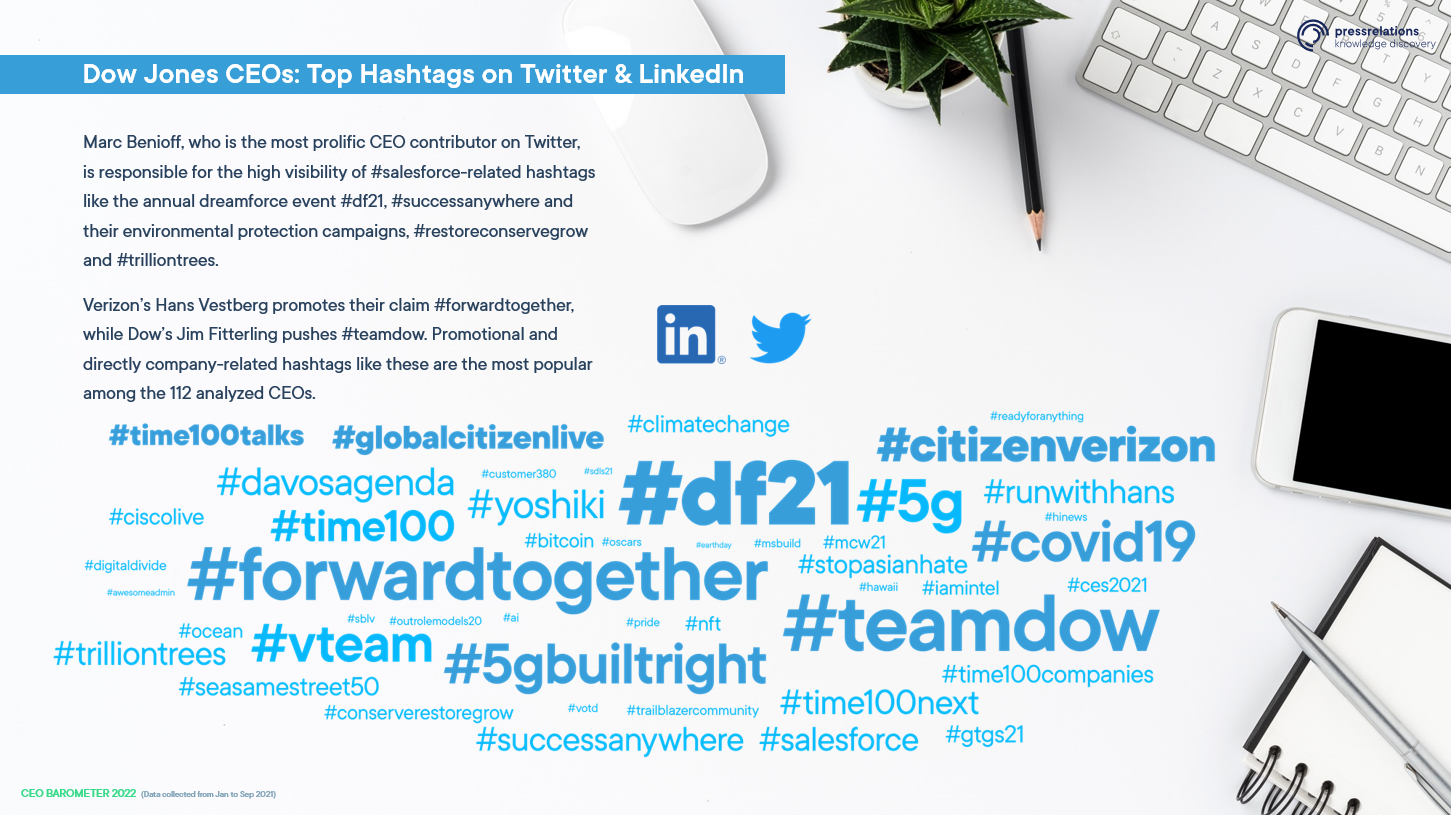 If you have any questions or comments, I would love to discuss the topic with you. Shoot me an email at david.holmes@pressrelations.com.