May 7, 2020
5 minutes reading time
Video conferences, creative work on online flip charts, joint virtual lunch breaks – pressrelations has been working from home for eight weeks now. How has the coronavirus crisis changed our work? How are our clients dealing with the crisis? And how will media monitoring look like in the future? We talked about all this with Fady El-Murr, managing director and founder of pressrelations.
THE CORONAVIRUS CRISIS HAS BEEN KEEPING US ON OUR TOES FOR WEEKS – HOW IS PRESSRELATIONS DEALING WITH THIS SITUATION?
Fortunately, our experience so far has been very positive. We have been using Agile methodologies for several years now, and it has just become apparent that they are extremely helpful for such situations. When the shutdown happened in March and we had to ask our 200 employees to work from home from one day to the next, everything went smoothly at all our locations in Germany and abroad. Our colleagues took over the work decentrally and with full responsibility, and simply carried on. This individual flexibility, the solidarity and cohesion among each other are really great, and of course, also benefit our customers.
HOW HAS WORK CHANGED SINCE THEN?
Our first staff meeting on the third day after the shutdown illustrates this quite well: everyone was online and it was great to see so many faces on one screen. Despite the distance, the meeting was very efficient and productive. We have been holding our daily stand-ups and retrospectives virtually ever since. Tools like Miro even make it possible to work together creatively on flip charts.
For families it is, of course, a balancing act to work from home and at the same time to look after, teach, and keep the children busy. We try to provide as much freedom during work hours as necessary. The individual teams coordinate among themselves and also decide how they represent each other. If the family burden becomes too great, we find individual solutions. The loss of social contacts in the office is not easy for everyone. However, this has led to the development of new forms of digital communication – e.g. a virtual lunch with random colleagues, or chats on leisure ideas and childcare.
ARE THERE ANY OTHER EXAMPLES?
Communication with customers has also changed. Instead of conventional telephone calls, video calls have come to the forefront. Meetings and conversations have become much more personal as a result – for example, when children suddenly appear in front of the camera on a call. The coronavirus crisis reveals previously unknown aspects of our private lives, and thus creates a sense of closeness. Although this does not replace personal contact, I am sure that these experiences will have an important long-term impact on our working life. We are currently learning many things that would have been simply unthinkable before.
HOW DO YOUR CUSTOMERS DEAL WITH THE CORONAVIRUS CRISIS?
In the first few weeks, the need for communication was enormous. No matter whether it was a customer or a service provider – we all share the same problem and have to deal with a situation that has never existed before. The customers had many questions: "How do you do that in from home?" or "Which tools do you use for virtual collaboration?" Some industries have been hit particularly hard – for example, trade fairs, event and tourism companies. But many companies are deciding to step on the gas right now and invest in communication and marketing for the time after the coronavirus crisis.
HOW DO YOU SUPPORT YOUR CUSTOMERS IN THIS SITUATION?
At the moment, there is a veritable coronavirus infodemic, in which customers primarily want orientation and solid, well-structured information. And this is exactly where we come in – whether with Newsroom solutions that become more relevant in times of home office or with real-time analyses that provide the information needed ad hoc. Predictive analyses such as the FirstSignals method also help clients to choose the right topics and to identify new, emerging trends early on and use them for communication and crisis management.
There are also free services that we have created especially for companies, associations and institutions – for example, coronavirus information boards or news alerts on the economic and financial impact of the pandemic.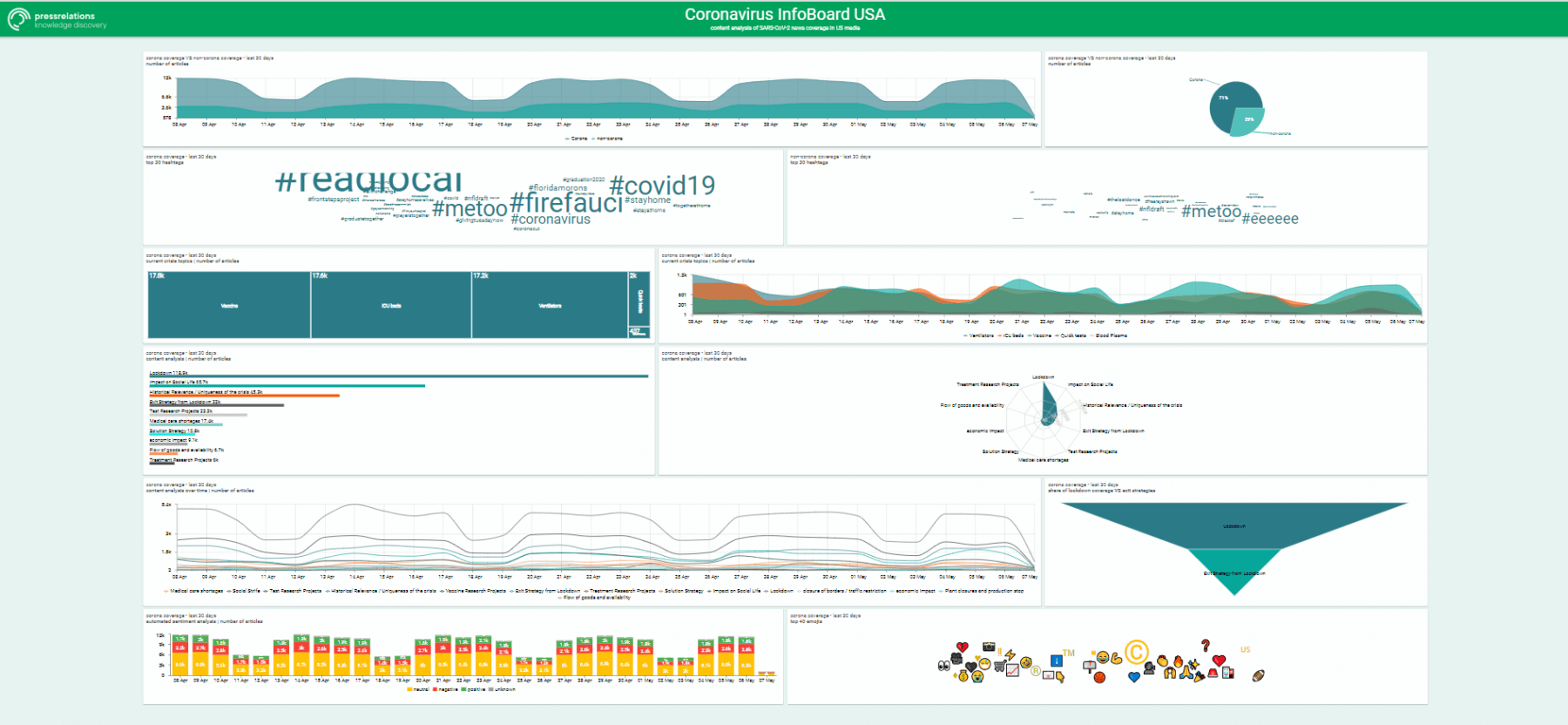 WHAT IMPACT WILL THE CORONAVIRUS CRISIS HAVE ON THE MEDIA MONITORING INDUSTRY?
Media monitoring is quite crisis-proof, as good crisis monitoring is important for PR and marketing, especially in turbulent times. At the moment the market is at a standstill, i.e. there is hardly any new business, but also few cancellations. Overall, it can be observed that the industry is becoming radically more digital. In the UK, the first publishing houses are already giving up. German publishing houses are also struggling with their print offerings.
As a result, online, social media and TV are gaining massively, and the diversity of information is exploding. Doctors, virologists – they all have something to say about the coronavirus. Mathematicians who have never been heard before share their opinions on calculation methods. This involves great uncertainties and calls for companies that are able to navigate through this morphology of information. We are currently experiencing a digital future that we can help shape here and now.
WHAT CHALLENGES DO PROVIDERS FROM OTHER COUNTRIES FACE?
We are in close contact with our partners from GMI – the association of owner-managed companies from Italy, Belgium, the UK, Spain and South Africa. The reports from Italy are particularly interesting, as they describe our future in the coming weeks. In all markets, clients are loyal to their providers, which brings stability, but makes acquiring new business difficult.
We provide mutual support for international inquiries. Customers benefit from the fact that we are a very closely cooperating association whose members share the same values. Speed and short distances make the difference, especially for internationally active customers. All partners are currently in a difficult market environment. One ray of hope is the situation in Italy, which seems to be improving daily. But for 2020 everyone is expecting an uncertain time.
WHAT OPPORTUNITIES DO YOU SEE FOR THE FUTURE?
The coronavirus crisis has brought changes on many levels – the conditions in which we live and work, the ways in which we buy products and the way we consume media.
We see our role above all in offering our clients orientation in the current media scene, discovering knowledge and new trends, and distinguishing the important from the irrelevant. The crisis therefore also represents a great opportunity for us and the entire industry – we can position ourselves even more strongly in dealing with infodemics and fake news, and advise and accompany our customers.
pressrelations has chosen to work agile and digital very early on. Both have helped us tremendously in this crisis. What is really important, however, is the appreciative culture of cooperation that we cultivate within the company. This quality is particularly evident in crises. As a company, being able to adapt quickly and flexibly to radically changed environmental conditions and to stand up for one another – that is one of the most important lessons learned in recent weeks.
Many thanks for the interview!