April 28, 2022
4 minutes reading time
ESG stands for "Environmental, Social, and Governance" and since 2018 alone, ESG-related media coverage grew by a factor of more than 8. In the first three quarters of 2021, ESG generated about 80,000 article mentions, overthrowing "Good Governance" and "Corporate Social Responsibility", thus becoming the dominant sustainability and ethics media theme.
In June 2021, the U.S House of Representatives passed new legislation – The ESG Disclosure Simplification Act – mandating all publicly traded companies to disclose in their annual statements how their ESG performance affects their business strategy.
It only took this one mandate to turn ESG from a background player in terms of company valuation into a key determinant of an organization's sustainability, societal impact, and growth potential.
That's why today an organization's actual ESG-related standing is imperative to the investor analysis process, with the responsibility of projecting an ESG-positive media image ultimately falling to the CEO.
Thematic Positioning of CEOs
Thematic positioning metrics assess the degree of engagement by CEOs with the top 20 most important societal topics. The fact remains that it's almost impossible for one company to contribute to all essential societal issues. An ideal strategy would be to pick some of the key themes [e.g. climate change, CSR, human rights] and focus on generating media discourse around the selected topics.
As part of the pressrelations 2022 CEO Barometer, we created a list of the top 10 macro themes, based on the media coverage they generated.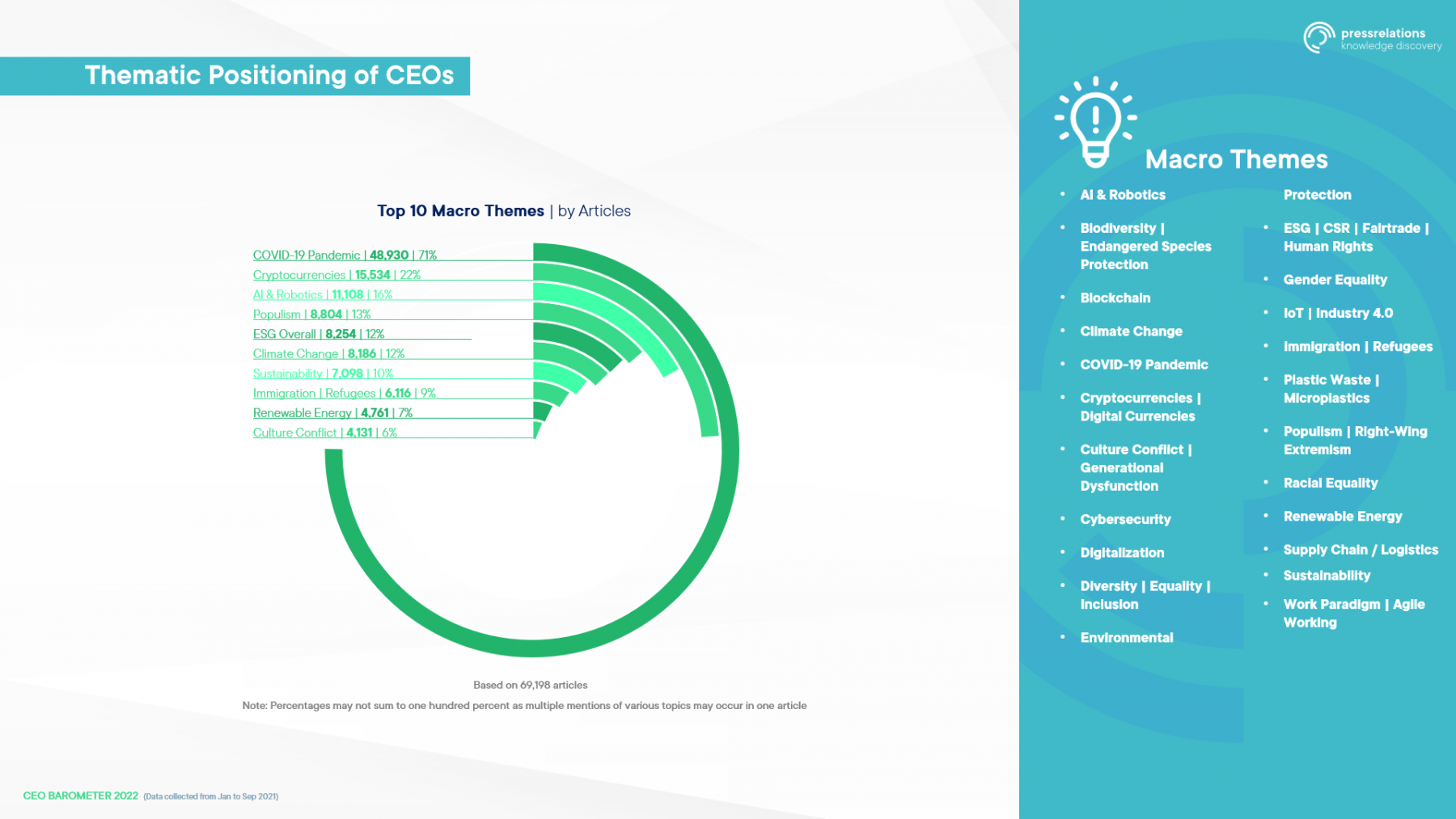 Because of how the pandemic stunted economic growth and affected employee security, COVID-19 was unsurprisingly the primary theme of 2021 and one that CEOs engaged with the most — in fact, with a score of 71%. The discourse around COVID-19 explored many of the implications of the pandemic and how the world economy can bounce back post-COVID.
Up next is cryptocurrencies, which is the newest entry in our top 10 list with a thematic positioning score of 22%. The hype over decentralized payment systems in 2021 fueled debates around the sustainability and potential hazards of a decentralized currency. Key CEO contributors were Jack Dorsey, Elon Musk, and Jamie Dimon.
Bringing up the rear, "Cultural Conflict" was the least discussed theme, appearing in only 6% of CEO-generated articles. The subject of "Cultural Conflict" became a macro theme due to the media discussions driven by the Black Lives Matter movement, cancel culture, gender inequality, LGBTQIA, identity politics, and more.
Our study also included an analysis of CEOs' participation with the macro themes of 2021. Here's what we found:
Tech CEOs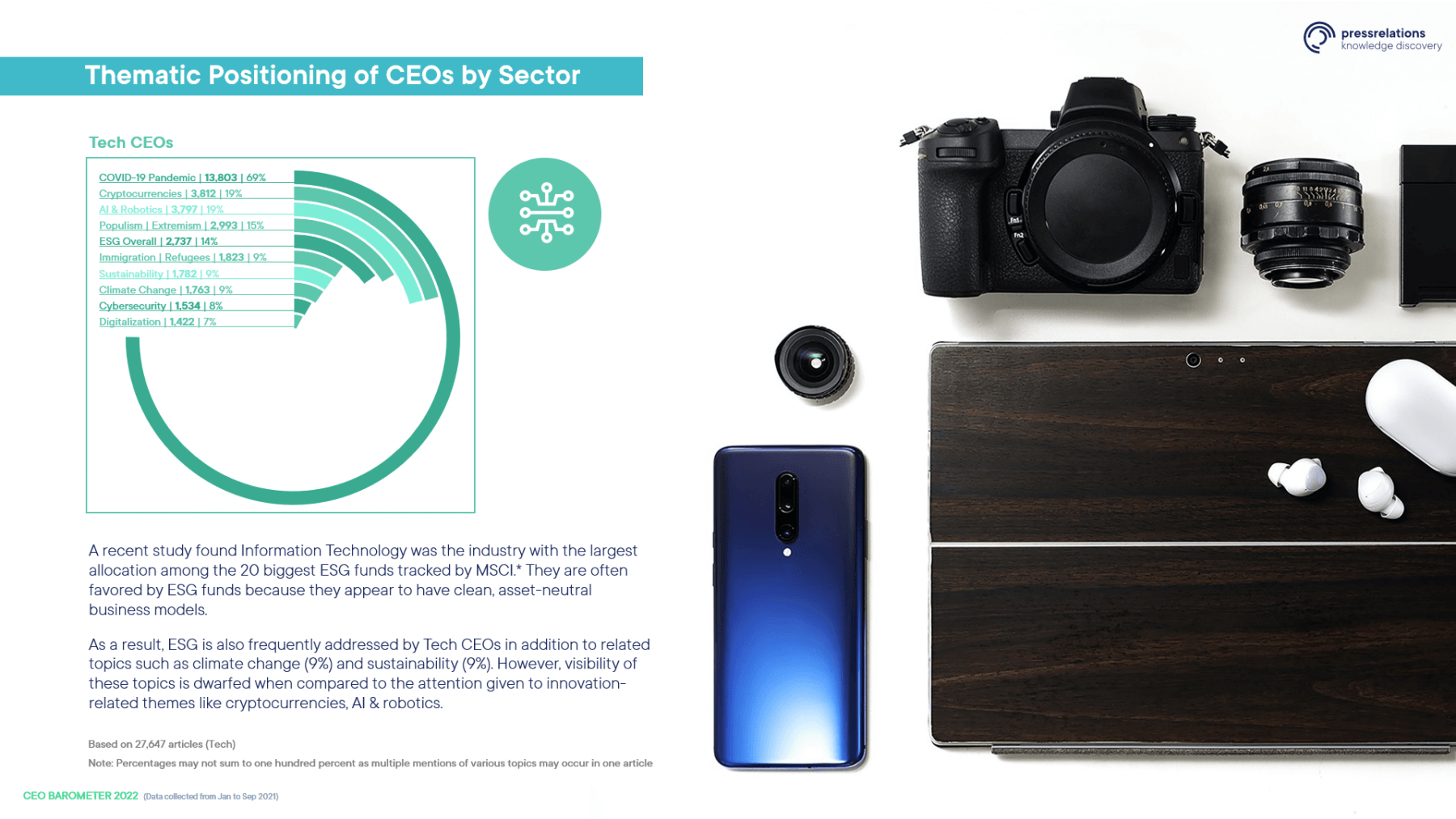 Financial CEOs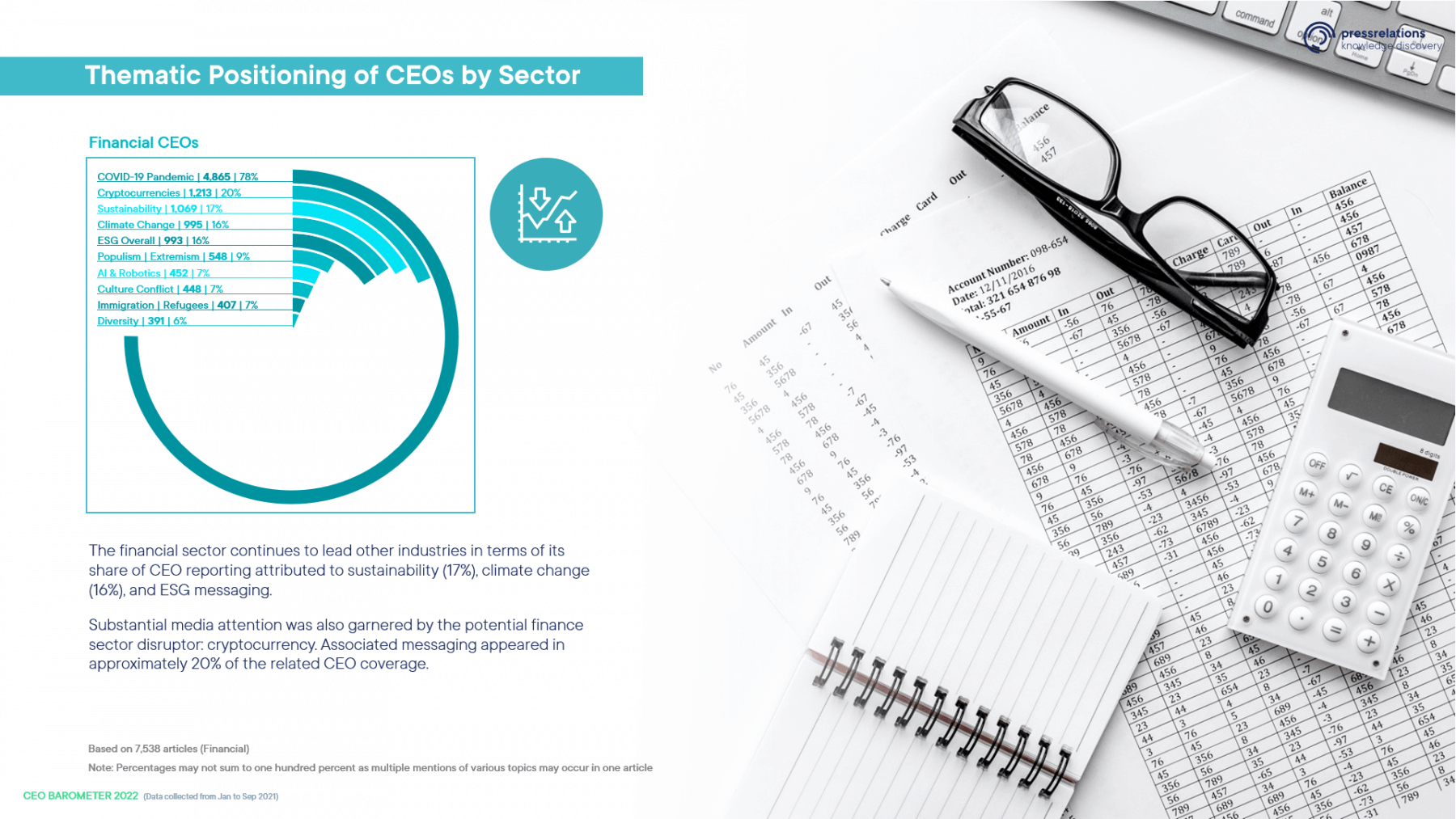 Pharma CEOs
ESG as the Primary Driver of Media Reputation
Between 2015 and 2021, the media coverage of ESG issues witnessed a steady surge, cementing ESG as a primary determinant of a company's media reputation.
Over the course of these five years:
"Good Governance" generated about 304,000 article mentions
Next in line was ESG, with about 184,000 mentions
"Corporate Social Responsibility" generated over 87,000 article mentions
However, in the first three quarters of 2021:
ESG generated 76,000 article mentions
Good Governance had 60,000 mentions
CSR was mentioned about 16,000 times
Key here is that ESG generated 40% of its five-year media resonance in the last 12 months alone.
The growing prominence of ESG in the media since 2015 signifies that those issues have become a chief determinant of an executive's and an organization's reputation.
Top CEO Communicators on ESG Issues
It's safe to say that ESG had its biggest media year in 2021, with a great number of top CEOs contributing to the discourse. The pressrelations CEO Barometer clearly demonstrated how CEO-generated media coverage actively fueled ESG-related discussions.
A key takeaway is that in societies where ESG plays a fundamental role in influencing media reputation, it has become the new norm. And as ESG topics will piggyback on the vacuum left by the lack of COVID-19 coverage, we predict that 2022 and 2023 will bring specific ESG concerns, such as climate change, sustainability, cultural conflict, even to the forefront, barring any new or a continued escalation of current geopolitical crises.