November 9, 2020
3 minutes reading time
This year, sporting goods giant Adidas has had to take a lot of criticism – especially on the social web. In particular, the company's reaction to the lockdown at the beginning of the year created a lot of headwind. While Adidas is holding back with political statements on social networks and proactive postings on topics such as racism and discrimination, the Group is accused of not taking enough initiative. This restraint could become problematic in the future because communication is the be-all and end-all. pressrelations analyzed for prmagazin how Adidas communicates on social networks and which aspects and topics are important for successful corporate communication in the year of crisis that is 2020.
When Adidas finally rowed back in an open letter, the outrage on social media was already high. Under the hashtag #niewiederadidas, numerous celebrities and even politicians let out their anger on Twitter. The billionaire DAX corporation was sending a problematic signal with this action and seemed overdone to all those who have to fight for their livelihoods in the crisis. It is noticeable that Adidas hardly reacted to these criticisms on social and also generally refrains from proactive political posts to the greatest possible extent. The content shared by Adidas is mostly reposts or reactions to demands from the workforce. However, in times of Black Lives Matter and the corona pandemic, the lack of response has a major impact on the reputation of global companies, and this reluctance on the part of Adidas could soon be fatal. While critical hashtags such as #niewiederadidas or #boycottadidas are being used more and more often, topics such as equality and diversity in connection with Adidas are hardly ever in demand on social platforms. Nevertheless, the content of the Herzogenaurach-based company consists mainly of this range of topics.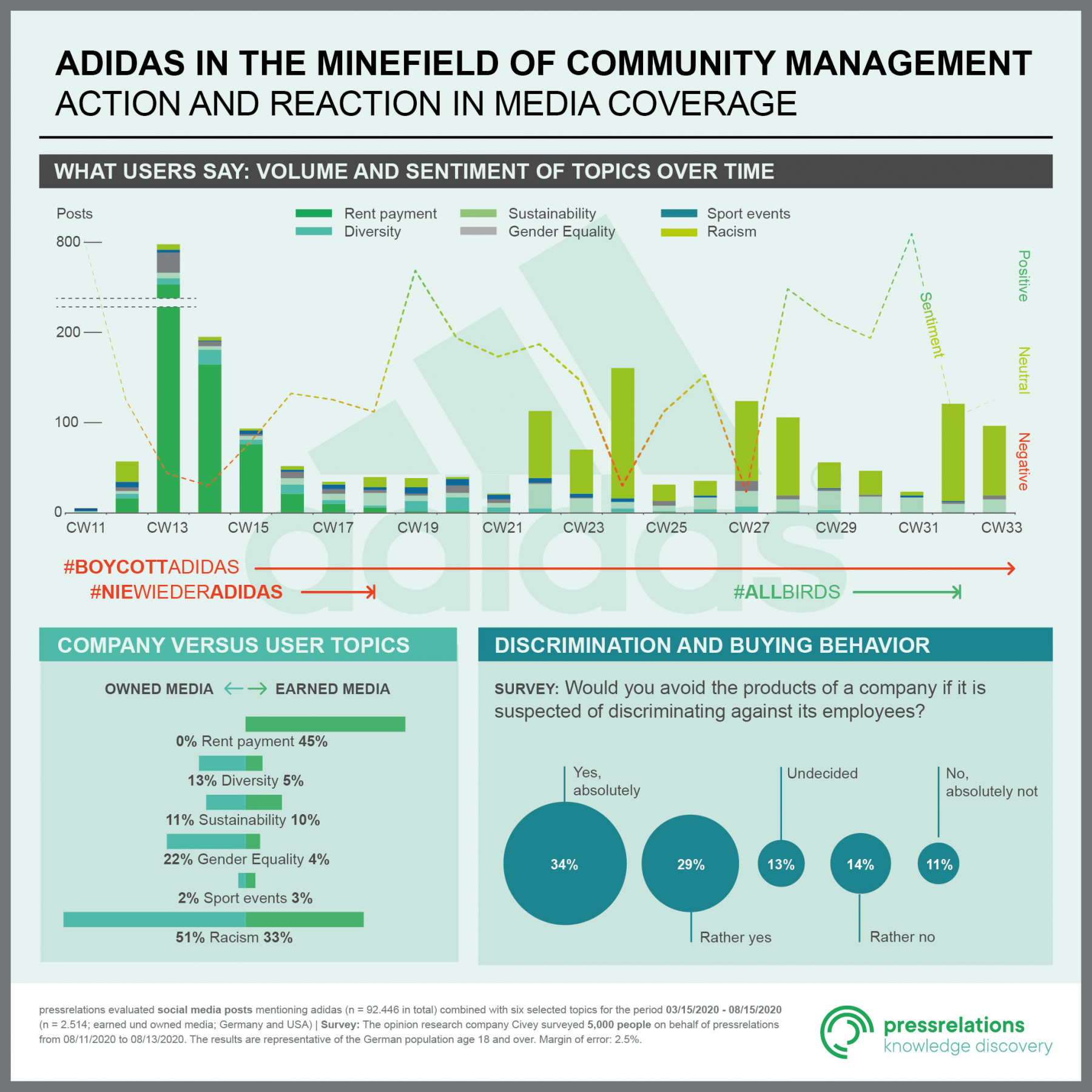 Adidas is also subject to increasing criticism with regard to racism and discrimination. African-American employees complain about an unpleasant working atmosphere and accuse the Adidas headquarters in Germany of having long dismissed racism as a US problem. Consequently, no measures were taken. The workforce still lacks diversity, with a dominance of white, male employees – especially in management positions. After relevant criticism, Adidas HR manager Karen Parkin even decided to resign, as she was accused of belittling the issue of racism. In addition, she had failed to promote greater diversity within the Group. This passive attitude is no longer acceptable to many people in 2020. In a representative survey conducted by the opinion research institute Civey on behalf of pressrelations, 63 percent of those questioned said they would do without company products if discriminatory behavior against the workforce became known. Meanwhile, Adidas has announced that it will spend around $120 million on anti-racism initiatives in the next few years and intends to fill up to 30 percent of new positions with people of color.
Conclusion: When it comes to corporate communications, some corporations lack sensitivity in community management. Their own statements should also be communicated on the platforms of the target groups and start where most criticism is voiced on social networks. In addition, initiatives and measures should be proactive and not be used exclusively as a placatory response to massive criticism. With a view to the corona pandemic, successful companies should carefully evaluate whether it is absolutely necessary to receive public aid. After all, actions that apparently put profit before the well-being of the general public can massively damage the public perception of a company. Cohesion and mutual consideration are more important than ever in this crisis. Both large and small companies will have to learn to deal with this situation appropriately in the long term.