"Successful CEO Communicators Focus on ESG Messaging" – A Key Result of the Newly Released 2022 Edition of the pressrelations CEO Barometer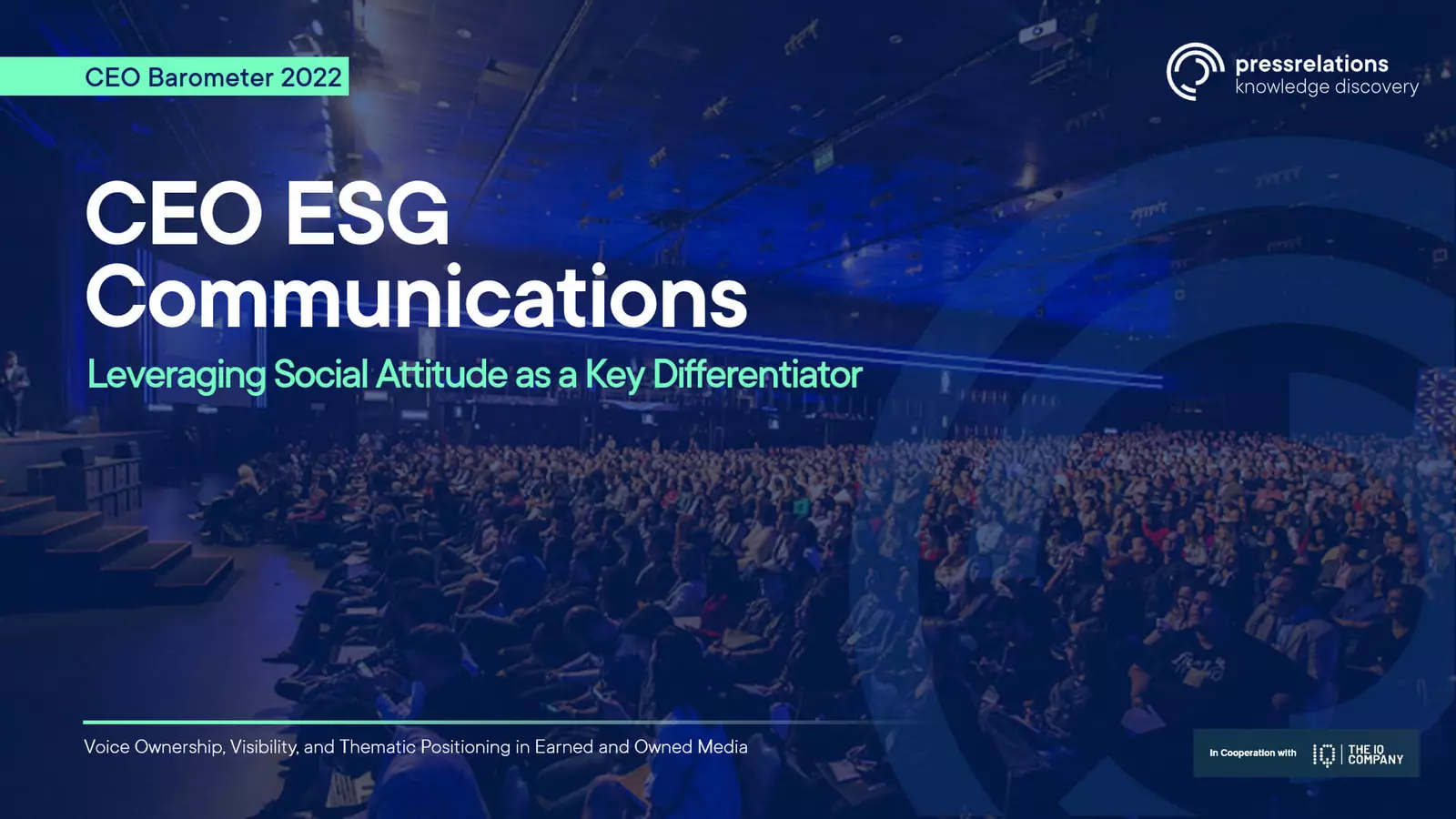 AUSTIN, TX, NOV. 16, 2021 – Global media intelligence firm pressrelations has published its annual CEO Barometer 2022 Edition. The barometer delivers key insights into how leading CEOs utilize Voice Ownership to steer their organization's reputation, brand equity, and market value. The in-depth report confirms that the media relevance of ESG (Environmental, Social, Governance) topics, such as climate change or sustainable business practices, is at an all-time high. Successful communication strategies for CEOs, therefore, shift the focus of key messaging elements to ESG themes.
For 2021, the report data highlights that Elon Musk, Jeff Bezos, and Mark Zuckerberg alone account for more than 60% of the media presence of the top 100 NASDAQ CEOs. Overall CEO communication topics are dominated by the business impact of the COVID-19 pandemic (71%), followed by cryptocurrencies and AI & robotics, with 22% and 16% respectively. CEO communication around climate change made up a mere 12% of total discourse, while CEO discussions around Black Lives Matter, cancel culture, and DE&I garnered in total only a 6% share.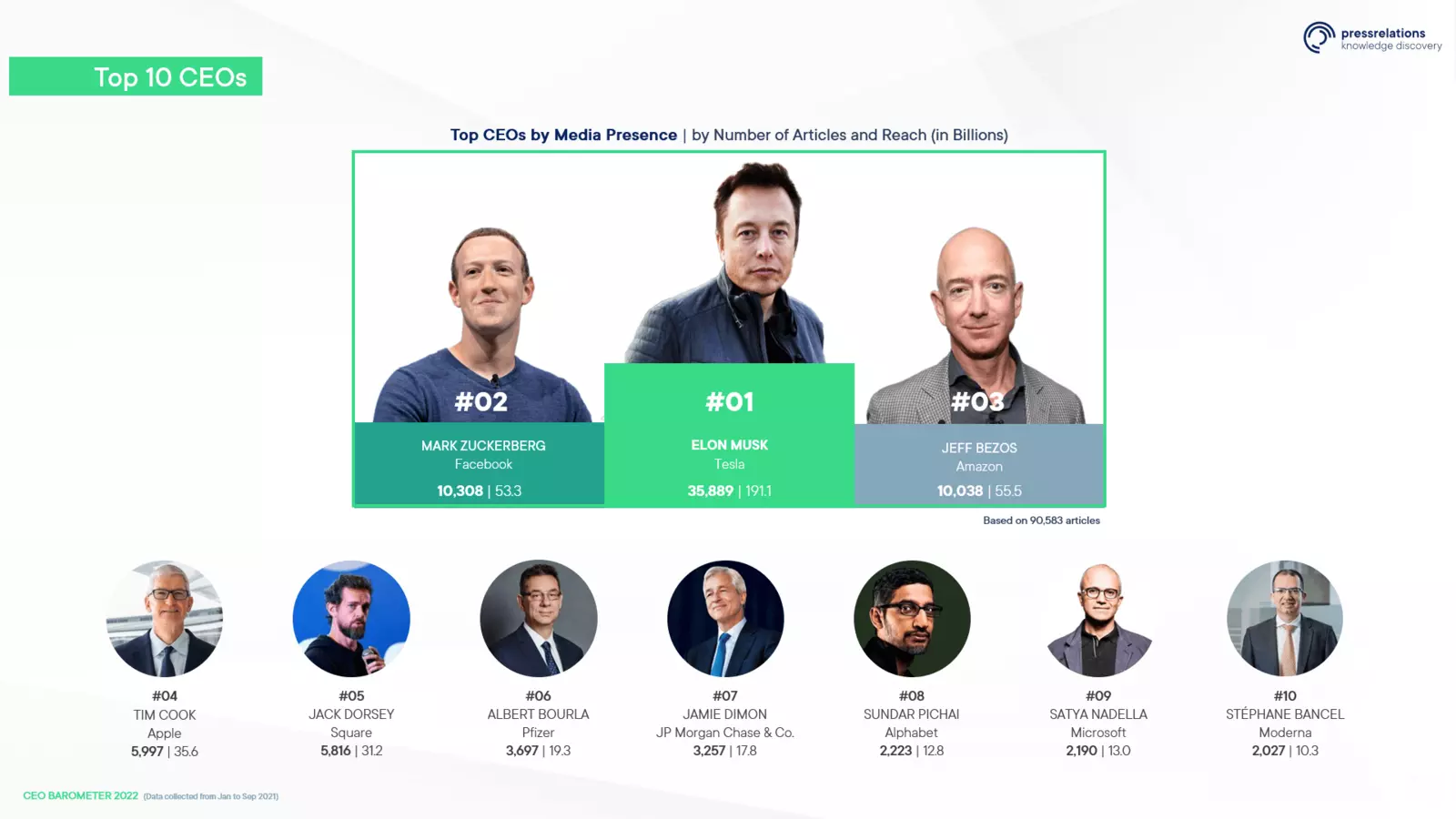 Media coverage of ESG topics has grown eightfold since 2018, becoming one of the primary drivers of reputation. Across all industries the report covers, around 12% of CEO-related media coverage involves ESG topics. However, in terms of industries, there are significant differences. Finance CEOs show the highest share of ESG topics (16%), followed by tech (14%), and pharma (9%).
"Voice Ownership" is the ratio of a CEO's active voice (their quotes and interview content) compared to their passive media voice (media coverage about them). Today, Voice Ownership is a must-have tool within the CEO communication toolset to steer their personal brand, corporate reputation, and market value. To be effective communications, CEOs must be media-savvy and proactive in producing quotable content.
"ESG is here to stay. The media relevance of ESG has grown exponentially in the last three years alone and will continue to shape business practices and corporate communications for the decade ahead of us," said Eric Ziller, COO North America at pressrelations. "More than ever, consumers are holding business leaders to account, demanding quantifiable delivery on ethical business commitments. C-level executives can no longer afford to sit on the sidelines. They need to communicate their personal viewpoints on ESG topics and adopt corresponding practices. Leaders who do are rewarded with improved brand equity, enhanced investor attractiveness, improved operational fitness, and most importantly – creating a better society in the process."
About pressrelations
pressrelations is a leading media intelligence firm delivering insightful solutions to storytelling experts. The company provides an effective value-add to professional communicators and measurement practitioners across the globe through its proprietary, AI-driven technology and the vast expertise of its team of media analysts and consultants.
With over 20 years of industry experience, pressrelations operates out of offices in Austin, Dublin, Berlin, Zurich, Sofia, and other cities worldwide. The company works successfully with more than 700 global brands, government bodies, and NGOs on communication planning, controlling, and evaluation projects.