August 5, 2020
5 minutes reading time
Birgit Franke has been working in the field of media monitoring for almost 10 years and deals with the media review of numerous clients (almost) daily. We talked to her about which media review formats are most frequently requested and why.
pressrelations blog: In your experience, what do customers want from their media review?
Birgit Franke: For most customers, clarity and relevance are the most important. This means that the articles, contributions, and posts delivered should be up to date on the topics, companies and products that are currently being discussed on the relevant media channels. In addition, it is important, especially when it comes to comprehensive media reviews, that the customer understands what they are looking at. Where can I find articles on which topic? What is important today and have there been articles that have a particularly high reach? For some customers, the media review they receive in the morning decides how they organize their day. For this reason, we have thought very carefully about how our media review should look, which structure makes sense, and which formats are most helpful.
Structure and content are one thing, but to what extent does the format make a difference?
It is important to be clear in which situations and with which devices customers read our media reviews. Some get their first morning reading very early, for example while they are on their way to work and have limited access to the Internet or while they are still drinking their first coffee at home. In the first case, it is important that the media review is readable independently of the network after downloading. In the second example, the media review should also be easy and pleasant to read on smaller devices.
A PDF can also be a good solution if, for example, you work on a larger screen with an unstable Internet connection. Reading on a mobile phone, on the other hand, can be quite tedious. Here, responsive formats that work on all mobile and desktop devices are the better solution. For this purpose, we offer HTML media reviews that can be designed like modern newsletters, for example with or without images. This is independent of whether the customer receives his media review by e-mail on his laptop, tablet, or iPhone. The HTML has a comparatively low data volume, can therefore be loaded quickly, and is structured in such a way that the reader can also get an overview on small devices and obtain all relevant information quickly.
Are media reviews usually delivered by email?
I would not say that. While sending the media reviews via email as PDF or HTML is the most common form, some customers also receive their articles in special formats like Excel. Here it is usually a matter of quickly recording KPIs such as ad equivalent values or reach. Other customers, who are primarily interested in daily updated key figures and analysis results, in turn access our customer portal NewsRadar directly. Here you will find not only the relevant articles, but also real-time analyses, individual dashboards, and diagrams from which the media response can be accurately assessed. Many also create and send the media digest themselves or receive articles directly via their intranet. We have the feeling that the need for solutions for this has increased significantly in recent years.
What options are there to meet these individual requirements?
For these cases we offer to upload the relevant articles via interfaces to the intranet. This is technically feasible for us; the only important thing is that the licensing rights are adjusted in advance. For the client, exporting to the in-house intranet often has the advantage that employees can find their media digest right next to other work-related information and access everything with a single click.
What do you think the media review of the future could look like?
Primarily cross-media. We are increasingly noticing that our approach of working across different media types and viewing information from different channels together is increasingly in demand. Especially since new media channels are emerging much faster today. Take podcasts, for example – in a relatively short time, they have become an increasingly important medium for our clients.
I could imagine, however, that the media review of the future will focus even more on the classification of the media situation. In the early days of the Corona crisis we noticed how great the need is here. We then offered a newsletter with the most important articles, preceded by a summary of the current media situation. I am convinced that such formats, which provide a quick, well-founded overview in an increasingly difficult media landscape, will continue to play an increasingly important role in the future.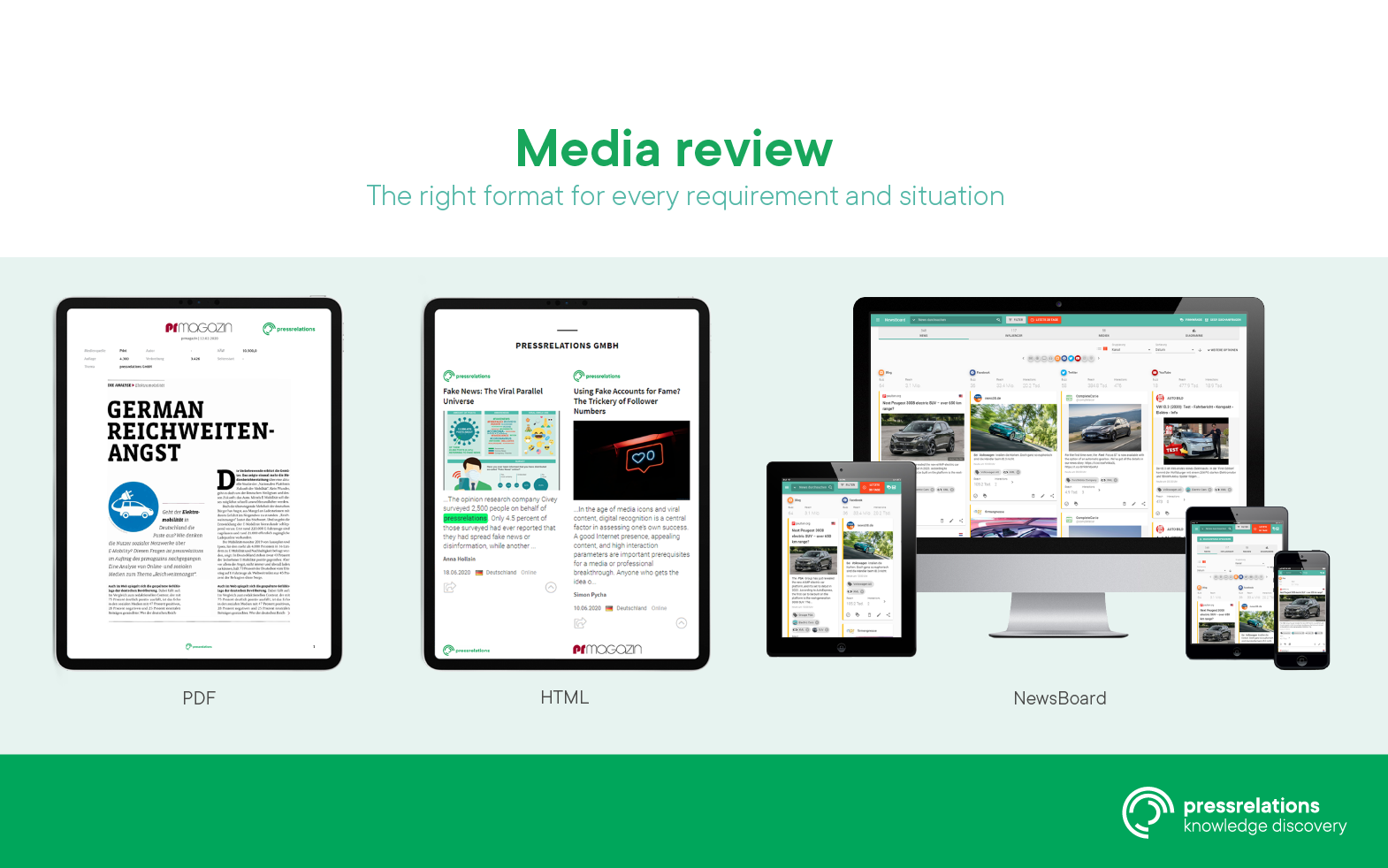 An overview of the different media review types
HTML – short loading times, clear, responsive
HTML is ideal for all users who read their media review on mobile devices. The HTML media review can be clearly displayed on all devices, has short loading times, and requires hardly any memory capacity. Thanks to the interactive table of contents, this format allows quick navigation through the articles. Customers who consider visuals important can also have the article images from online media displayed.
PDF – the classic
PDF is the most popular format among digital media reviews. Many readers find the structure – a cover page, table of contents, and article section designed as desired – practical and convenient. PDFs are especially favored by those who read the media review on their desktop in detail. In addition, the generous design of the PDF offers the possibility of displaying a variety of metadata and a so-called thumbnail. This shows how the article was placed in the original print medium.
XLS – the compact addition
For all those who are not primarily interested in the contents of the media review, but would like to gain an overview of the most important quantitative key figures, we recommend, in addition to a look at our analysis portal, to download the media review as an Excel file. Here you will find a compact list of all important key figures. With just one click you have quantitative metadata such as reach, circulation, followers, or ad equivalent values at your fingertips. This allows you to sort by reach, compare time periods with each other, or calculate accumulated values and advance your own analyses.
PPT – for the analytical view
Users who are strongly focused on analysis or who produce regular analysis reports receive the media review or the data obtained from monitoring as a PowerPoint file. Or, they can export them themselves from our NewsRadar portal. Here, individual dashboards can be configured in advance, which can then be downloaded as PPT.
XML/RSS – integrate to your systems
In information-intensive sectors such as insurance, universities, or finance companies, it is important that virtually all employees are kept very closely informed every day about everything that is currently being discussed in their industry. From a certain company size or structure on, there is often the desire to make the media review, or parts of it, available on the in-house intranet. For this purpose, we offer interfaces that enable fast and simple transfer of data via XML/RSS.
Conclusion:
Even if content is the most important part of a media review, it is useful to consider which format will benefit you most. We would be happy to convince you of the advantages of different media review formats in a free demo session.