July 22, 2019
4 minutes reading time
In the age of AI and digitalization, and in conjunction with a new generation of digital natives, millennials, and Generation Z, the emergence and perception of news has changed enormously. As a result, media topics feature one similarity with equities: the relevance of a topic, like the performance of a stock, is – much stronger than in the past – not only determined by the fundamental content and few large and renowned drivers, but by numerous other influencers and influencing factors.
Particularly due to the newly added digital distribution channels, many millions of users, opinion-makers and experts are now acting as triggers in the topics market, along with the journalists and the traditional media themselves. In so doing, they increase the number and variety of emerging topics, they accelerate trend development and they increase the suddenness of trend changes and thus the volatility of trend progressions.
This effect is similar to that of the technologization of stock markets in the 1980s. In this analogy, Twitter is for the topics market what high-speed trading is for the stock market today.
Journalism and corporate communication undergoing change process
As a result, the role of the journalist in traditional online and print media has changed substantially. On the one hand, journalists are no longer the sole or decisive authority to identify topics and edit them for their readers. On the other hand, their ability to evaluate, assess and classify the relevance of a topic is much more required than in the past. They are thus much less in demand as a topic investor or even a topic inventor, but much more as a topic analyst.
Accordingly, the role of corporate communication has changed as well. Because of the enormous change, acceleration and unpredictability of the thematic markets and because of the new channels and influencers, companies can and must no longer bring their topics to the journalist alone as they used to do – and then hope for their goodwill to invest them properly.
In the meantime, they can act like an equity investor in direct trading, who also no longer has to bring his money to the bank's stock expert. This means that companies can invest their thematic capital directly, in real time and independently in the topic market. But in order to be able to act or react timely, they are much more dependent than before and, like journalists and equity traders, they also need to be constantly informed about all developments in the market.
Investing topic capital optimally
This is a primary reason for the emergence of Corporate Newsrooms. Only in this organizational form, corporate communication can work optimally on the accelerated and ever more diverse topic markets, i.e. autonomously, directly, with highly newsworthy and highly relevant information, precisely tailored to the needs of the respective target group, on the right channels and at the best possible time. That's why many corporate communication departments today look like the editorial offices of major media houses.
Yet, the functional orientation of today's corporate newsrooms is more like the war rooms of large brokerage houses. In today's world, those companies are the most successful in the opinion market, which are able to optimally invest their own thematic capital. This means perfectly combining one's own concerns with highly relevant environmental topics, instead of merely pressing self-referential topics into the market, as in the past, regardless of existing topic trends.
So what the managing editor and the topic and channel managers in the Newsroom actually do is topic brokerage in real time – with a mixture of own content and topics from the corporate environment.
The trend recognition tool FirstSignals® was developed in order to strategically support, refine and keep this kind of topic brokerage up-to-date and accurate, especially with regard to topics emerging from the corporate environment.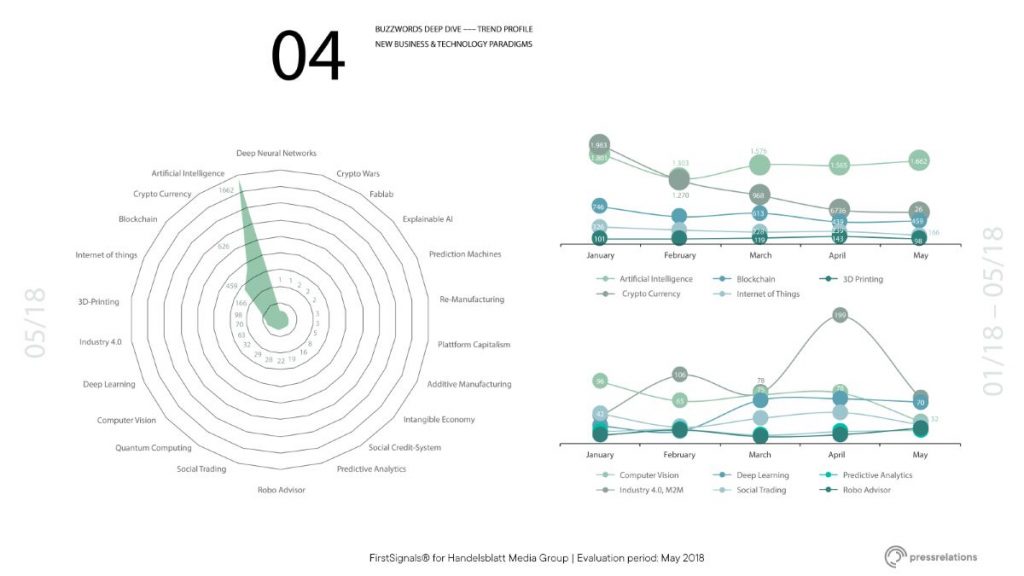 Just as equity analysts analyze both fundamentals and trend progressions to issue buy or sell recommendations, FirstSignals® analyzes both the fundamental relevance potential of entirely new topics – based on in-house developed and empirically tested trigger indicators, as well as the dynamics of change of the corresponding trending topics in the news – in real time and supported by machine learning technology.
More specifically, the integration of FirstSignals® into newsrooms therefore enables:
Differentiated and effective content planning and control
Fine-tuning or repositioning of a target group-oriented topic agenda
Increasing media visibility by setting relevant content at an early stage
Topic leadership through perfect timing via early and well-founded positioning on future trends
Management of opinion-forming processes in presently highly relevant topics
FirstSignals® is optimally used in the Newsroom by integrating it into the News Desk whilst simultaneously being organizationally embedded between the strategy team and topic desks.
In this setting, the FirstSignals® tool provides reliable and timely, comprehensible "buy" or "sell" recommendations for specific topics. This means that it sends out signals related to the issue what are the most promising new topics, on which topics corporate communication should act or react at what time, from which it should better abstain and which topics it can simply let pass by.