May 31, 2019
4 minutes reading time
Last Friday we had the opportunity to present FirstSignals, our method for early detection of strategic relevant topics and trend analysis, at the DPOK (German Prize for Online Communication). In the categories Data Driven Communications (incl. AI) and Innovation of the Year we made it into the top 5. For the category Data Driven Communications we were able to bring a new award to Düsseldorf!
The Fresh Garden Pitches began in the morning and we were able to present our submission together with Handelsblatt to independent expert juries. Although somewhat excited, but nevertheless full of confidence, we were able to deliver two very good pitches and were sure: FirstSignals made an impression. In addition to Chief Strategy Officer Oliver Heyden, who had previously presented the award together with Thomas Trösch, Head of Technology at Handelsblatt, the award ceremony was also attended by Managing Director Fady El-Murr and Bojan Radoja, Head of Social Media Research and Analytics.
Innovative Ideas and happy winners
While the pitches took place directly in the Quadriga Forum, the award ceremony and party in the evening took place in the Radialsystem, directly on the Spree, where the typical urban Berlin flair was noticeable. In 49 categories the award ceremony naturally lasted a little longer, but moderator Patrice, who led through the evening, as well as numerous highly exciting projects provided for amusement among the participants – all in all the atmosphere was rather relaxed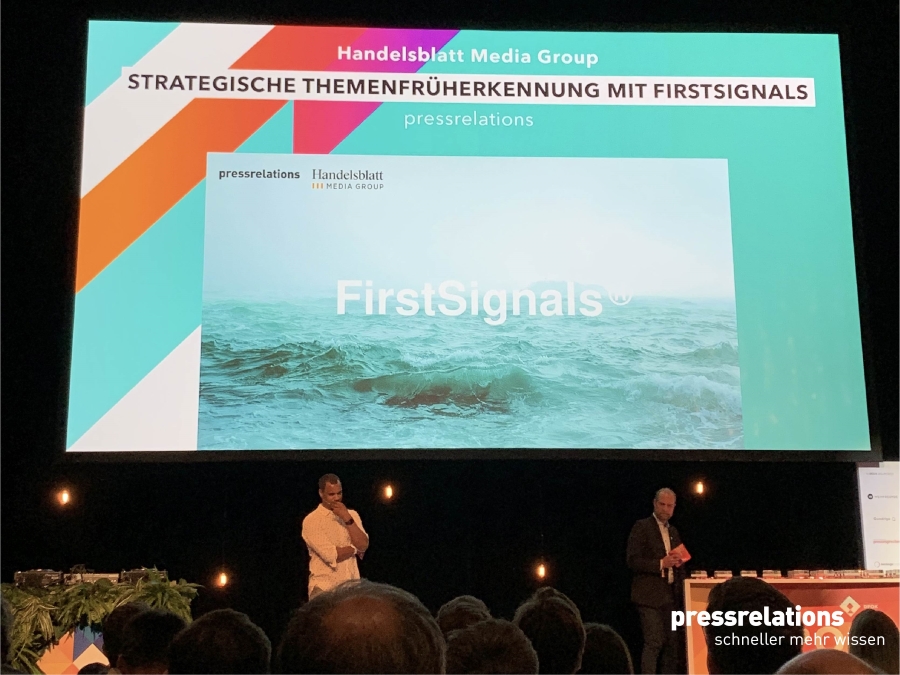 Of course, we are very pleased to have won a prize, especially in view of the "enormous variety of digital communication with partly extraordinary and unexpected solutions and ideas, which impressed us extremely", as Oliver Heyden aptly put it. This was reflected in the range of customers and the different submissions in the numerous categories. Our favourites included:
The submissions from Pfizer and the mammography cooperation association impressed us above all because of the motivation behind them and they show that communication without being boring or holding up the index finger can force serious topics and offer new spaces for exchange.
Category: Campaign of the year by associations
Kooperationgemeinschaft Mammographie: #gibachtaufdich – Campaign Breast Cancer Month 2018
Agency: Super an der Spree
Category: Content Marketing
Pfizer: Content is King – Sales Boost of FSME Vaccination
Agency: BCW Burson Cohn & Wolfe, creamcream
Two companies from Bavaria impressed us with their tailor-made orientation and approach to new and also very top target groups: Firstly, the Bavarian State Opera, which won directly in two categories, Team of the Year and Campaign of the Year by Institutions, and BayWa Baustoffe, which offer advertising services especially for small craft businesses.
Category: Team of the Year and Campaign of the Year of Institutions
Bavarian State Opera: V-Aria – a virtual opera experience
Category: E-Commerce-Shop
BayWa building materials: Advertising tools
Agency: Söllner Comunications
And with a very unusual portrait of board member Michael Schmelmer, Boehringer Ingelheim has shown that it pays to communicate authentically (and daringly):
Category: Internal Video & Digital Event
Boehringer Ingelheim: The sum of my parts
Agency: Caesar Nordpol
Of course, such highlights are also among the other campaigns. Who would like to make itself a more exact picture, finds under https://www.onlinekommunikationspreis.de/best-of-2019/ the complete list with winners of the respective category and short descriptions of the submission.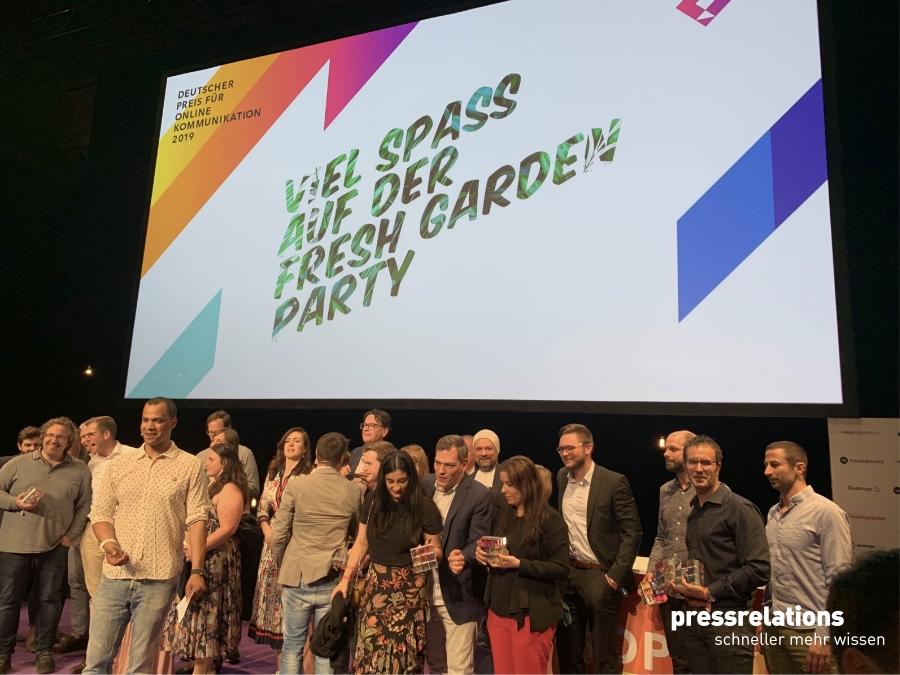 And after that?
Afterwards, we exchanged ideas and discussions with other participants and industry experts. Above all, however, we celebrated the evening and the result at the Fresh Garden Party.
This evening showed us once again that our new products can stand out in the market and inspire. The courage to present our innovations and thus receive direct feedback was once again worthwhile. And also that our "brain and bytes" approach, i.e. the interaction between our software and our employees, can be found there. In the end, human creativity, the good idea and the special approach still count, even in a high-tech context. Even in times of AI, people trigger technology, not the other way around.
About FirstSignals
The FirstSignals approach is designed to discover new topics before they enter the media space of decision-makers and consumers. This early recognition of topics and trend analysis makes the following possible, among other things:
Strategic content planning by continuous evaluation and classification of new trends for your enterprise
Increase your media visibility and reputation by setting the right topics at the right time
Topic leadership through early and well-founded positioning on new debates and future trends
FirstSignals is successfully used by the editors-in-chief of Handelsblatt, WirtschaftsWoche and the Euroforum event planning to identify strategically important topics at an early stage and to use them in content management.
About the DPOK
The German Prize for Online Communication, which is organized by the magazine pressesprecher and Quadriga, is aimed at agencies and companies, associations and NGOs, political institutions and parties as well as individuals who are active in online communication. All works created or published between March 2018 and March 2019 can take part in the competition.