June 30, 2021
9 minutes reading time
Trust is the key ingredient when it comes to successful communication. This simple truth stands no matter the context: political or social discourse, science & education, the economy, corporate communication, or the arts. Misinformation, on the other hand, has an eroding impact here and, over time, contributes to a phenomenon called 'zero trust societies' where we simply don't believe anything anymore that we read or hear through digital (media) sources.
To help tackle this hugely important concern, pressrelations partnered with trust ratings organization NewsGuard back in May 2020. The goal is to provide communication experts with valuable information on how trustworthy specific news organizations are. This data helps to manage communication risks but also to optimise branding and other communication opportunities. Reason enough for us to sit down and speak with NewsGuard's Managing Director and Head of Europe Anna-Sophie Harling. We have talked to Anna-Sophie about the future of disinformation, the risks of misinformation to brands and how communicators can work with NewsGuard data.
Would you be so kind as to introduce yourself?
My name is Anna-Sophie Harling, and I'm the Managing Director and Head of Europe at NewsGuard.
What does NewsGuard do?
NewsGuard was founded in 2018 by a team of journalists to combat the rising problem of online misinformation and help restore trust in the media. Our experienced journalists have rated and reviewed over 6,500 online news and information websites to help decide which news sources to trust.
Our ratings service, which is available to users directly through companies that license NewsGuard or as a browser extension, gives users access to these reliability ratings in their Google search results and social media feeds. That way people are safe from misinformation they come across online and we are also providing further context for news sources.
There are many companies tackling misinformation and online harms online, but NewsGuard is the only one that is entirely human-powered and uses journalists—not algorithms—to research our data on source-level reliability ratings.
Why should communication experts work with NewsGuard?
NewsGuard is a compelling value-add for agencies that advise clients on reputational risk and communications, who can add more context to their reporting of media coverage quality by integrating NewsGuard's ratings. Similarly, by alerting communications professionals to "red-rated" sites that generally publish unreliable information, agencies can more quickly identify risks of inaccurate reporting and rectify errors in a more timely manner.
Professionals who specialize in programmatic advertising can benefit from NewsGuard's Responsible Advertising on News Segments (RANS), which are inclusion and exclusion lists that help advertisers redirect ad spend away from purveyors of misinformation and towards sources of quality journalism.
We tested these segments by running a pilot campaign with IPG and one of its major advertising clients which saw dramatic results: the client saw a 9% decrease in CPM and a 143% increase in CTR—simply by expanding ad buys to include more trusted news sources. In other words, advertising on credible news sources isn't just a responsible way for brands to support journalism and democracy—it also helps the bottom line. You can read the full case study here.
What are known and specific risks where disinformation can harm companies?
Disinformation can be harmful to companies both directly and indirectly: directly, if the disinformation spreading involves negative or misleading information on the company's products or services itself, and indirectly if the company becomes associated with sources of disinformation online, such as through programmatic advertising on health hoax websites.
Companies need to closely evaluate where they are bidding for ad inventory on various websites, and equally ensure that tactics, such as keyword blocking, aren't preventing them from accessing inventory on websites that publish quality journalism. By using a solution like NewsGuard, companies can optimise their ad spend, support quality journalism and adhere to the most exhaustive, human-researched standards of brand safety protection against misinformation, which traditional verification companies do not help with.
Does disinformation threaten brands and communication success?
Having brands associated with disinformation certainly threatens communications success. No matter how effective or compelling a communications campaign has been, the presence of a brand's advertisement on an extremist website that perpetuates fake news and misleading narratives can be extremely damaging from a brand safety perspective and undo the thoughtful work of communications agencies. Communications companies should treat brand safety as a far-reaching issue, spanning all touchpoints with the consumer, including advertising on misinformation sites, and prone to reputational damage in an instant.
How does the NewsGuard rating system work?
NewsGuard manually rates and reviews news and information websites, and we review our ratings each quarter—and when major events such as a change in leadership or a piece of significant reporting occur. We do not rate individual articles or journalists, but instead at the source-level, which allows us to achieve scale by having a single rating apply as a guideline to all of the content published by a website—which generally publishes to the same editorial standards.
NewsGuard's nine criteria, based on transparency and credibility, are as follows:
Does not repeatedly publish false content: The site does not repeatedly produce stories that have been found—either by journalists at NewsGuard or elsewhere—to be clearly and significantly false, and which have not been quickly and prominently corrected. (22 Points. A label with a score lower than 60 points gets a red rating.)
Gathers and presents information responsibly: Content providers are generally fair and accurate in reporting and presenting information. They reference multiple sources, preferably those that present direct, firsthand information on a subject or event or from credible second hand news sources, and they do not egregiously distort or misrepresent information to make an argument or report on a subject. (18 Points)
Regularly corrects or clarifies errors: The site makes clear how to report an error or complaint, has effective practices for publishing clarifications and corrections, and notes corrections in a transparent way. (12.5 Points)
Handles the difference between news and opinion responsibly: Content providers who convey the impression that they report news or a mix of news and opinion distinguish opinion from news reporting, and when reporting news, do not egregiously cherry pick facts or stories to advance opinions. Content providers who advance a particular point of view disclose that point of view. (12.5 Points)
Avoids deceptive headlines: The site generally does not publish headlines that include false information, significantly sensationalize, or otherwise do not reflect what is actually in the story. (10 Points)
Website discloses ownership and financing: The site discloses its ownership and/or financing, as well as any notable ideological or political positions held by those with a significant financial interest in the site, in a user-friendly manner. (7.5 Points)
Clearly labels advertising: The site makes clear which content is paid for and which is not. (7.5 Points)
Reveals who's in charge, including possible conflicts of interest: Information about those in charge of the content is made accessible on the site. (5 Points)
The site provides the names of content creators, along with either contact or biographical information: Information about those producing the content is made accessible on the site. (5 Points)
More on our ratings process and criteria can be found on the NewsGuard website.
NewsGuard is extremely transparent about its process for its ratings: each "nutrition label" we write for a website includes detailed reporting on the rationale behind our ratings and score for each criterion, including evidence from the website and the results of our requests to the website for comment. Furthermore, the names and contact details of the 3–5 journalists and editors who have worked on any given label are published so that users or website operators with questions know who to contact, and we publish corrections on our own nutrition labels if there are mistakes in our reporting.
NewsGuard is a strictly non-partisan organization and receives broadly equal criticism from the left and right media. Our journalists are required to sign an ethics and conflicts of interest policy, and we do not advance political agendas or bias in our work. You can read more about why you should trust us here.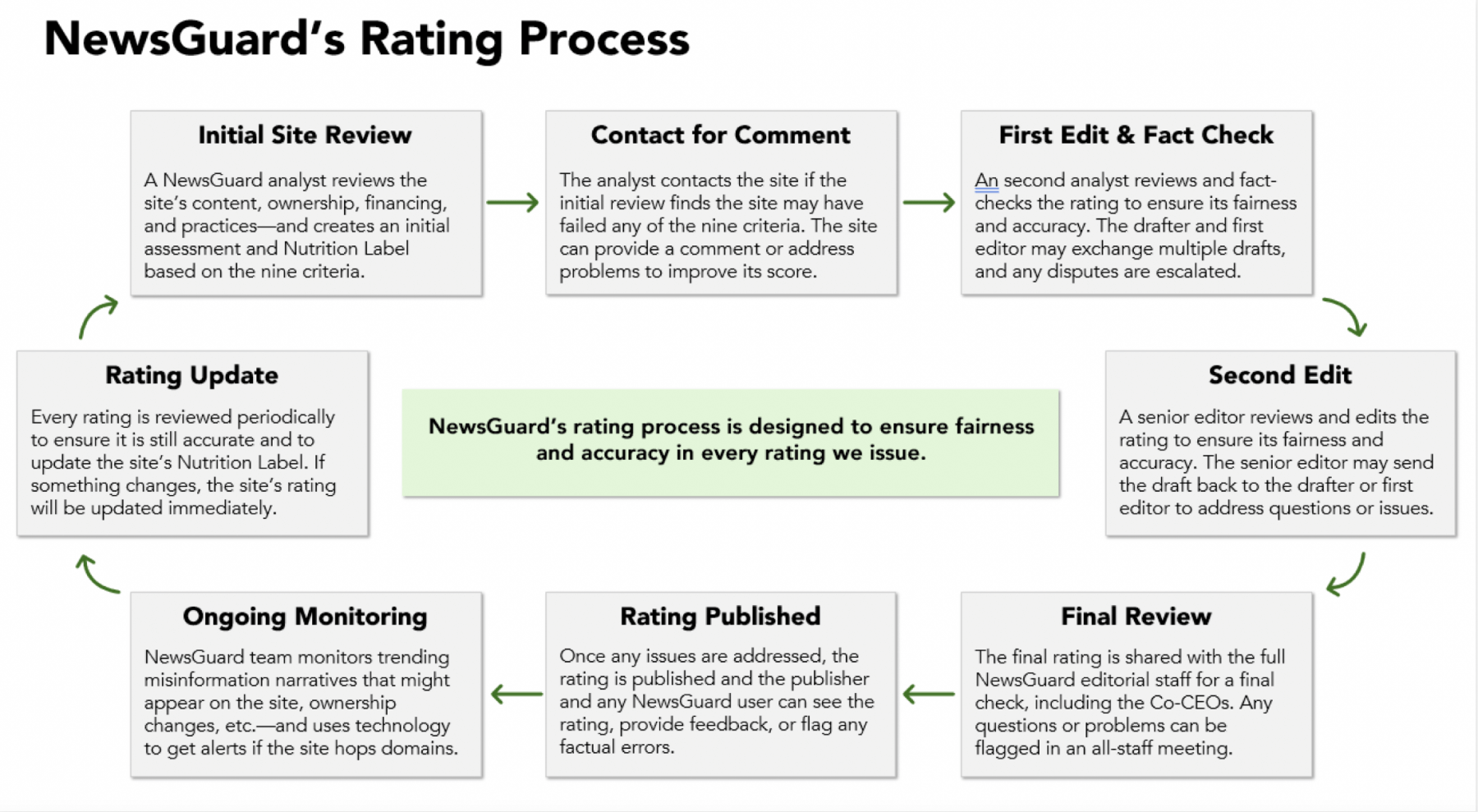 How good is your media coverage in Europe, the Americas and Asia?
We operate in five markets currently: the U.S., the UK, Italy, Germany and France. In each of these markets we have rated the news and information websites that account for 95% of online engagement with the news. We have imminent plans to expand to Australia and Canada, among other regions.
What are the benefits of working with NewsGuard data?
NewsGuard's data and research has far-reaching applications: from partnering with researchers, schools, libraries, non-profits, think tanks, health companies, Government organisations, news aggregators, tech platforms, brand and safety moderation teams, and more. GIPHY, for example, uses NewsGuard data to improve its ability to moderate misinformation on the platform. We also have a global partnership with Microsoft in which our browser extension tool is free for users of the Edge browser. We also work with the World Health Organization and provide them with our "misinformation fingerprints" research: a machine-readable database of false claims circulating on the internet.
pressrelations is a proud partner of NewsGuard—why do you think this partnership is of value to communicators?
Communications partners are critical to the success of companies, safeguarding their reputation and articulating their strategy to the market. NewsGuard's data complement these efforts by adding additional layers of human-powered protection against the nuanced risk of misinformation, mitigating against harm that could support communications teams in their work to deliver value to their clients.
From a NewsGuard perspective, what are some of the key takeaways from the 2020 US election, Trump & Brexit?
We've learned a lot from working in the rapidly changing news landscape, amplified by the major global events of the past two years that have, in some cases, called into question the role of the media itself in reporting these issues. Shareability on social media is a major factor in the virality of misinformation, and the increasing partisan polarization of news websites across the political spectrum can also have harmful consequences for democracy. The amount of high-stakes health misinformation specifically that has caused tangible harm shows that we must continue working to combat fake news online and restore trust in the media.
Thinking five years ahead, will disinformation still exist?
As ways of consuming news evolve, platforms fall in and out of favour and new divisive global issues emerge, disinformation will unfortunately always exist in one way or another. The challenges will be around keeping pace with these changes, creating widespread accountability and responsibility through legislation and regulation, and holding technology platforms to account to give users the tools they need for a safer experience online.
___________________
pressrelations thanks Anna-Sophie wholeheartedly for this interesting, thought-provoking interview!
___________________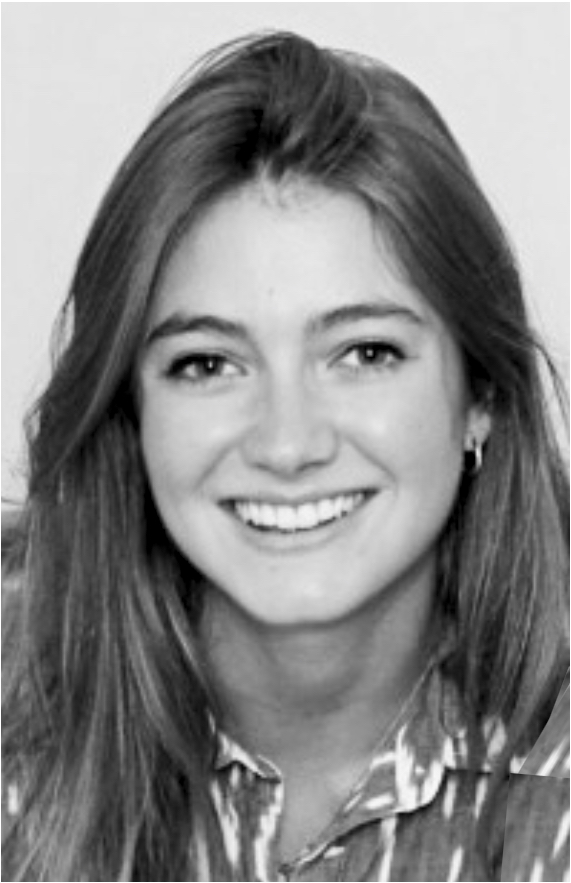 Anna-Sophie Harling is Managing Director, Europe and Executive Vice President, Partnerships at NewsGuard, based in London and New York. In 2020, she was selected to serve as a member of the advisory Content Board of Ofcom, the UK's communications regulatory authority. Prior to joining NewsGuard, Harling worked at a technology company in London and at an international law firm in Cologne. She has previously worked at two German newspapers, Der Tagesspiegel and the Märkische Allgemeine. Harling graduated from Yale University, where she was a Yale Journalism Scholar.
Please connect with Anna-Sophie on LinkedIn or follow her on Twitter. Follow the team at NewsGuard on LinkedIn or Twitter, contact the team directly here or download the NewsGuard app (Mac or Chrome).