September 17, 2018
3 minutes reading time
This year's FIBEP congress has definitely a story to tell, and it's not just because the congress will be taking place (again) at the green and sustainable city of Copenhagen after 40 years (1978 -2018), but also because it's the 50th edition of it.
On pressrelations' 8th attendance to a FIBEP WMIC, our Global Strategy Manager, Romina Gersuni, will be presenting a Tech Talk in the "Data Visualization" session on – Day Two – Tuesday, Oct 2nd 2018.
As a FIBEP member (since 2001), this congress represents the 3rd panel participation including, Romina Gersuni speaking as part of FIBEP's Young Leaders Forum and Fady El-Murr, pressrelations Managing Partner, joining the "New World of Semantics and Artificial Intelligence" panel both in Vienna's 2015 congress.
But let's focus on FIBEP. Over the past 65 years the FIBEP, Federation Internationale des Bureaux d'Extraits de Presse, the world's largest association for media intelligence and communications insight has hosted 50 congresses in 42 different locations – from Paris in 1953, its first congress, to Copenhagen in 2018. Starting with 18 members back then to over 135 corporate members now.
Because of its people, places, professional programmes, fun, laughs and experiences is that the FIBEP World Media Intelligence Congress is the largest media intelligence event, focused on providing globally-driven, enterprise-scaled solutions today.
The FIBEP journey
Let's take one step back and look at the evolution of the association in the light of the media intelligence industry. FIBEP was founded in 1953 mostly by family businesses thus, it became a closed and exclusive association for media monitoring professionals. Over the years, generations of FIBEP members attended these exclusive congresses all over the world.
Time went by and the industry grew and so did the discussion, whether or not to enlarge the exclusive members circle. In 1996 AMEC, the International Association for Measurement and Evaluation of Communication was founded. Several discussions took place to marge both associations, resulting in a formal consult for it on FIBEP's 44th congress in Thessaloniki (2011). However, this initiative met with the resistance of many members, as a result both associations kept its separate ways. This decision was a turning point for the FIBEP, which started to open up to new areas and members, after that.
Dubai's congress, in 2014, was the game changer where the new orientation of the conference and the association as such shined through. A wider range of topics with a focus on measurement and technology, as well as the opening of the conference for non-members became reality.
The association shaped through generations of family-run businesses, opened its doors to companies and conglomerates, some of them, with lots of capital to invest. This, eventually translated into "the big players", like Kantar, Cision and iSentia and its waves of merger and acquisitions, such as Cision's Acquisition of L'Argus de la Presse ("Argus") in 2017, for instance.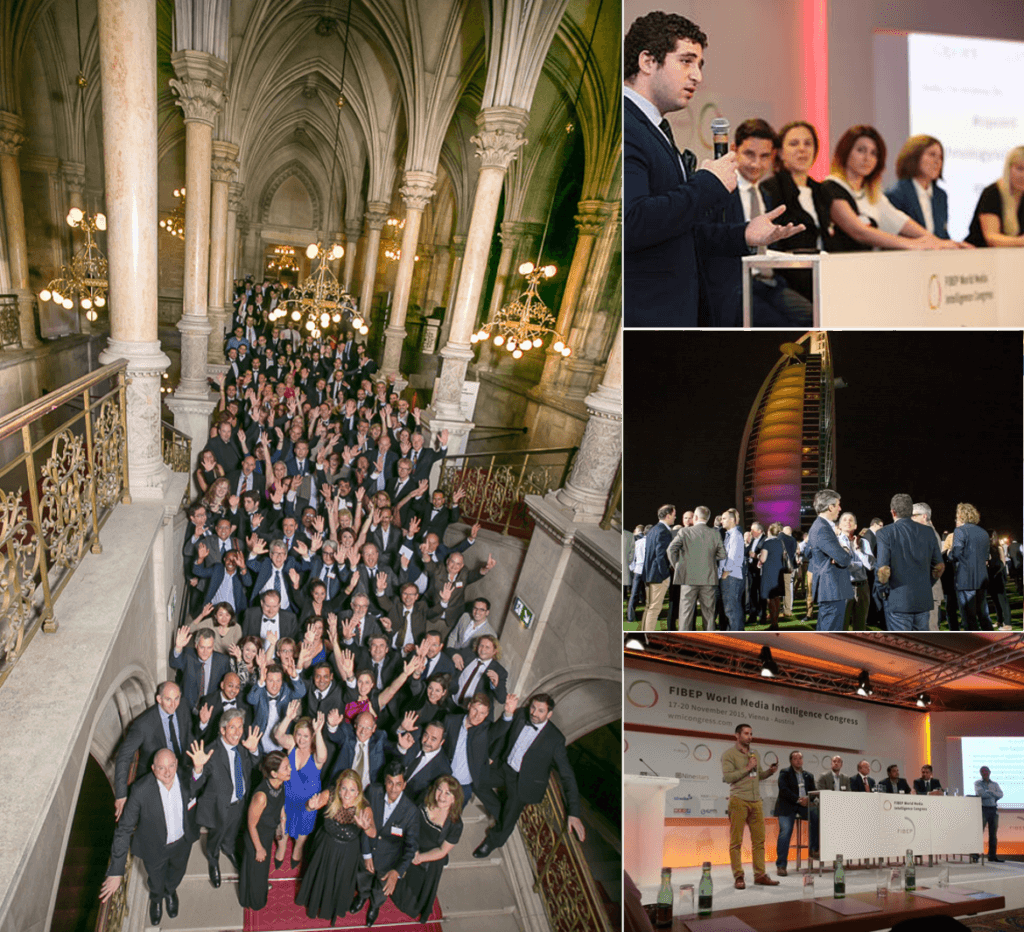 The FIBEP, its focus, challenges and future
Technic, regulation, and media have always been key topics for the association, e.g. in 1957 the usage and experience with electronic scissors was crucial, in 1964 the fax machines who changed the delivery of clippings to customers in a sustainable way was key, in 1983 the topic of copyright came up for the first time, which until today still occupies the members and the association and also changes the market. This list goes on and on.
The major challenge that our industry is facing now is the rapid digitalization and technologization of the industry. Technological topics such as Speech to text conversion, Logo Detection, Text Mining and Artificial Intelligence are moving more and more into focus and changing the industries working methods, processes and competencies rapidly.
And now, with less than two weeks left until the 50th FIBEP World Media Intelligence congress, things got even more interesting. After AMEC announced on September 13th 2018, that Johna Burke, CMO at BurrellesLuce, and current FIBEP president will be AMEC's new Global Managing Director to succeed Barry Leggetter at the end of the year. Leaving FIBEPs presidency vacant, and in need of a replacement.
This is after all, history in the making!