December 7, 2018
3 minutes reading time
Media perception of Deutsche Bank from four analysis perspectives
pressrelations cooperates with prmagazin to create exciting monthly analyses of the latest issues and trends. It starts with an evaluation of the Deutsche Bank campaign #PositiverBeitrag (positive impact) from four different perspectives.
"There is one thing that we definitely do not need to make our dreams come true: Deutsche Bank!" And this is one of the nicer Facebook comments on the #PositiverBeitrag campaign. Millions were spent on the marketing campaign featuring Laura Dekker from Holland to polish the marred image of Deutsche Bank. If you, like the 14-year-old Laura, plan to sail around the planet, you need someone who believes in you and helps you to realise your dreams – someone like Deutsche Bank. At least that was the message of the campaign. In reality, "Deutsche Bank would have never (EVER) financed her journey, and would not do this for you or me, either. The achievement of Laura Dekker and her father is admirable, the disgraceful wheeling and dealing of Deutsche Bank is not," writes another user on Facebook. Some subscribers of the fanpage directly respond to the question of Deutsche Bank 'which dreams do you have?' with "to finally get my EC card which has been on its way to me for over seven days. Your service is exceptionally bad!"
This is what happens when Owned Media Content does not strike a chord with the target group. However, Deutsche Bank could really use some positive resonance on Social Media as the active public engages in discussions about not only the campaign itself but also the rumours of a merger with the Commerzbank and the record low stock value of the bank. In addition to this, the negative result of the banking sector stress testing was one of the dominating topics of the published opinions in the editorial print and online articles. Incidentally, these topics did not receive any attention on the Owned Media Channels of Deutsche Bank. On top of that, the #PositiverBeitrag campaign has generated predominantly negative resonance online and on Social Media. In this example pressrelations has researched for prmagazin how exactly the user-generated, editorial and owned content differ and how they influence each other: Stressed Bankers – the analysis.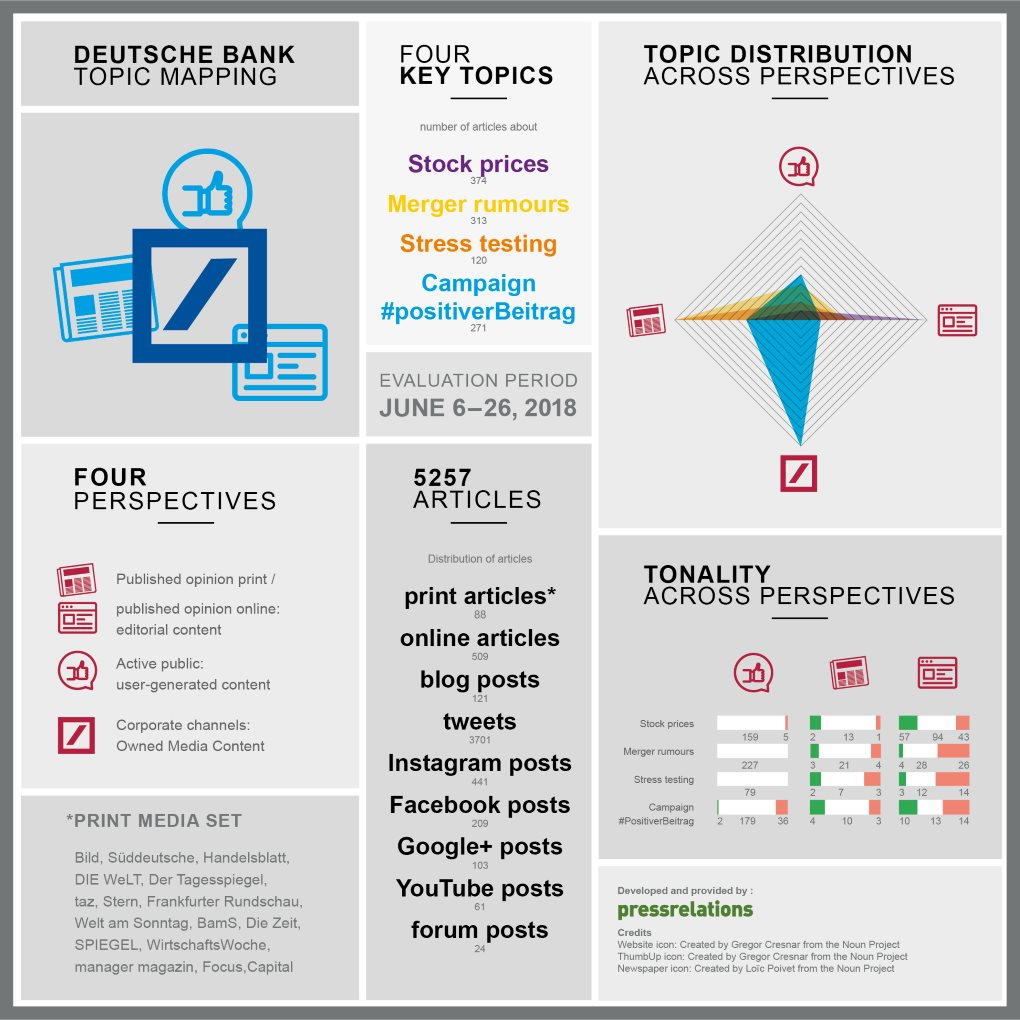 Content Planning and Optimisation with ContentCentricity Research
This very first of the upcoming monthly analyses for prmagazin makes use of the ContentCentricity Research process developed by pressrelations. It is based on examining topics and trends by employing interdisciplinary analysis methods, including the classic media resonance analysis, Social Media analytics as well as content and search analysis reports. The key is to analyse the topics from four different perspectives:
Media-centred perspective (editorial content)
Which industry-related topics and to which extent are being covered by journalists? How are these topics being accepted by the public, and who are the main players in this discourse? Which brands are already positioned in this environment, and what does that mean for your own Content Planning?
Opinion-centred perspective (user-generated content)
How much actual attention do these topics get in the public forum? In which context are these and similar topics being discussed, and which public sentiment do they create? Can the interests and preferences be traced back to your own PR and Social Media work, and which opinion leaders should you keep an eye on?
Company-centred perspective (owned content)
How do your followers react to the corporate Social Media profiles? Which content generates the highest and which the lowest interest? Does a direct comparison with your competitors give you any ideas for your own Content Optimisation?
User-centred perspective (search behaviour)
How relevant are selected topics from the perspective of search engine users? Which keywords are associated with the content? Do the semantically related topics offer new potential for the Content Planning?
These insights into user expectations and preferences can be a great help in reaching your own target group at the right time, over the right communication channels and with the right content.